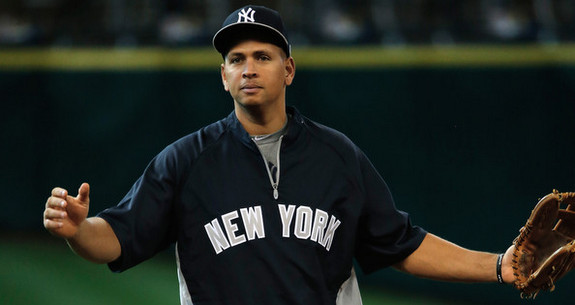 The Yankees will introduce Masahiro Tanaka at a press conference this afternoon and then pitchers and catchers will report to Spring Training on Friday, so the offseason is dangerously close to an end. Here are some thoughts as we wait for the 2014 season to get going.
1. At first, I thought it was pretty weird Alex Rodriguez dropped his various lawsuits and accepted his suspension over the weekend, but it makes more sense now that I think about it. First and foremost, A-Rod wanted to avoid having to testify under oath, which he already did once by storming out of his arbitration hearing. I know he denied everything on Mike Francesa's show a few weeks ago, but doing it under oath is a different matter entirely. I'm sure Alex hopes to get back into baseball one day — I don't know how realistic that is at this point, either as player or coach or broadcaster or whatever — and the whole scorched Earth approach isn't conducive to returning to the game. The move caught me by surprise and it seems like Rodriguez simply came to his senses a few weeks too late.
2. Know how there are usually a ton of off-days in April? That isn't the case this year. The Yankees play 13 straight games and 19 games in 20 days to start this season — ten of their first 19 games will either be indoors or in a park with a retractable roof (Houston, Toronto, Tampa) — so they're going to need their fifth starter right out of the chute. The schedule doesn't allow them to hide whoever wins the job until the end of the month or anything like that. I wouldn't say this is a bad thing, necessarily, because all those off-days they should get in April will be spread out during the other months. It just means that whoever wins the fifth starter's job has to be ready to go as soon as the regular season begins. There's no grace period at the end of Spring Training.
3. As of right now, there are three bullpen spots up for grabs in camp, assuming either David Phelps or Adam Warren steps in as the long man. I'm interested to see if the Yankees use one of those spots on a second left-hander (Cesar Cabral?) because while carrying one would be rather useful with guys like David Ortiz and Chris Davis in the division, I think there's a need to take the best relievers regardless of handedness. If the bullpen was a little stronger — let's face it, Shawn Kelley and Matt Thornton are solid but not exactly shutdown relievers — it would be easier to squeeze that second southpaw in there. The Yankees don't really have enough quality depth right now to get super specialized with bullpen roles.
4. My annual Preseason Top 30 Prospects List comes out on Thursday and the thing that stood out to me the most while writing it was all the turnover. Sixteen (!) players from last year's list did not make this year's list due to a variety of a reasons. Graduated to MLB, traded, released, poor performance, injury, whatever. More than half the players are new to the list and that's pretty mind-blowing. They Yankees had three first round picks in last summer's draft and a bunch of young international guys had strong stateside debuts last year, so that helped fill in the gaps, but it's still crazy to see that much turnover in one year. It's not a bad thing either, the team needed some change down on the farm.
5. Speaking of the Top 30, one prospect I am really looking forward to following this summer is third baseman Miguel Andujar. I just didn't realize how good he actually is. The kid mashed in the Rookie Gulf Coast League last summer (.323/.368/.496 while repeating the level) and he has just about every tool other speed, plus he doesn't turn 19 until next month. The Yankees will probably hold him back in Extended Spring Training before assigning him to Short Season Staten Island when the season starts in June, but there's some serious breakout potential there. Andujar, who signed for $775k a few years ago, can do almost everything on the field and it might not be long before he follows Jesus Montero and Gary Sanchez as an internationally signed position player who becomes the team's top prospect.