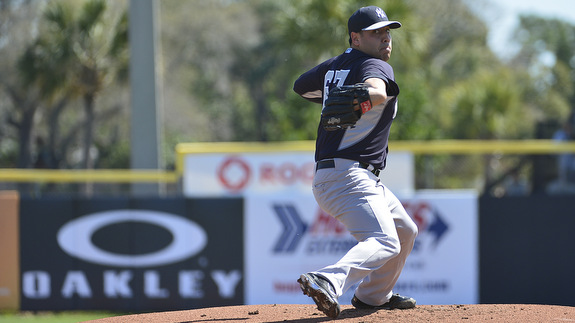 At the outset of Spring Training, only three spots in the bullpen were truly set. David Robertson, Shawn Kelley, and Matt Thornton were not just locks to make the team, but locks to be Joe Girardi's primary late-inning trio at the start of the regular season. Penciling David Phelps or Adam Warren into a spot was a safe bet, but far from a sure thing. We had no idea what Michael Pineda would look like in camp and a trade to address the infield was always possible.
Fast forward a few weeks to today and the bullpen picture is much clearer. Pineda looks healthy and he pitched well during Grapefruit League play, earning the fifth starter spot. That pushed both Phelps and Warren into the bullpen after Girardi confirmed they were all but guaranteed to make the team in some capacity. They will not necessarily be pigeonholed into a long relief role either. Both guys could serve as one-inning setup relievers if their performance warrants the responsibility.
Dellin Betances really seemed to find himself after being moved to the bullpen with Triple-A Scranton last year and he's carried his success over into Spring Training. Based on how willing he's been to use his curveball in any count, he also seems to have more faith in his breaking ball than ever before. Betances has all but locked up a bullpen job. Preston Claiborne, on the other hand, has pitched himself out of Opening Day roster consideration. He wasn't particularly good in the second half last year and he's been dreadful this spring.
So, just like that, six of the seven bullpen spots are full. Well, it's not official yet, but c'mon. Vidal Nuno and five veteran non-roster players — Chris Leroux, Matt Daley, Jim Miller, David Herndon, Yoshinori Tateyama — have pitched very well in camp, though my hunch is Tateyama (a trick pitch righty specialist) has no chance of making the club. Fred Lewis generated some buzz but seven of the 18 lefties he's faced in camp have reached base. That's probably not going to win him a spot. I think he's this year's Claiborne in the sense that he put himself in position for a midseason callup. That's all. For what it's worth, a second lefty is a priority but not a necessity.
"I mean, we always want to have two lefties," said Brian Cashman to Brendan Kuty. "No question about that. So our manager, especially, likes to do the match ups. So I think the way he runs the late-inning situations, two lefties are in theory a mandatory interest for us. It might not work out that way, but it's something we will definitely shoot to have."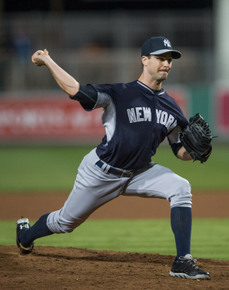 We've reached the point of the spring where the regular relievers are pitching on back-to-back days in preparation for the season, and so far Daley is the only one of the non-roster veterans to do that. This late in camp, that is kinda telling. Herndon can reportedly opt out of his contract on Sunday and while that could influence the bullpen decision, I doubt it would be the deciding factor. Leroux has been impressive and he is reportedly working with a new two-seamer, so there might be some tangible evidence for that success. Miller is said to be working on a new slider as well, so the same applies to him.
Actions speak louder than words and the Yankees used have Daley differently than their other bullpen candidates. To be fair, Nuno has not had a chance to work like a normal reliever because he's been been competing for a rotation spot, but compared to guys like Herndon and Leroux, Daley is getting preferential treatment. He's worked back-to-back games and he's seen more action against big league caliber competition according to Baseball Reference's opponent quality numbers. That's how a team handles a pitcher they are leaning towards carrying when the regular season begins.
Girardi said the final bullpen announcement will come either today or tomorrow at the latest — "These guys do have to pack for a road trip on Saturday. Probably help them if we could make it by Friday," he said to Chad Jennings — so we'll have an answer soon enough. Robertson, Kelley, Thornton, Phelps, Warren, and Betances are locked into place and I would be surprised if someone other than Daley or Nuno got the final spot. Since Nuno is stretched out, he could wind up in Triple-A as the sixth starter. Either way, that last bullpen spot figures to be a revolving door this summer. It always is. For now, the Opening Day relief unit appears to be set.
Update: Lewis. Leroux, Claiborne, Miller, Herndon, Tateyama, and Danny Burawa were all sent to minor league camp this morning, the team announced. The competition for the final two bullpen spots is officially down to Betances, Nuno, Daley, Shane Greene, and Cesar Cabral.