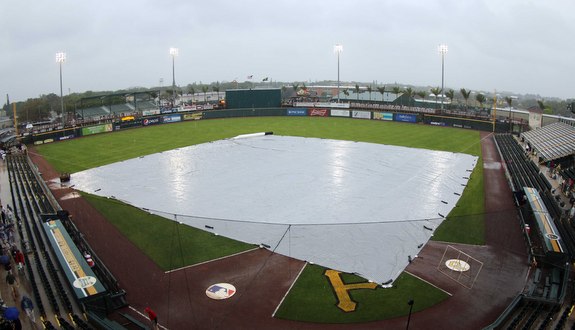 For the first and hopefully only time this spring, the Yankees were rained out this afternoon. Their game against the Pirates in Bradenton was canceled due to the weather and will not be made up. Scheduled starter Hiroki Kuroda instead threw a five-inning, 75-pitch bullpen session in Tampa, the Yankees announced, so the rotation will remain on schedule. Here is the rest of the day's news from camp.
Jacoby Ellsbury (tight calf) hit in the batting cage but Joe Girardi does not expect him to play tomorrow. Brendan Ryan (oblique) and Tyler Austin (wrist) both took batting practice on the field, usually the last step before returning to game action. Scott Sizemore hit on the field as well. He's been nursing a minor quad issue. [David Lennon, Chad Jennings]
Some more from Jennings: CC Sabathia is scheduled to start Friday on normal rest and it appears Masahiro Tanaka will pitch Saturday with an extra day of rest, though it's unclear if he will travel or stay in Tampa to throw a simulated game. Vidal Nuno and Adam Warren are not listed as starters this week and there's a chance both have made their final spring starts.
The Yankees who went to Panama arrived back in Tampa a little after midnight last night, so most of the veterans who made the trip were given the day off. [Andrew Marchand]
And finally, the Yankees open their season in Houston two weeks from today tomorrow, and this morning Astros manager Bo Porter announced right-hander Scott Feldman will be their Opening Day starter. Just in case you were wondering.
Here is your open thread for the night. MLB Network was supposed to replay this afternoon's game at 11pm ET, so I assume they'll slot in another game instead. The Nets are the only local basketball or hockey team playing, so talk about that game or anything else right here.