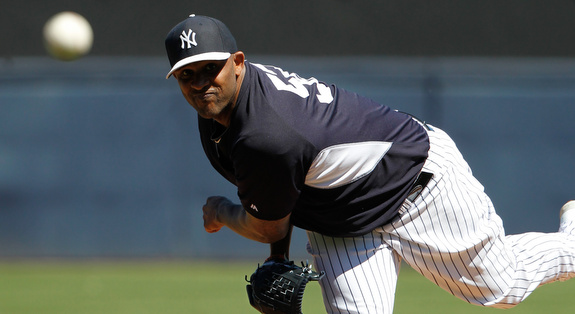 This has been a weird spring for CC Sabathia, this evening's starter. His fastball continues to sit in the upper-80s and that remains a concern, but he has been excellent in two of three outings, including retiring 15 of 16 batters faced in his last start. (The one was an error by the third baseman.) Baseball Reference's opponent quality stat says Sabathia has been facing almost all big leaguers too. I'd like to see more velocity, but at the end of the day outs are outs. If he gets them throwing 88 mph, who am I to complain?
The Pirates are in Tampa for tonight's game. Even though it's a night game and they had to make an hour bus trip up from Bradenton, they did bring a few of their regulars, including Neil Walker, reigning NL MVP Andrew McCutchen, and former Yankees farmhand Jose Tanaka. Edinson Volquez will be on the mound. I have no idea why the Pirates a) gave him $5M, and b) are expecting him to be in their rotation. That's a move the pre-2013 Pirates would make. Whatever. Here's the starting lineup, which looks an awful lot like what we figure to see come Opening Day:
CF Brett Gardner
SS Derek Jeter
RF Carlos Beltran
1B Mark Teixeira
C Brian McCann
LF Alfonso Soriano
3B Kelly Johnson
2B Brian Roberts
DH Ichiro Suzuki
LHP CC Sabathia
Available Pitchers: RHP David Herndon, LHP Matt Thornton, RHP Shawn Kelley, and RHP David Robertson are all scheduled to pitch. RHP Danny Burawa, RHP Shane Greene, and LHP Fred Lewis are the extra arms.
Available Position Players: C John Ryan Murphy, 1B Russ Canzler, 2B Yangervis Solarte, SS Dean Anna, 3B Zelous Wheeler, LF Zoilo Almonte, CF Antoan Richardson, and RF Adonis Garcia will be the second string off the bench. C Austin Romine, C/1B Jose Gil, C Peter O'Brien, and UTIL Casey Stevenson are also available.
The weather is fine in Tampa. Some clouds and temperatures in the mid-to-highs-70, but no threat of rain. First pitch is scheduled for 7:05pm ET and you can watch live on both MLB Network and MLB.tv. There is no YES broadcast even though it's a home game. Enjoy.