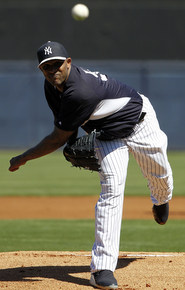 This past weekend, in his first outing of the spring, CC Sabathia chucked two scoreless and relatively uneventful innings against the Phillies. Uneventful unless you were watching the radar gun, of course. Sabathia topped out at 88 mph with his fastball on Saturday and sat mostly in the 86-88 mph range, which is far below what you want to see, even on March 1st. And everyone did see it thanks in no small part to the Michael Pineda velocity fiasco of 2012. The radar gun has become a focal point in Spring Training.
"My fastball is what it is. If it gets better, it will. If it's not, it won't. I can pitch. I'm fine. As long as I'm healthy I'll be good," said Sabathia to Chad Jennings after Saturday's game because what is he supposed to say? No this is terrifying and I don't think I'll ever be effective again? C'mon now. It takes a lot of confidence and a certain level of arrogance to be an elite pro athlete, and part of that is never doubting your own ability despite signs of decline. Of course Sabathia is unconcerned about his fastball.
I am concerned about Sabathia's fastball, however. Well, concerned isn't the right word. I'm keeping my eye on it. That's better. I wanted to go back and compare CC's early spring velocity to past years, but there's a bit of a problem: there isn't any Grapefruit League pitch data out there. We're limited to MLB.tv archives and the YES Network gun because there's no PitchFX. Sabathia did not appear in a YES broadcast game until the middle of March in both 2012 and 2013, so we can't even compare early spring velocities. We're stuck lumping it all under a big "Spring Training velocity" umbrella. Here's what we're left with:
| | First Televised ST Game | April | May-Sept. |
| --- | --- | --- | --- |
| 2014 | 86-88 (March 1st) | ? | ? |
| 2013 | 89-90 (March 15th) | 89.8 | 90.7 |
| 2012 | 89-92 (March 16th) | 91.8 | 92.9 |
Sabathia did not pitch in a YES televised game in Spring Training 2011, so we can't go back any further. I'm not sure how useful anything from pre-2012 would be anyway.
Just to give you an idea of how unprecise this is, Sabathia had one fastball clocked at 94 mph in the 2013 start and another clocked at 57 mph (!) in the 2012 game. I can buy 94 mph, but the most relevant thing is that he was consistently in that 89-90 range with a handful of 91s during the five-inning outing. I can't buy 57 mph, but again, Sabathia was regularly in that 89-92 range with a smattering of 93s back in 2012. That's what's important.
Sabathia's velocity in his first televised Spring Training game, as questionable as it may be given the source, was right in line with his PitchFX recorded April velocity in both 2012 and 2013. He held that Spring Training velocity through the season's first month before adding another tick or two in the summer months, after the weather warmed up and he got into midseason form. That alone makes you want to see Sabathia get his heater closer to 90 mph this month.
Because of who he is and how important he is to the 2014 Yankees, Sabathia is going to be under the microscope this spring. His first outing was less than encouraging because his fastball was a little short, but it was only March 1st. I want to see how he looks after another outing or two before getting … well … concerned. I don't think the fastball he showed on Saturday is full freakout worthy, but as much I hate Spring Training velocity watches, I don't think we can simply sweep it under the rug just because it's early-March either.