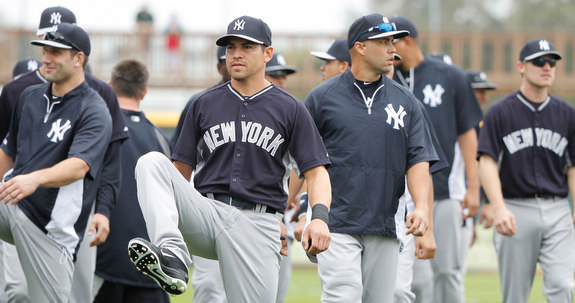 At long last, Spring Training is finally over. The Yankees will play their final Grapefruit League game this afternoon after six successful weeks, successful in the sense that they suffered no major injuries or controversies. Part of that is Alex Rodriguez being away, obviously. Masahiro Tanaka has acclimated well, Michael Pineda looks healthy, Dellin Betances and some other youngsters were impressive … yeah, pretty good six weeks.
Jacoby Ellsbury returns to the lineup for the first time in 15 days, though he has been playing in minor league games all week. By all accounts his tight calf is a non-issue at this point and he will be ready for Opening Day. Starting the first year of a seven-year contract on the DL wouldn't have been the best first impression. Ivan Nova will make his final spring tune-up appearance before getting the ball in the third game of the regular season on Thursday.
The Marlins are back in Tampa following last night's game — they probably never left, their Spring Training home is four hours away in Jupiter — and they've got a representative lineup. Christian Yelich, Giancarlo Stanton, and former Yankee Casey McGehee are all playing. Right-hander Tom Koehler is on the mound. Here is Joe Girardi's final starting lineup of the spring:
CF Jacoby Ellsbury
SS Derek Jeter
DH Carlos Beltran
C Brian McCann
1B Mark Teixeira
RF Alfonso Soriano
LF Brett Gardner
2B Brian Roberts
3B Kelly Johnson
RHP Ivan Nova
Available Pitchers: RHP David Robertson, RHP Shawn Kelley, LHP Matt Thornton, RHP David Phelps, RHP Adam Warren, and RHP Matt Daley are all scheduled to pitch. RHP Mark Montgomery, RHP Danny Burawa, and LHP Fred Lewis are the extra arms.
Available Position Players: C Austin Romine, 1B Jose Gil, 2B Yangervis Solarte, SS Dean Anna, 3B Eduardo Nunez, LF Zelous Wheeler, and RF Adonis Garcia will be the second string off the bench. C Roybell Herrera, SS Carmen Angelini, OF Ichiro Suzuki, and OF Antoan Richardson are also available.
Now, the bad news: it's supposed to rain in Tampa this afternoon and continue pretty much all night. There's a good chance the game will be cancelled because no one is sitting through a postponement for the final spring game. What that means for Ellsbury and Nova, I have no idea. I'm guessing Nova will throw inside in the batting cage. If they do play, and I hope they do, you can watch live on YES and MLB.tv. Enjoy what is hopefully the last meaningless Yankees game of 2014.
Update (1:05pm): First pitch has been pushed back to 1:15pm ET.
Update (1:13pm): The game has been cancelled. Spring Training is over.