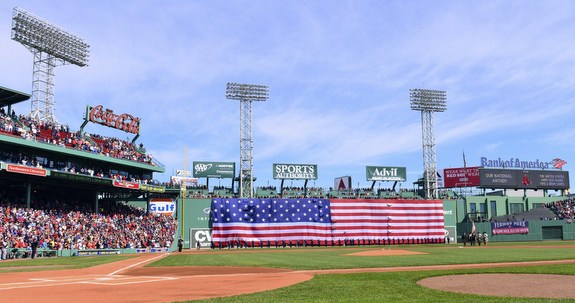 For the second time in a little more than a week, the Yankees and Red Sox meet for what is sure to be a tense, time-consuming, over-hyped, and over-analyzed series. This time the scene shifts to Boston and Fenway Park. The Yankees won three of four from their rivals in the Bronx the weekend before last. This will be Jacoby Ellsbury's first trip back to Boston since signing with New York.
What Have They Done Lately?
Since these two teams last met, the Red Sox took two of three from the White Sox and split a four-game series with the Orioles. They are 9-11 with a -6 run differential overall, which currently has them in the AL East cellar. Little too early to start worrying about division standings, but that's just me.
Offense
The BoSox were really struggling to score runs when they were in town a week and a half ago, but they scored six runs in each of their last two games and appear to be coming around offensively. They currently average 3.8 runs per game with a team 92 wRC+, both below-average marks. The Red Sox are currently without OF Shane Victorino (hamstring) and 3B Will Middlebrooks (calf), neither of whom is expected to return this series even though they are out on minor league rehab assignments.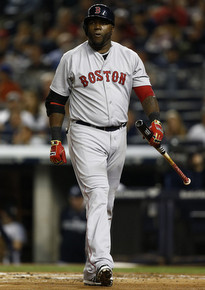 As usual, manager John Farrell's lineup is anchored by 2B Dustin Pedroia (95 wRC+) and DH David Ortiz (100 wRC+), both of whom are off to slow starts compared to their usual levels of production. 1B Mike Napoli (140 wRC+) has been the team's best hitter, and the recently called up Brock Holt (173 wRC+) has taken over at third base and the leadoff spot. SS Xander Bogaerts is having a strong rookie campaign (123 wRC+) as well.
Platoon OF Jonny Gomes (98 wRC+) is seeing more playing time than he should, mostly because OF Daniel Nava (38 wRC+) has been awful. OF Jackie Bradley Jr. (82 wRC+) is starting to take playing time away from OF Grady Sizemore (80 wRC+). The catching platoon of C A.J. Pierzynski (61 wRC+) and C David Ross (125 wRC+) has been okay overall. IF Jonathan Herrera (55 wRC+) and 1B/OF Mike Carp (89 wRC+) fill out the bench. Obligatory it is still early and those numbers came from small samples reminder.
Pitching Matchups
Tuesday: RHP Masahiro Tanaka vs. LHP Jon Lester (Career vs. NYY) (Pitcher GIFs)
Lester, 30, has been as good as ever in 2014, just as he's getting ready to test the free agent waters this coming offseason. He has a 2.17 ERA (2.39 FIP) in four starts and 29 innings, pairing excellent strikeout (9.00 K/9 and 25.7 K%) and walk (1.24 BB/9 and 3.5 BB%) rates with a strong ground ball rate (46.1%). Lester has crushed left-handed batters (.237 wOBA) and been slightly less successful against righties (.280 wOBA). A low-90s fastball and upper-80s cutter set up his mid-80s changeup and mid-70s curveball. Lester held the Yankees to two runs in 6 2/3 innings the weekend before last.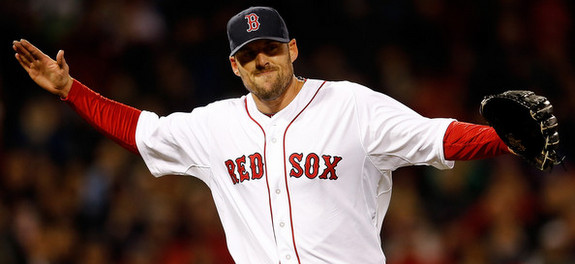 Wednesday: RHP Michael Pineda vs. RHP John Lackey (Career vs. NYY) (Pitcher GIFs)
One reason the Red Sox won the World Series last year was Lackey going from injured and awful to a reliable workhorse starter. The 35-year-old has a 5.25 ERA (4.74 FIP) in 24 innings and four starts so far, though his strikeout (8.63 K/9 and 22.1 K%) and walk (2.63 BB/9 and 6.7 BB%) numbers remain very good. He is very air ball prone (38.0% grounders), however, and righties have just mashed him (.416 wOBA). Lefties aren't doing so bad either (.331 wOBA). Lackey throws both a low-90s fastball and a mid-80s cutter, and his upper-70s curveball remains his go-to pitch. He doesn't throw a changeup anymore. The Yankees roughed Lackey up for six runs in 5.2 innings in their last series.
Thursday: LHP CC Sabathia vs. LHP Felix Doubront (Career vs. NYY) (Pitcher GIFs)
Doubront, 26, has a 5.48 ERA (4.30 FIP) in four starts and 21.1 innings this year, making him the clear weak link in Boston's rotation. His strikeout rate (6.33 K/9 and 15.6 K%) has fallen quite a bit these last two years, but he still walks a bunch (3.80 BB/9 and 9.4 BB%) and his ground ball rate (44.3%) has remained static. Lefties has crushed him so far this year (.438 wOBA), but that's a sample size problem. Righties have gotten him for a .309 wOBA. Doubront's big breaking mid-70s curveball is his money pitch, and he'll also throw low-90s heaters, mid-80s cutters, and some low-80s changeups to righties. The Yankees scored three runs in 6.2 innings against the southpaw in their last series.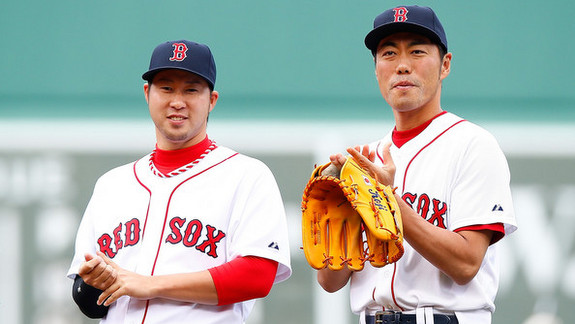 Bullpen Status
The Orioles did the Yankees a real favor yesterday. Baltimore knocked Clay Buchholz out of the game in the third inning, forcing Farrell to get 6.2 innings out of his bullpen. RHP Burke Badenhop (4.31 FIP) threw 3.2 innings and 40 pitches, so he'll be out of commission tonight. LHP Craig Breslow (2.48 FIP) threw two innings and 23 pitches, and could be limited tonight if he's even available. LHP Andrew Miller (2.39 FIP) has pitched each of the last two days. Their lefty relievers have been worked hard these last few days.
Closer RHP Koji Uehara (0.36 FIP) recently returned from a little shoulder issue. He's set up by RHP Junichi Tazawa (1.19 FIP) and occasionally RHP Edward Mujica (2.37 FIP). LHP Chris Capuano (1.48 FIP) has graduated from strict long relief work to more of a medium-to-high-leverage guy. All of them except Uehara pitched Sunday night. The Yankees had yesterday off and are in good shape bullpen-wise, especially since David Robertson was activated off the 15-day DL this morning. Check out our Bullpen Workload page for recent reliever usage details, then check out Over the Monster for the latest and greatest on the Red Sox.