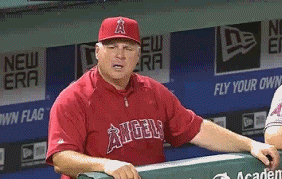 Following a successful seven-game road trip, the Yankees return home to the Bronx to kick off a nine-game homestand tonight. The first of three teams to visit is the Angels, who have won just seven of 22 games at the new Yankee Stadium. The Halos used to give the Yankees fits but that really isn't the case these days.
What Have They Done Lately?
Mike Scioscia's team has split the first six games of their nine-game trip to the East Coast. They just took two of three from the Nationals in Washington and were a spectacular blown save away from a sweep (four-run ninth!). The Angels are 10-11 with a +17 run differential overall. That's actually the second best run differential in the league.
Offense
At 5.3 runs per games with a team 111 wRC+, Scioscia's club has been one of the very best offensive teams in baseball so far this season. They are without two key players in OF Josh Hamilton (thumb) and OF Kole Calhoun (ankle) right now. That's their cleanup and leadoff hitters, respectively. Both were off to strong starts and will be out for several weeks. They aren't returning this weekend.
The Angels are led by the best player in baseball. New Jersey kid OF Mike Trout (172 wRC+) is still amazing and not in anyway underperforming this year. He's amazing. 1B Albert Pujols (171 wRC+) leads the league with eight homers and is having a great year, but he isn't all the way back to being his old self. This version is hitting .284 with a .351 OBP. The old Pujols hit like .330 with a .440-something OBP. He's still super dangerous though. These two bat second and third in the lineup and will be scary as hell all weekend.
Yankees killer 2B Howie Kendrick (121 wRC+) is off to a nice start, as is the catching tandem of C Chris Iannetta (114 wRC+) And C Hank Conger (97 wRC+). OF Collin Cowgill (178 wRC+ in limited time) has done a fine job filling in during the injuries. Former Yankees OF/DH Raul Ibanez (46 wRC+) and OF Brennan Boesch (61 wRC+ in very limited time) have had poor starts, ditto SS Erick Aybar (71 wRC+) and 3B David Freese (21 wRC+). Freese has been losing playing time to 3B Ian Stewart (102 wRC+ in limited time) lately. OF J.B. Shuck (44 wRC+) and IF John McDonald (160 wRC+) fill out the bench and have played sparingly.
Pitching Matchups
Friday: RHP Hiroki Kuroda (vs. LAA) vs. LHP C.J. Wilson (vs. NYY) (GIFs)
Of all the big money pitching contracts handed out in recent years, I think Wilson's get the most undeserved crap. He has been a steady and reliable horse for the Halos. The 33-year-old comes into tonight's start with a 4.21 ERA (3.92 FIP) in four starts this year, pairing an excellent strikeout rate (9.82 K/9 and 26.4 K%) with good ground ball (46.4%) and walk (3.16 BB/9 and 8.5 BB%) totals. Righties (.344 wOBA) has roughed him up a bit this year, but not lefties (.294 wOBA). Wilson throws five pitches pretty frequently: low-90s fastball, upper-80s cutter, mid-80s changeup, low-80s slider, and upper-70s curveball. That's a lot of different looks at different velocities. He took a pounding in his first start but has been solid since.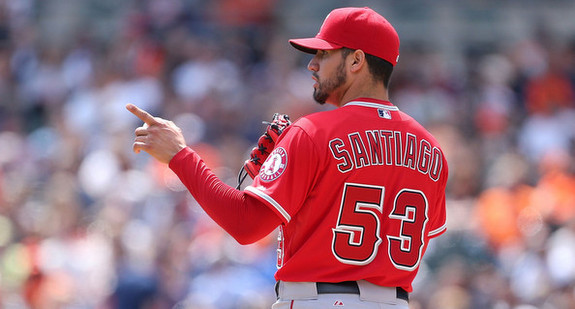 Saturday: LHP Vidal Nuno (No vs. LAA) vs. LHP Hector Santiago (vs. NYY) (GIFs)
Santiago, 26, is a local guy from Newark. He has a 3.68 ERA (4.17 FIP) in four starts this year after being acquired from the White Sox in the three-team Mark Trumbo trade over the winter. As usual, his strikeout (8.18 K/9 and 21.1 K%) and walk (4.91 BB/9 and 12.6 BB%) rates are high while his ground ball rate (29.5%) is low. Righties (.321 wOBA) have hit him harder than lefties (.285 wOBA). Santiago is best described as a three and a half pitch pitcher. He uses low-90s four and two-seam fastballs to set up his low-80s changeup, and every once in a while he'll bust out a mid-70s screwball. Click the link for the requisite GIF. Santiago's first two starts were rough, but the last two have been very good.
Sunday: RHP Masahiro Tanaka (No vs. LAA) vs. RHP Garrett Richards (vs. NYY) (GIFs)
The Angels have a young back of the rotation and Richards has been the standout so far. The 25-year-old has pitched to a 2.52 ERA (2.91 FIP) in his first four starts with very good strikeout (8.64 K/9 and 24.2 K%) and grounder (51.7%) rates. He does walk too many (5.04 BB/9 and 14.1 BB%), which has been an issue in his previous three big league seasons. Richards has a reverse split early this year — righties have a .301 wOBA, lefties a .201 wOBA — and he's essentially a two-pitch pitcher, relying on a mid-90s fastball and a mid-80s slider. He's throw a handful of upper-70s curveballs per start, but that's it. No changeup to speak of. The Athletics roughed Richards up two starts ago, but otherwise he's allowed two runs in his other three starts combined.
Bullpen Status
The Angels were off yesterday, so Scioscia's bullpen is as rested as can be right now. RHP Ernesto Frieri (8.80 FIP) melted down big time on Wednesday but remains the closer. RHP Joe Smith (2.33 FIP) and RHP Kevin Jepsen (3.57 FIP) have been the primary setup guys. LHP Nick Maronde (0.69 FIP in very limited time) is Scioscia's only lefty reliever.
The rest of the team's bullpen is … an interesting mix. RHP Yoslan Herrera (4.03 FIP) last pitched in the big leagues in 2008 before being called up a few weeks ago. RHP Fernando Salas (4.58 FIP) closed for the Cardinals for a few months back in 2011 but has been derailed by control problems. RHP Michael Kohn (3.71 FIP) is just a guy named Michael Kohn. Can't find anything interesting about him. Check out our Bullpen Workload page for the status of the Yankees bullpen, then check out Monkey with a Halo for some Angels analysis. The Angels blogosphere really leaves something to be desired now that True Grich seems to be dead.