Well, it took a little longer than we all would have liked, but the Yankees won their first game of 2014 on Thursday. They avoided what would have been a pretty embarrassing sweep with a 4-2 win over the Astros. It wasn't the easiest win in the world, but a win is a win and they needed it.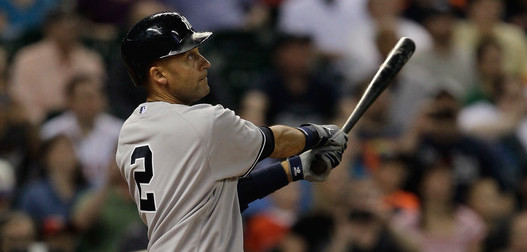 The First Lead of 2014
The first two games of this series were so ugly that, not only did the Yankees never hold a lead, but they were trailing after every single inning. The Astros scored in the first inning in the first two games and they did it again on Thursday, pushing a run across on a rookie mistake. More on that later. It looked like we were all in for more of the same after that early run.
Thankfully, it all changed in the third inning, when the Yankees put together an extended rally to score two runs and take their first lead of the season. Brian Roberts flew out on the first pitch to start the inning, but after that they had a six-pitch at-bat (Ichiro Suzuki single), a five-pitch at-bat (Yangervis Solarte single), a two-pitch at-bat (Brett Gardner single to score Ichiro), an eight-pitch at-bat (Derek Jeter walk), and a four-pitch at-bat (Carlos Beltran sac fly to score Solarte). They fouled off five of eleven two-strike pitches to extend at-bats. Excellent little rally full of … dare I say … professional at-bats.
The Yankees scored their third run in the fifth inning, but that one was a little more straight forward. Solarte doubled on a ball just out of the reach of a diving Robbie Grossman, then Jeter singled him in on a Jeterian hit to right. The same base hit to right we've been watching since 1996. The throw home was cut off and Jeter was tagged out between first and second, so the inning was over right after the run scored. Hey, it counted. that's all that matters.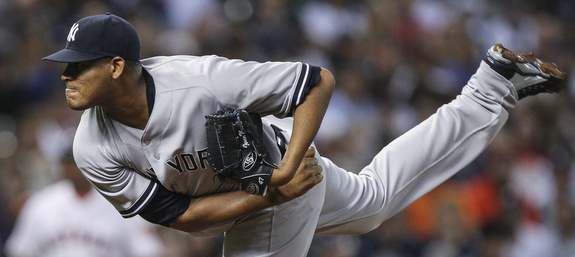 Bend, Bend, Bend Some More, But Never Break
Thursday's start was a real grind for Ivan Nova. He simply had no idea where anything was going. Not his fastball and certainly not his curveball. Only eleven of the 24 curves he threw were strikes (swinging or otherwise) and only 47 of his 88 pitches were strikes overall. Only 53%. Nova wasn't missing just off the plate either. He was bouncing 55-footers, missing a mile outside, way up out of the zone, all over the place really. Tough battle for him.
And yet, Nova held the Astros to two runs on six hits and five walks in 5.2 innings. He only struck out one against the five walks, giving you an idea of how tough this outing was. One of those two runs scored in the first, when Solarte made a rookie mistake by going for the 5-4-3 double play with the bases loaded rather than throwing home for the force out and potential 5-2-3 double play. Nova limited the damage that inning by getting a double play with his sinker, something he did all game. He got four ground ball double plays in his five full innings, two of which ended innings with multiple runners on base.
This was the kind of start that, a year or two ago, would have snowballed out of control on Nova. That ability to get by when nothing is working is what separates the promising youngsters from the bonafide big leaguers. Sure, a better offense might have crushed Nova given his control problems, but he doesn't get to pick his opponent or the days when everything is working. This was an Andy Pettitte-esque outing for Ivan. A total grind, but he kept it together and didn't let things get out of hand. Well done.
The New Bullpen
Mariano Rivera is gone. So are Boone Logan and Joba Chamberlain. Aside from David Robertson in the ninth inning, the Yankees came into the year with no clearly defined roles in the bullpen, and that's not necessarily a bad thing. We saw Dellin Betances and Vidal Nuno pitch when they were losing big on Tuesday, David Phelps when the game was a little closer on Wednesday, and a completely different crop of pitchers on Thursday.
Nova left a runner on first base when he exited the game with two outs in the sixth, giving way to Adam Warren. Warren struck out the next batter on three pitches, then tacked on a scoreless seventh inning as well. He faced four batters, got two strikeouts, one weak ground ball back to himself, and a weak infield pop-up. Only needed 14 pitches too. I've been curious to see what Warren could do in a short relief role for a while now, and he did not disappoint on Thursday. He could be a real middle innings weapon.
As expected, Shawn Kelley took over Robertson's old role as the eighth inning setup man. He got lucky when Jose Altuve ripped a line drive right at Solarte, but otherwise he struck out the next two batters without much issue. I was a little surprised when Joe Girardi didn't bring in Matt Thornton to get the left-handed Marc Krauss, not that I thought he should have. Just seemed like a move he'd make. Robertson, in his first official save chance as the team's closer, retired the side in order in the ninth on a fly ball, a strikeout, and weak ground ball back to himself. He threw only 13 pitches. Piece of cake.
Solarte Partay
How about that for your first big league start? Solarte made a mistake by not throwing home in the first inning, but otherwise he had an outstanding game. His first career hit was a ground ball single up the middle, his second a bloop hustle double in front of Grossman, his third an infield pop-up that fell between the infielders. He also drew his first career walk in the ninth inning. If the Astros were a better defensive team, he could have easily gone 0-for-3. Instead, Solarte went 3-for-3 with a walk, a run driven in, and two runs scored in his first career start. Not a bad day at the office.
Leftovers
The four through seven hitters went a combined 0-for-15 with a walk (Roberts) and three strikeouts, all by Frankie Cervelli. Not a good night for those guys. Alfonso Soriano went 0-for-4 and is still hitless on the season, but he did hit two line drives right at infielders. He ran into a little bad luck on Thursday. Hopefully he's starting to come out of it.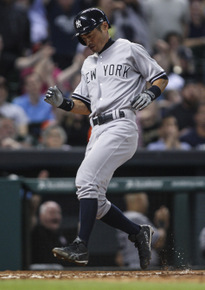 Gardner and Jeter both went 1-for-3 with a walk and a run driven in, seeing a combined 37 pitches from the top two spots in the lineup. Ichiro went 2-for-4 with a double and deserves some props for scoring a big insurance run from second on Solarte's infield pop-up single. He put his head down and ran hard the whole way. I'm really hoping he pulls a 1996-98 Tim Raines this year, the former star who becomes a kick ass part-timer.
There was a three or four-minute delay with two outs in the top of the ninth because the umpires lost track of the count and went to the new replay system to review it. I guess that's reviewable? Seems weird. Since it happened in the seventh inning or later, the umpires can go to the review on their own, without a challenge from the manager. They confirmed the count was 3-1 and one pitch later, Solarte walked.
Jacoby Ellsbury replaced Soriano for defense in the late innings, just in case you were worried he did not start because his calf was bothering him. He took over in center and Gardner slid over to left, so their outfield for the last six defensive outs was Gardner, Ellsbury, and Ichiro. That's a pretty excellent defensive outfield right there.
The Yankees still have not hit a homerun this year, by the way. The last time they started the season with three straight homerless games with 1998, and the last time they went four or more games without a dinger to start a season was 1990. They hit a homer on Opening Day every year from 1999-2012. Am I the only one amazed by that?
Box Score, WPA Graph & Standings
MLB.com has the box score and video highlights, FanGraphs some additional stats, and ESPN the updated standings.

Source: FanGraphs
Up Next
The Yankees are off to Toronto for a three-game weekend series against the Blue Jays. Masahiro Tanaka will make his long-awaiting debut in the opener on Friday night, which has been pushed back from 7pm to 7:30pm ET for whatever reason. I guess it has to do with the pregame ceremonies. Righty Dustin McGowan will be on the bump for the Jays. Can't wait for Tanaka, you guys.