Six questions in this week's mailbag, so you know what that means: six answers. Use the Submit A Tip box in the sidebar to send us anything throughout the week.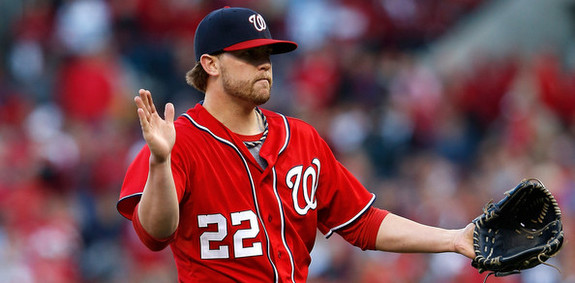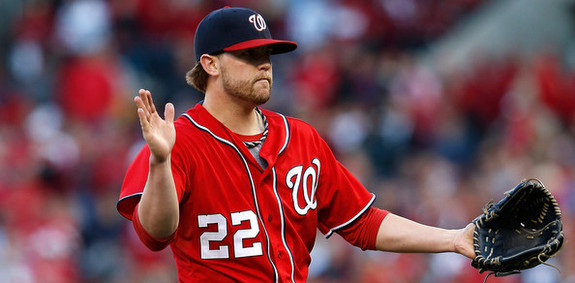 Pete asks: Wilson Ramos is hurt again. Would a trade of either John Ryan Murphy or Austin Romine for Drew Storen or Tyler Clippard work?
I really doubt the Nationals, who have World Series aspirations, would trade on of their ace setup men for a catching prospect who will only be a backup to Jose Lobaton while Ramos is out. If you're going to shoot that high, I'd ask for Danny Espinosa instead. I'm confident the Yankees can cobble together a quality bullpen from internal options — Clippard or Storen, both of whom the Yankees drafted once upon a time, would obviously help though — but the infield cupboard is bare. You're ambitious, The Yankees would have to add major sweeter to the pot to build a trade for one of those two righties around Murphy or especially Romine.
Jonathan asks: Dellin Betances has looked great out of the bullpen in ST and in the opener. Is the door closed to him ever competing for a spot in the rotation in the future?
I don't think he'll ever start another game in his career. The Yankees stuck it out and tried to make it work with Betances as a starter for a long time, but it never took. He's had a lot of success in his relatively short time as a reliever and considering that he looked like a lost cause as recently as last April, I'd leave him right where he is and be happy he's contributing. Betances has said the move to the bullpen helped him because it simplified things, remember. No need to get cute and try to make him a starter again.
Cory asks: Would it surprise you at all if any one of the starting five ended up being the best pitcher of the group this year? Or the worst? There's a lot to be excited and worried about.
I would be surprised if Hiroki Kuroda ended up being the worst pitcher in the rotation, but that's about it. The starting staff is very boom or bust in my opinion. It could be excellent, legitimately one of the best in the game, but there's also a ton that could go wrong and make it one of the worst. The end result will probably be somewhere in the middle. Some things go right, some things go wrong. Such is life.
Anonymous asks: Let's say the Yankees find some luck and have some of their minor league players come up and have success. Being that they broke their policy and signed Brett Gardner to an extension this year, do you see them signing more of their homegrown players to extensions that seem to be the norm around the league now?
Yes, definitely. Cashman confirmed the "no extensions" policy was a thing of the past after the Gardner deal and it has to be. The game has changed and keeping your own players is incredibly important. Relying on free agency to build your roster year after year won't work like it did back in the day, when star players were available every winter. Heck, forget star players, even solid regulars are hard to find these days. Whenever the Yankees have another young player worthy of an extension (Ivan Nova? Michael Pineda?), I'm sure they will explore signing him long-term.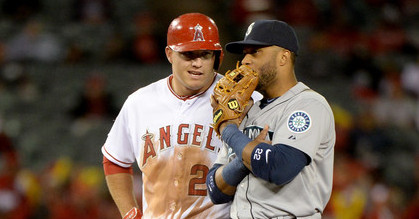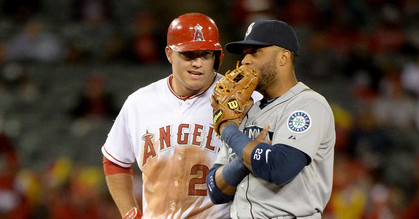 Warren asks: Thoughts on the Mike Trout deal? My initial reaction is seriously? How did he give up that much money especially in light of what Miguel Cabrera just got paid?
I thought it was fair for both sides. Maybe he left a couple bucks on the table, but he is still a player under team control with little leverage. He was going to be with the Angels the next four seasons no matter what. Cabrera was much closer to free agency when he signed his (crazy) deal the other week. Sure, Trout could have asked for ten years and $300M, but I'm not sure he would have gotten it. The Angels might not be in a position to make that sort of commitment right now. Trout has his generational long-term security and he still gets to hit free agency at 29. The Halos have the prime years of the best player in the world under contract. Seems pretty great for both sides.
Anonymous asks: (Regarding last week's mailbag question about Derek Jeter's best teammates) I'd like to see this with best single season WAR during this era. Obviously Ryan remains on the bench. Do other positions change?
So I put together that teammate team for Jeter last week using bWAR accumulated during his career as a full-time player, so 1996 through 2013. Instead of using total WAR — I'm using bWAR because it's easy to search and it's perfect for a fun, quick-and-dirty exercise like this — we'll now use single season bWAR. So the best season by a Yankees catcher during Jeter's career, the best season by a first baseman, so on and so forth. My only playing time criteria is that the player played at least 50% of his games at whatever position in a given season.
Here's the single-season bWAR team. Click on the links for the full results at each position:
Catcher: 2003 Jorge Posada (5.9 bWAR)
First Base: 2002 Jason Giambi (7.1)
Second Base: 2012 Robinson Cano (8.4)
Third Base: 2007 Alex Rodriguez (9.4)
Left Field: 2010 Brett Gardner (7.3)
Center Field: 2011 Curtis Granderson (5.7)
Right Field: 1998 Paul O'Neill (5.8)
Designated Hitter: 2009 Hideki Matsui (2.7)
Bench: 2012 Chris Stewart (1.0), 2013 Jayson Nix (0.9), 2012 Eric Chavez (1.6), 2001 Shane Spencer (2.1),
Rotation: 1997 Andy Pettitte (8.4), 2011 CC Sabathia (7.5), 2001 Mike Mussina (7.1), 1997 David Cone (6.8), 2006 Chien-Ming Wang (6.0)
Bullpen: 1996 Mariano Rivera (5.0), 2011 David Robertson (4.0), 2004 Tom Gordon (4.0), 1997 Mike Stanton (2.8), 2012 Rafael Soriano (2.6), 2009 Phil Hughes (2.6), 2006 Scott Proctor (2.6)
Ryan doesn't make the bench because Nix simply had more at-bats with the team last year and accumulated more WAR in pinstripes. Nix had 1.2 bWAR during his two years with the team but he played more games at third base (70) than shortstop (66), which is why I took Ryan as my backup shortstop on the other team. Got it? Good.
The shortstop for this team would be 1999 Jeter (8.0 bWAR), which isn't very surprising. We could have taken 2005 A-Rod at third base instead of 2007 A-Rod since he had 9.4 bWAR both years, but yeah, I'm taking the guy who hit 54 homers, not the chump who only hit 48. Giambi actually had the best DH season (2.8 bWAR in 2006), but I didn't want to use him at two positions. If I were to use the same player multiple times, there would be two Mussinas in the rotation plus pretty much the entire bullpen would be Mo. I also pick actually bench/part-time players for the bench.
Anyway, that team is pretty stacked. Granderson is the worst regular position player (by bWAR) and he hit .262/.364/.552 (142 OPS+) with 41 homers during that 2011 season. The gap between the top three reliever seasons and everyone else is pretty big — there were several Rivera seasons in the 3.something bWAR range — but it's not surprising considering how dominant those three were in those years. The gap between 2002 Giambi the next best first baseman (2009 Mark Teixeira) is almost two full wins. That's nuts. Then again, Giambi was a monster that year. What a team that is.