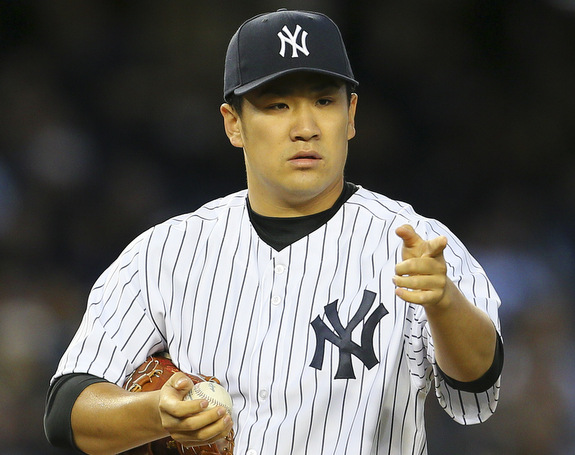 The Yankees and Cubs were rained out last night, so they will play both games of their two-game series today. There's something about these little two-game interleague series getting rained out, it seems. Remember last season when the first game against the Dodgers at Yankee Stadium was rained out and they played a doubleheader the next day? Weird. The Yankees will be visiting Wrigley Field later this summer, if you're wondering.
Derek Jeter is not in this afternoon's lineup, but don't worry. He and his sore quad are fine. Joe Girardi confirmed the Cap'n will play the second game of the doubleheader against left-hander Travis Wood. They weren't going to play Jeter in both games today, so playing him against the southpaw makes sense. Both Girardi and Jeter said the quad is a non-issue at this point. I guess four straight days off really helped. Here is the Cubs lineup and here is the Yankees lineup:
LF Brett Gardner
RF Carlos Beltran
CF Jacoby Ellsbury
DH Alfonso Soriano
C Brian McCann
2B Yangervis Solarte
1B Kelly Johnson
SS Dean Anna
3B Scott Sizemore
RHP Masahiro Tanaka
With Tanaka starting today and Michael Pineda starting tonight, I'm not sure we're going to see a more exciting pitching day all season. It's like baseball Christmas morning.
It rained all day yesterday and I even saw some snow flurries last night, but it is sunny out today. Just really cold. There is no threat of rain or anything, so they'll get both games in without a problem. The first game of the doubleheader is scheduled to start at 1:05pm ET and can be seen on YES. Enjoy.
David Robertson Update: Robertson (groin) is scheduled to throw off a mound on Thursday, his first time doing so since getting hurt. He still plans on being activated when eligible next Tuesday. [Sweeny Murti]
Mark Teixeira Update: Teixeira (hamstring) has left the team and is rehabbing in Tampa. Girardi said he isn't sure when he will get into minor league rehab games, however. [Anthony McCarron]
Brian Roberts Update: Roberts has a lower back strain and is on medication. He feels better and could play today if needed, but Girardi said he will try to stay away from him. [Bryan Hoch]