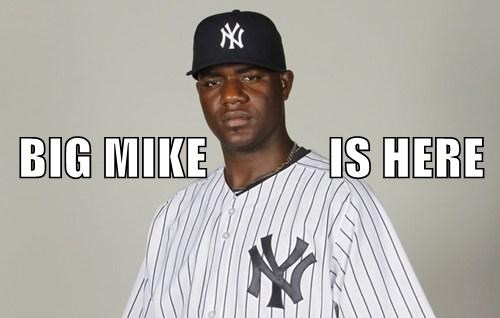 The Yankees shut out the Cubs in the first game of today's doubleheader earlier this afternoon, and now they will try to finish off the quick two-game sweep before hitting the road for a seven-game, eight-day road trip through Tampa and Boston. The Yankees have played seven doubleheaders at the new Yankee Stadium and they've swept five, splitting the other two.
Derek Jeter and his sore quad return to the lineup tonight, and Michael Pineda returns to the mound for the first time since his whole pine tar incident. It's a no-win situation. If he pitches well, it's because he's hiding the pine tar somewhere else. If he pitches poorly, it's because he wasn't able to use the pine tar. The columns and blog posts practically write themselves. Once again, here is the Cubs lineup and here is the Yankees lineup:
CF Brett Gardner
SS Derek Jeter
DH Carlos Beltran
LF Alfonso Soriano
2B Yangervis Solarte
RF Ichiro Suzuki
3B Scott Sizemore
1B Kelly Johnson
C John Ryan Murphy
RHP Michael Pineda
It was sunny but cold for this afternoon's game and it'll be even colder tonight. Clear skies, otherwise. Both the Yankees and Cubs will wear #42 jerseys in honor of Jackie Robinson tonight since yesterday's game (when everyone else wore #42) was rained out. There will be a little pregame ceremony honoring Robinson and Nelson Mandela as well. First pitch is scheduled for 7:05pm ET and you can watch on My9 locally and MLB Network nationally. First My9 game of 2014. It's officially baseball season. Enjoy the game.
Roster Move: The Yankees have recalled right-hander Shane Greene as the 26th man for today's doubleheader, the team announced. I didn't think they were allowed to call anyone up because the doubleheader was not scheduled 48 hours in advance. Whatever. By rule, Greene has to go back to Triple-A following the game.