That was worth the wait. After Tuesday night's game was rained out, the Yankees won the first game of Wednesday's doubleheader against the Cubs by the score of 3-0 thanks to a dominant pitching performance and some timely hitting. Pretty much a textbook win.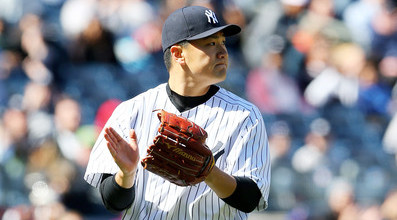 He's Ours And You Can't Have Him
The Cubs reportedly pursued Masahiro Tanaka very aggressively this winter, and at times it appeared they were the front-runner to sign him. Instead, Tanaka wound up in New York with the Yankees, and on Wednesday afternoon he faced the team that tried so desperately to sign him.
In his third big league start, Tanaka held the admittedly unimpressive Chicago lineup to two bunt singles in eight scoreless innings. The first had to be reviewed because it was a bang-bang play, the second was a bunt to beat the shift by Anthony Rizzo. Tanaka struck out ten, walked one (his second walk of the season), and at one point he retired 14 batters in a row from the second through seventh innings. This was pretty clearly the best we've seen him in his three starts.
Of his 107 pitches, Tanaka threw 76 strikes (71%), including 16 swings and misses. Twenty of 27 batters saw a first pitch strike and only two saw a three-ball count. Just dominant. Here is his PitchFX breakdown from Brooks Baseball, though it appears to be missing eight pitches somewhere. I do want to point out that of the 29 splitters Tanaka threw, the Cubs swing at 17. They missed ten times. That is pretty nuts.
The Yankees limited Tanaka to 97 pitches and 101 pitches in his first two starts, though they sent him back out for the eighth inning with his pitch count at 97 on Wednesday. He only threw ten more pitches in that inning, but even if he had thrown 15-20 more, I don't think it would have been a big deal at all. Tanaka was pitching on two extra days of rest — he was scheduled to start on one day of rest on Tuesday, but the rainout pushed him back another day — and his next start will be on an extra day as well. He was on cruise control all afternoon. Basically a no stress outing. What a stud.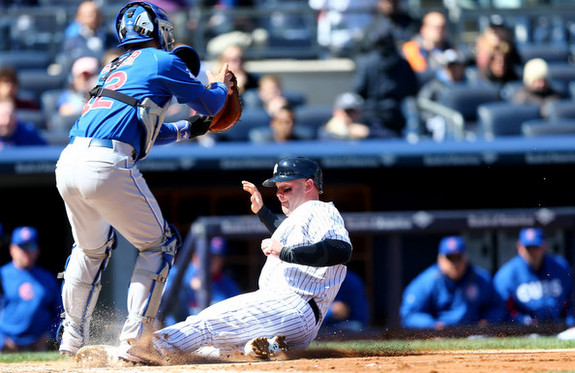 A Swing And A Slide
Thanks to Monday's off-day and the rainout, the hot-hitting Carlos Beltran had two straight days off. If there was any concern about him losing his swing during the longer than usual layoff, he put it to bed right in the very first inning, clubbing a hanging changeup from Jason Hammel out to right field for a solo homer. His swing is just so, so sweet. From both sides of the plate too. The quick strike gave the Yankees a 1-0 lead.
The team nursed that lead until the fourth inning, when they loaded the bases on a single (Brian McCann, over the shift), a walk (Yangervis Solarte), and another single (Kelly Johnson) with one out. The not-so-fearsome duo of Dean Anna and Scott Sizemore were due up, and Anna took care of business with a sacrifice fly to shallow right-center field. McCann chugged home and slide under the tag. I think he would have been awarded the plate anyway because catcher John Baker was pretty clearly blocking it, which is now against the rules. One homer, one extended rally. Something for everyone.
Wait, How Did That Run Score?
I've watched an embarrassing amount of baseball in my life, but I have never before seen what happened in the fifth inning of this game. With Brett Gardner on third and one out, Baker was called for catcher's interference on Jacoby Ellsbury's swing. The ball bounced off the plate and into the infield, allowing Gardner to score while Ellsbury was tagged out. However, because of the catcher's interference, Gardner had to stay at third and Ellsbury was awarded first base. Except that's not what happened.
Apparently managers are allowed to decline a catcher's interference call and accept the outcome of the play. Yeah, I didn't know that either. Here is the applicable rule, Rule 6.08(c):
The batter becomes a runner and is entitled to first base without liability to be put out (provided he advances to and touches first base) when — The catcher or any fielder interferes with him. If a play follows the interference, the manager of the offense may advise the plate umpire that he elects to decline the interference penalty and accept the play. Such election shall be made immediately at the end of the play. However, if the batter reaches first base on a hit, an error, a base on balls, a hit batsman, or otherwise, and all other runners advance at least one base, the play proceeds without reference to the interference.
Since Gardner scored on the play, Joe Girardi declined the catcher's interference and took the run. Instead of having men on the corners with one out, the bases were empty with two outs and a run in. I'd make that trade too. Give me the sure run in a reasonably close game every time. That's so weird though. Who knew you could decline penalties in baseball? Here's the video.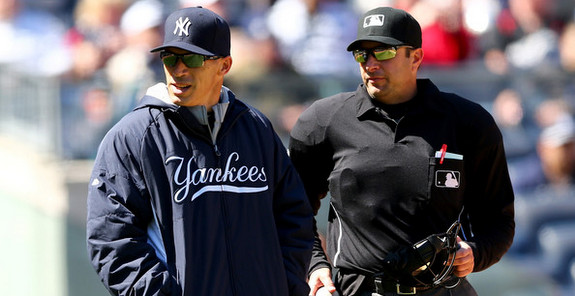 Leftovers
Tanaka's eight innings spared the bullpen for the second game of the doubleheader. Shawn Kelley was the only reliever used and he allowed a soft single to right in an otherwise uneventful ninth, throwing 22 pitches. No idea if he'll be available for tonight's game. Worry about that when the time comes, I guess. Kelley has somehow saved four games already.
The Yankees only had five hits themselves, one each by Gardner (double), Beltran (homer), Ellsbury (double), McCann (single), and Johnson (single). Beltran and Ellsbury drew walks — Ellsbury stole second after his walk in the eighth — while Solarte drew two. Alfonso Soriano and Sizemore were the only guys to not do anything productive at the plate. The bases loaded situation in the fourth inning was the only time they had multiple runners on base at the same time.
The ten strikeouts give Tanaka 28 strikeouts in his first three starts, breaking Al Leiter's old franchise record of 25 strikeouts. Believe it or not, Tanaka is the only pitcher in history to throw at least seven innings and record at least eight strikeouts in each of his first three starts. Pretty cool.
Box Score, WPA Graph & Standings
MLB.com has the box score and video highlights, FanGraphs some other stats, and ESPN the updated standings. Those standings will change in a few hours.

Source: FanGraphs
Up Next
Let's play two! The Yankees will look to complete the doubleheader sweep in a few hours. First pitch is scheduled for a little after 7pm ET and will feature Michael Pineda against lefty Travis Wood. Derek Jeter and his sore quad will return to the lineup in that game.