See what happens when you designate Eduardo Nunez for assignment? You lose to the Astros on Opening Day. The Yankees dropped their first game of the season 6-2 on Tuesday, and it sure looked like the score would be much more lopsided early on. Losing on Opening Day really sucks, especially to an awful team like the Astros, but that doesn't mean it's a harbinger for the rest of the season.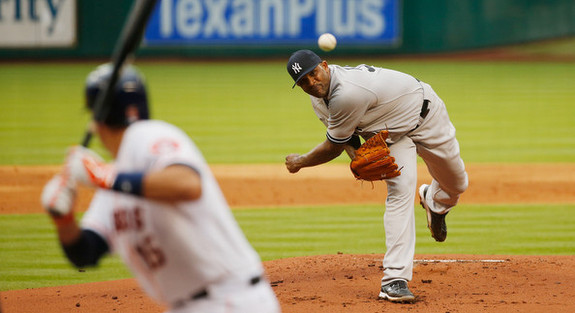 Which Trend Continued?
Coming into Tuesday's start, CC Sabathia had a history of terrible Opening Day starts and an awful 2013 season in the rear-view mirror. Which trend continued in the first game of the 2014 season? I hope it was just the former but eh, it was probably the latter. The Astros roughed Sabathia up for six runs on eight hits (four for extra-bases) and one walk in six innings, forcing him to throw 50 pitches in the first two innings. That's … a lot. The details of his 99 pitches:
47 fastballs, averaging 89.7 mph.
22 changeups, averaging 84.3. Some more separation from the fastball wouldn't hurt.
30 sliders, averaging 80.8 mph.
Nine swings and misses and 15 foul balls, including six with two strikes.
Sabathia showed the same problems as last year, meaning he struggled to put guys away — the Jason Castro at-bat in the first inning was a perfect example, Sabathia used to eat up lefty hitters but instead Castro fouled off two two-strike sliders before driving in a run with a fielder's choice — and his command was terrible, especially in the first two innings. The evidence: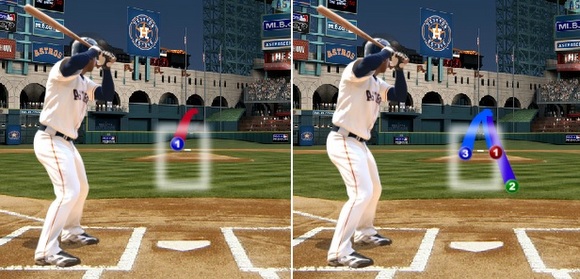 Those are the homers hit by Jesus Guzman (left) and L.J. Hoes (right). Both pitches were pretty much belt high, right over the plate. You can get away with that when you're throwing 93-95 mph. But at 88-91 mph? Not as often. Just for the record, Guzman hit his dinger off a fastball, Hoes hit his off a changeup.
Anyway, the Yankees were down six-zip after the second inning and while Sabathia settled down wonderfully after that — he retired 12 of the final 15 men he faced — it doesn't matter how many lineup additions you make over the winter down that many runs. It's tough to come back and win that game, even against Scott Feldman and the Astros. Sabathia did not give the Yankees much of a chance on Opening Day and, unfortunately, he really didn't do much to suggest he will be more productive than last season. Hopefully things go better in five days.
New Lineup, Just Like The Old Lineup
Four new regulars, including seven new starters from Opening Day last year, but the result did not change. The 2014 Yankees offense paid homage to the 2013 Yankees offense by playing just like them, being held to two runs on five singles, one double, and three walks. They didn't have a runner reach third base until there were two outs in the seventh, and 19 of the first 22 men they sent to the plate made outs.
The Yankees rallied for two runs in the eighth — Brian McCann and Mark Teixeira both went the other way for RBI singles — but their best chance to realistically get back in the game came on inning earlier, when Feldman started to run out of gas. Teixeira singled with one out then Brett Gardner (hit-by-pitch) and Brian Roberts (walk) reached to load the bases with two outs. Astros manager Bo Porter went to Kevin Chapman, his only lefty reliever, to face Kelly Johnson, who hit a weak ground ball back to the pitcher to end the rally.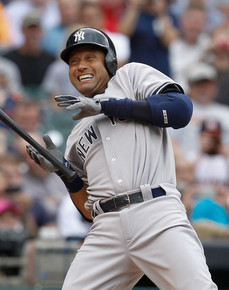 I thought maybe that Johnson at-bat would have been a good opportunity to use Frankie Cervelli as a pinch-hitter against the lefty. It burns the backup catcher, but Cervelli has always hit lefties and the left field porch at Minute Maid Park is tiny. If there was ever a time to take a shot at making this a game, that was probably it. That said, it is the first game of the season and the score was so lopsided that sticking with Johnson was fine. Nothing wrong with showing some confidence in him there.
It wasn't until Feldman was out of the game that the offense put up a fight, so perhaps the Houston right-hander was just sharp in the season-opener. Eight of the final 15 Yankees reached base — six of eight reached at one point — but by this point, the deficit was just too big. Alfonso Soriano really killed them, striking out to end the fourth with two men on base and grounding into a double play to end the eighth with two on. At -0.084 WPA, he's the easy goat.
Dealin' Dellin and the Vidal Nunos
It might not seem like a big deal with three long relievers on the roster, but Sabathia did save the bullpen some by following up those disastrous first two innings with four scoreless ones. The Yankees open the year with 13 games in 13 games and you know they want to take it easy on Masahiro Tanaka and Michael Pineda if at all possible. Saving the bullpen a few innings was a silver lining to an otherwise forgettable game.
Dellin Betances was electric in the seventh, facing the top three hitters in Houston's lineup and completely overwhelming them. He struck out Dexter Fowler on five pitches, struck out Robbie Grossman on three pitches, and got Jose Altuve to ground out weakly to second base on the second pitch. Betances topped out at 99.3 mph (!) according to PitchFX. Dynamite. Vidal Nuno faced four batters in the eighth, striking out three and getting a weak ground ball that slithered passed Derek Jeter and Johnson. Too bad we can't erase those first two innings, the pitching was pretty excellent after that.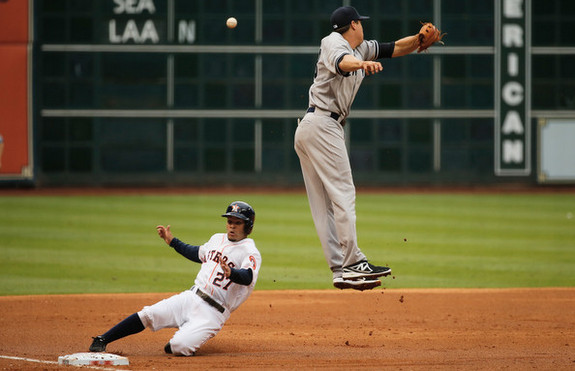 Leftovers
Jeter's final Opening Day started with a hit-by-pitch. He took a Feldman fastball off what initially looked like the left wrist, but replays showed it got him off the left forearm. That woulda been some way to start the season, wouldn't it? Jeter struck out looking in his second at-bat, grounded back to first in his third at-bat, then slashed a Jeterian single to right field in his fourth at-bat. The same hit we've seen about a couple thousand times these last 19 years.
The Yankees played some hilariously sloppy defense in the first inning, particularly on Castro's fielder's choice. Teixeira fielded it cleanly and tried the cut runner down at home, but he threw the ball in the dirt and it bounced to the backstop. After McCann picked it up, he tried to get the runner at third base, but instead airmailed the throw into left field. Gardner did a good job backing up the play and preventing the runner from scoring. Teixeira was clearly trying to do too much in his first game after such a long layoff. He's gotta take the out at first there.
Carlos Beltran picked up the team's first hit of the season, singling to left field on a soft line drive with one out in the fourth. He also slide head-first into first base down six runs in the eighth inning. Silly. I know he wants to win and help his new team and all that, but he's asking to get hurt by doing that. Ellsbury went 0-for-4 with a walk, McCann went 1-for-4, and Teixeira went 2-for-3 with a walk. Johnson doubled with two outs in the ninth for the team's first extra-base hit of 2014.
Box Score, WPA Graph & Standings
MLB.com has the box score and video highlights, FanGraphs some other stats, and ESPN the updated standings. Spoiler: the Yankees are in last place.

Source: FanGraphs
Up Next
Same two teams Wednesday night, though that one is an 8pm ET start. Stupid time zones. Hiroki Kuroda and Jarred Cosart will be the pitching matchup for that one.