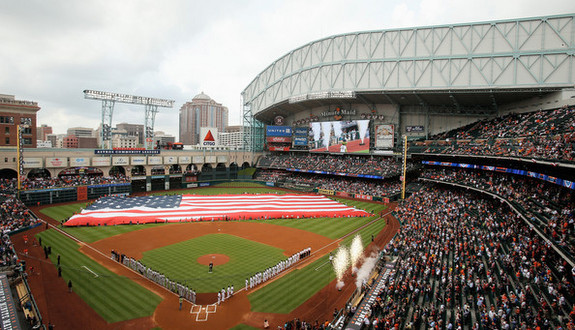 I know I just did a thoughts post yesterday, but there's a bunch of stuff going on after Opening Day and none of it is worth a full post. This is the worst time of the season because we know the samples are still way too small to mean anything, but what else are we supposed to talk about? Baseball, man. It can be cruel.
1. I'm really curious to know what adjustment CC Sabathia made after the second inning last night. There had to be something, he looked like a completely different pitcher in his last four innings than he did his first two. Joe Girardi told Dan Barbarisi his pitches were cutting early and Sabathia told Bryan Hoch he was too amped up, but that doesn't help us any. If there was a tangible adjustment made, that's good. You want to be able to point to something specific for the improvement, something real. Everything gets magnified on Opening Day, that's just the way it is, and Sabathia was far from impressive on Tuesday. I am looking forward to seeing his next outing though. Something changed after that second inning.
2. The offense was mostly a no show on Opening Day, but I thought Mark Teixeira looked really good. He hit a ball to the warning track in his first at-bat, ripped a line drive to right that sliced just foul in his second time up, then slapped a single the other way later in the game. He also drew a walk and saw 18 total pitches in four trips to the plate. Teixeira said he is still a little apprehensive about his surgically repaired wrist at the end of camp, which is a concern for obvious reasons, but he didn't show it last night. He swung hard, made some solid contact, and he's seeing the bell wall. Does that mean he'll be fine going forward? Who knows. This one game, those four at-bats, were encouraging.
3. I'm fully on board with batting Brett Gardner seventh after being on the fence about it at first. Yeah, he would serve as the second leadoff man by batting ninth, but I think batting him seventh does a better job of helping the middle of the order. Gardner's whole thing is not making outs, and by batting him closer to the middle of the lineup, he'll get more of an opportunity to extend rallies and cap them off. The middle of the order is the key to everything; Brian Roberts and Kelly Johnson aren't going to generate much offense no matter where they slot into the lineup. Batting Gardner two spots higher to get that one extra good hitter behind Teixeira and Alfonso Soriano gives them more of a chance to turn rallies into runs. Instead of being a leadoff guy, he'll be expected to drive in some runs. Plus he might get an extra at-bat once in a while.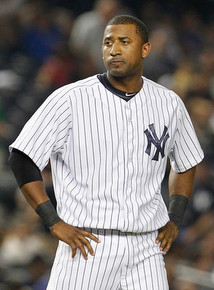 4. I am wrong all the time, about everything, yet I'm still surprised at how wrong I've been about this last bench spot stuff. Literally every step of the way. I thought they'd take Scott Sizemore, then when it was clear he was out of the running, I thought they'd take Eduardo Nunez. When they didn't take Nunez, I thought they'd keep him in Triple-A as insurance. Instead, he was designated for assignment yesterday to make room on the roster for Yangervis Solarte. Wrong, every step of the way. Even by my terrible standards, that's amazing. The Yankees don't have much shortstop depth now — Addison Maruszak figures to be the starter in Triple-A with Nunez gone — especially with Brendan Ryan out for a few weeks, so they'll probably have to keep an eye on the waiver wire for an extra body.
5. Dellin Betances is going to be my favorite sidebar this season. He was great in relief last year, very good in Spring Training, and just electric last night. Betances has been in the farm system for an eternity and he's had a ton of ups and downs, and we've watched them just about every step of the way. It's great to finally see him find some sustained success and a niche in the bullpen. His stuff is obviously excellent, and now that he's throwing strikes regularly, Betances can be a late-inning force. There is plenty of opportunity in the bullpen with a clear path to higher leverage seventh and eighth inning work, so this is a good time for everything to be clicking. Very much looking forward to seeing more.
6. As a team, the Yankees saw 138 pitches in last night's game. That isn't a huge number, but out of their 150 nine-inning games last year, they saw 138+ pitches only 72 times. Less than half the time. The 2014 offense had a bad day on Opening Day and yet they still saw pitches at a higher rate than last year's squad. Roberts did the heavy lifting with 20 pitches in his four trips to the plate while Gardner, Teixeira, and Soriano saw 18 apiece. That was by far the worst part of the 2013 offense. They made a ton of outs and they were mostly quick outs, two or three pitch at-bats. This group isn't like the 2004-12 lineups or anything, but they make the pitcher work for whatever he gets. It's refreshing.