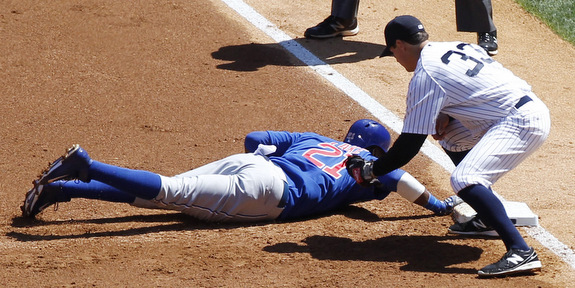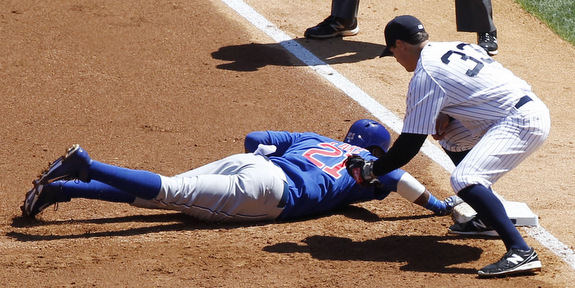 The Yankees came into 2014 with some very real infield concerns, both in terms of production and durability, and sure enough those concerns manifested themselves within the first week of the season. Just not necessarily in the way I expected — Mark Teixeira caught a spike in the turf in Toronto and landed on the 15-day DL with a hamstring injury. Just like that, the team without a backup first baseman lost their starting first baseman.
Teixeira returned after the minimum 15 days and the Yankees managed to win seven of 12 games during his absence because the replacement infielders played well. Kelly Johnson was adequate (not great, not awful) at first base and Yangervis Solarte did a mean Bernie Williams impression for a few weeks, which made life a lot easier. Derek Jeter has been getting on base a bunch early on as well, and while Brian Roberts has been better of late, he's been not so good overall. Three out of four ain't bad, I guess.
Now that the Teixeira has returned, the Yankees have five infielders for four spots. Jeter and Teixeira are going to play no matter what because of who they are. That's not something worth debating. That leaves Solarte, Johnson, and Roberts for second base and third base. Solarte has hit the skids lately and has seen more time at the bench, but Johnson has seen his playing time take the biggest hit. He's started only three of seven games since Teixeira came off the DL. Roberts has started every game since Teixeira returned, though he was supposed to sit last night before Solarte's shoulder acted up.
Because it has been only seven games, it's unclear how the Yankees are going to squeeze all these guys into the lineup on a regular basis. I mean, yes, Roberts should probably sit because he is the worst player of the bunch, but that seems unlikely to happen right now. The Yankees appear to be determined to give him a chance to show he can have an impact from the bottom of the order. I don't agree with that — is there even anything left to reclaim at this point? he hasn't been good in a while now — but that seems to be the plan. Whatever.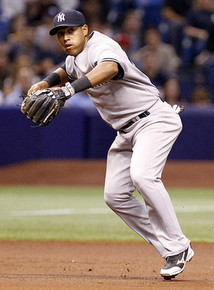 Because Solarte and Roberts and switch-hitters, platoon problems don't really exist and the Yankees have more flexibility. Johnson has been sitting against lefties given since Teixeira returned and I would bank on that continuing going forward. All three of these guys are part-time players to me. Guys who likely get exposed playing everyday but can be productive in say, 400 plate appearance roles. Except Roberts. I'm still not very optimistic about him. But, like I said, he's going to play so they might as well make the best of it.
Juggling these three will be a difficult situation for Girardi. Maybe difficult isn't the right word. It'll be a juggling act though, that's for sure. Solarte has swung the bat well overall, Johnson has legitimate left-handed power, and Roberts is the proven veteran. There is a reason to keep all three in the lineup. This isn't a bad thing, mind you. Three players for two spots is better than being short a player or two, but keeping everyone happy and productive is not easy. This isn't a video game; sitting on the bench a few days a week and being productive right away when pressed into duty is pretty tough.
In all likelihood, this will be one of those "it'll sort itself out" situations. Someone will play themselves out of regular at-bats or someone will get hurt. Heck, Roberts' back and Solarte's shoulder have already acted up. That's usually how this stuff goes. Until that happens, Girardi will have to juggle Solarte, Johnson, and Roberts between second and third base. The two switch-hitters and the versatility of Solarte and Johnson give the manager lots of options. No one is married to position and Johnson is the only one who will see the platoon disadvantage. That we're even having his conversation is good news. Three useful pieces for two infield spots was not something I expected to see this early in the season.