It's amazing how the mood changes from one night to another in this game. Wednesday night's loss might have been the worst game of the season because of the Michael Pineda ejection and everything else, but the Yankees rebounded with blowout 14-5 win over the Red Sox in the series finale on Thursday.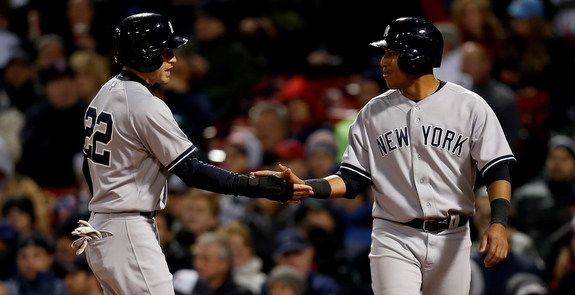 Theme of the Series
These three games had a common theme: one team was just terrible defensively. The Red Sox kicked the ball around on Tuesday, the Yankees returned the favor on Wednesday, and then the Red Sox did it again in this game. The Bombers scored their first inning run after Xander Bogaerts flubbed a a hard-hit grounder hit right at him — tough play but one I think a big league shortstop should make — allowing Carlos Beltran to reach first base. Alfonso Soriano doubled him in with two outs as the next better.
In the second inning, the Yankees took advantage of the new transfer rule — Dustin Pedroia bobbled the ball and couldn't complete the double play — as well as two wild pitches and hard-hit ball third baseman Brock Holt couldn't reel in. The wind also helped them out by pushing a Beltran foul pop-up just out of the reach of Mike Napoli, extending the at-bat. Two pitches later, Felix Doubront uncorked a run-scoring wild pitch. The big hit was Yangervis Solarte's two-run double down the left field line. It was a great at-bat, nine pitches with three foul balls in a full count. After the first two innings, the Yankees were up four-zip and Doubront had thrown 52 pitches.
The third inning was more of the same, though Mark Teixeira led it off with a solo homer on a really, really high fly ball. It seemed to hang up in the air for about ten seconds before hitting off the flat top of the Green Monster. A weak Brett Gardner grounder went right through Doubront's legs — it was initially called a hit, but the official scorer came to his senses and later changed it to an error — and two stolen bases later, Gardner scored on Brian Roberts' single. Roberts stole second uncontested and scored on Jacoby Ellsbury's two-out double. That made it seven-zip. The Red Sox opened the door for New York all night with bad defense. Kinda like they did on Tuesday and the Yankees did on Wednesday.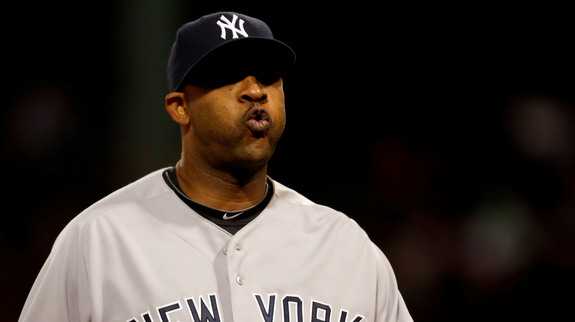 No Fastball? No Problem
Maybe it's just me, but it seems like CC Sabathia has gained a few pounds since Spring Training. Am I wrong? He was downright svelte in camp, but now he's got a pitch of a belly. Anyway, the big lefty continued his transformation from power pitcher to finesse guy on Thursday night, holding the Red Sox to two runs on three hits and three walks in six innings. Seventy-one of 106 pitches were strikes, including a dozen swings and misses.
One terrible 0-2 pitch to Jonny Gomes in the third inning stands out as Sabathia's biggest mistake. He had a chance to get out of the inning right there, but instead Gomes doubled and made it a two-run inning rather than a one-run inning. Sabathia settled down after that and retired ten of the final 12 men he faced. The two exceptions were a hit batsman and an infield single. Six of those ten outs were strikeouts. Here is the PitchFX Breakdown from Brooks Baseball, but the data will change overnight. Some of Sabathia's fastballs were classified as changeups because of his, uh, lack of velocity.
As I wrote earlier this week, this season Sabathia is throwing more sinkers and busting righties inside more often than he had in recent years. I saw that again in this game, but we'll have to wait for the final PitchFX data in the morning to confirm. That's kinda the classic veteran adjustment, making the ball move more and making the hitters move their feet more. We've seen it in previous starts and we saw it again in this game. This is a guy going through a transformation right before out eyes. CC is a different pitcher this year.
Blown Open
Things got out of hand in the seventh inning when the Yankees made this one a real laugher. Solarte snapped out of his 0-for-14 slump with his double in the second, and in the seventh he poked a two-run single to right field. Ellsbury hit a ground-rule double to right to score another run, and Derek Jeter put a bow on it with a two-run single. All of that happened with no outs and a(nother) Red Sox error contributed to that rally. They made five on the night and could have been charged with one or two more. A wild pitch and some more general defensive hilarity led to the Yankees' 13th run in the eighth, and position player Mike Carp walked in the 14th run in the ninth. Baseball!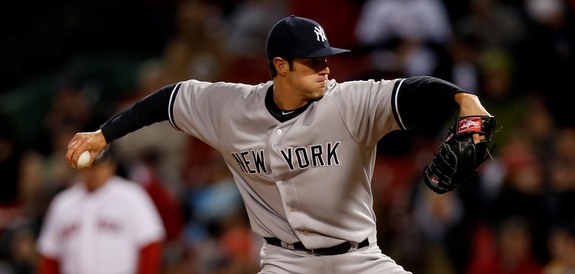 Leftovers
Congrats to Shane Greene for making his big league debut in the seventh inning. He had no idea where the ball was going — only eight of 23 pitches were strikes — and put four of the five hitters he faced on base. He was lifted from the game in the middle of an at-bat with the bases loaded. Probably not how he dreamed it would play out all these years. That's alright. Greene will get another chance to show what he can do. Eventually.
Adam Warren and David Robertson finished off the game after Greene. Robertson had not pitched since coming off the DL on Tuesday and he'd thrown one total inning in the last three weeks or so. That inning came in an Extended Spring Training game last Saturday. He needed the work. Glad was able to make his first appearance in a few weeks with a big league. You never quite know how a guy will pitch after such a long layoff.
One night after Pineda was ejected for failing to hide his pine tar, pitchers for both teams really struggled to locate the ball. Overall, the clubs combined for 18 walks, four wild pitches, two hit batsmen, and only 59% strikes. With extra attention naturally being paid to any sort of foreign substance, it was almost like the pitchers were looking for something to help them get a better grip in the cold.
There was a ton of offense tonight so I'm not even going to attempt to recap it here. Click the box score link below. I do want to point out that Beltran went 1-for-6 with a double, only because it was his 37th birthday. Oh, and the Yankees drew 12 walks while striking out only twice. Yeah, a bunch of those were Carp and his knuckleball in the ninth, but still. That's pretty ridiculous. Oh, and Brian McCann played first base in the ninth inning. First time he's ever played the position.
Joe Girardi actually challenged a wild pitch in that second inning. The umpires ruled the pitch hit Beltran in the foot, which would have loaded the bases with one out. But getting it overturned meant a wild pitch and the runner scoring from third. Bases loaded for the cleanup hitter would be cool, but you always take the guaranteed run. No brainer at the time since it was so early in the game.
Five of the Yankees' last seven games have been decided by at least six runs. That seems weird. The Bombers took two of three in Fenway Park and went 4-3 on the seven-game trip through Tampa and Boston.
Box Score, WPA Graph & Standings
For the box score and video highlights, head to MLB.com. FanGraphs has some other stats and ESPN has the updated standings.

Source: FanGraphs
Up Next
The Yankees are heading home for a nine-game, ten-day homestand. Mike Trout and the Angels are in town this weekend and will send C.J. Wilson to the mound in Friday night's opener. Hiroki Kuroda will be on the bump for the Bombers. If you want to catch that game or any game on homestand, RAB Tickets can get you in the door.