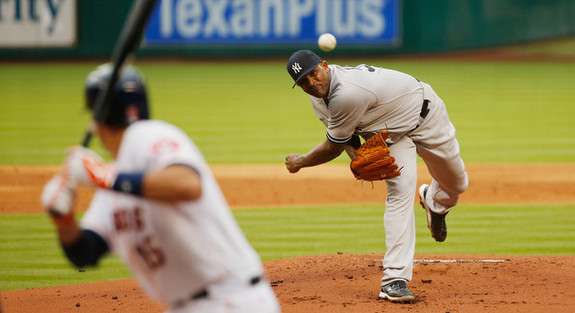 As you know, last season was the worst of CC Sabathia's career. By a lot. He was legitimately one of the worst pitchers in the game after being no worse than comfortably above-average for the better part of a decade. Sabathia's ability to bounce back — not necessarily to an ace, just to something better than terrible — is pretty important to the team's chances to contend this summer, even with Masahiro Tanaka and Michael Pineda throwing so well early on.
Sabathia's first four starts this year have been a mixed bag but they have gotten progressively better: six runs in six innings, four runs in six innings, four runs in seven innings, and two runs in seven innings. He has pitched very well early in his last three starts before allowing some runs in the later innings. There have definitely been multi-inning stretches where he was in total control, but we've yet to see an entire start like that. Hopefully it's coming soon.
Unsurprisingly, Sabathia's oft-discussed velocity did not bounce back this year. It never does. Once velocity goes it tends to stay gone. His four-seam fastball has averaged only 89.6 mph in his first four starts, down from 91.3 mph last year. I suspect that will tick up a little bit in the summer months as it usually does. How has Sabathia attempted to compensate for his missing heater? By simply throwing it less. He has de-emphasized his four-seamer. Look at his pitch selection courtesy of Brooks Baseball:
| | Four-Seamer | Sinker | Slider | Changeup | Cutter |
| --- | --- | --- | --- | --- | --- |
| 2009 | 44.5% | 16.8% | 19.9% | 18.9% | 0.0% |
| 2010 | 45.1% | 15.7% | 22.2% | 17.0% | 0.0% |
| 2011 | 45.3% | 13.4% | 27.2% | 14.1% | 0.0% |
| 2012 | 39.4% | 14.8% | 32.1% | 13.7% | 0.0% |
| 2013 | 42.3% | 14.9% | 27.5% | 15.2% | 0.0% |
| 2014 | 30.1% | 27.4% | 24.0% | 16.4% | 2.2% |
Sabathia has incorporated a cutter this season but he rarely uses it, only a handful of times per game. He is throwing slightly fewer sliders and slightly more changeups, but nothing crazy. That's probably a function of the small sample size more than anything. The big difference comes with the fastballs. Sabathia is throwing way fewer four-seamers than at any other time with the Yankees and he's throwing a ton more sinkers, basically twice as many as he threw from 2011-13. That's a big difference.
Sabathia is not necessarily using fastballs less, but now he is cutting them and especially sinking them more often. That doesn't make him unique either. Not even close. That is an adjustment most veteran pitchers will make later in their careers. From Chris Cwik:
The added movement is likely one of the reasons we've seen veteran pitchers start using the sinker more often, according to PITCHf/x guru Harry Pavlidis. "As you lose velocity you need to add something," says Pavlidis. "Movement is a good choice. So you'll have older pitchers who lose velocity and adjust, or guys who are fringy and realize they can get a new edge, even if their velocity is still intact."

Former major-league pitcher Brian Bannister agrees. "As pitchers lose the capability to throw powerful four-seam fastballs they have to compensate somehow," Bannister said. "If you look at most of the pitchers who are still around as they get older, they are throwing sinking fastballs and not power fastballs because it matches up with how their body feels."
Sort through the list of pitchers who have used the sinker the most since 2011 and they are almost all veterans in the second half of their career. Jake Westbrook, Derek Lowe, Jason Marquis, Kyle Lohse, Hiroki Kuroda, Bronson Arroyo, guys like that. Sabathia isn't throwing his sinker as much as those guys just yet, but don't be surprised if he creeps closer and closer to the top of that list in the coming years. It only makes sense to shelve the straight four-seamer in favor of the sinking sinker as the radar gun readings become less impressive.
Emphasizing the sinker is not the only adjustment Sabathia has made early this year. He is also pitching inside more often. According to the truly amazing Baseball Savant, Sabathia has come inside to right-handed batters with 29.5% of his pitches this year. That is up from 25.8% last year and 24.2% from 2011-13. (He's only faced 12 lefty batters this year so I won't even bother with those numbers.) I remember Mike Mussina (or maybe it was David Cone) saying that you have to pitch inside more when you start to lose velocity, and Sabathia has done early in 2014.
Between the increased reliance on his sinker and busting righties inside more often, CC has changed his pitching style in a tangible way so far this year. He had to after last season. The velocity isn't coming back and adjustments had to be made. I'm guessing this is just the start of those adjustments too. We might see more sinkers, more cutters, and more pitches inside as the season continues and he gets more comfortable. The progressively better starts might be an indication of that.
Because of who he is and his importance to the Yankees, everything Sabathia does this season will be watched closely. At least by me. I'm somewhat fascinated by the way pitchers age in general, going from hard-throwing youngsters with big stuff to savvy veterans who rely on their brains as much as their arms. Sabathia was not a "thrower" these last few years, the guy knows how to pitch, but that doesn't mean adjusting to reduced velocity is easy. Throwing more sinkers (and cutters) and pitching inside appear to be tangible changes to his approach this year, changes he needs to make at this point of his career.