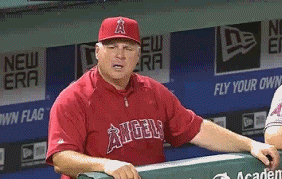 The Yankees are out on the West Coast for the first time this season, though they're only there for three games. They open a three-game series with the Angels tonight before heading to the Midwest. Angel Stadium has been a house of horrors for the Yankees, who have lost each of their last three series and five of their last seven series in Anaheim.
What Have They Done Lately?
Since these clubs met last week, the Angels swept the Indians and lost two of three to the Rangers. They are 15-15 with a +28 run differential overall. That's actually the second best run differential in the AL. Only four AL teams have a positive run differential this year. April and May are weird.
Offense
As you probably remember from last weekend, the Angels can really hit. Their team 115 wRC+ is the best in baseball and their average of 5.30 runs per game is the second best. That's without OF Josh Hamilton, who suffered a thumb injury (sliding into first base!) about a week into the season and has yet to return. OF Kole Calhoun has an ankle problem and 3B David Freese just had his finger broken by a errant pitch. Those are three pretty important players are none are due back until the end of the month at the earliest.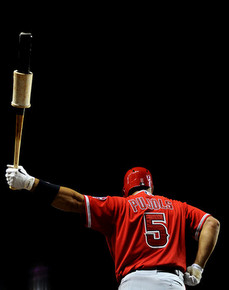 Manager Mike Scioscia's lineup is anchored by OF Mike Trout (161 wRC+) and 1B Albert Pujols (160 wRC+), both of whom are just tearing the cover off the ball. Trout does everything and while Pujols doesn't hit for average or get on base like he did a few years, his ten homers are the second most in the league. 2B Howie Kendrick (130 wRC+) always kills the Yankees and SS Erick Aybar (106 wRC+) is having a nice year. He always seems to be annoying.
With Freese hurt, 3B Ian Stewart (90 wRC+) has taken over at the hot corner full-time. The catching platoon of C Chris Iannetta (122 wRC+) and C Hank Conger (147 wRC+) has been very productive. OF Raul Ibanez (45 wRC+) and OF Collin Cowgill (160 wRC+ in limited time) are stuck playing the outfield regularly with Hamilton and Calhoun hurt. UTIL Grant Green (6 PA), IF Luis Jimenez (4 PA), and IF John McDonald (16 PA) fill out the bench. Top prospect 1B/DH C.J. Cron has five hits in two games since coming up to replace Freese.
Pitching Matchups
Monday: RHP David Phelps (vs. LAA) vs. RHP Jered Weaver (vs. NYY) (Pitcher GIFs)
Weaver, 31, has always been an unconventional ace because he's a kitchen sink guy, not a power pitcher. He's off to an alright start (4.00 ERA and 4.83 FIP) in six starts and 36 innings so far, with just okay strikeout (7.00 K/9 and 18.8 K%) and walk (3.00 BB/9 and 8.1 BB%) rates. Weaver has given up an inordinate number of homers (1.50 HR/9 and 11.3 HR/FB%) so far in 2014. He doesn't get grounders (35.3%). Never has and never will. He's always been a high pop-up rate/weak contact guy that defies the usual ERA/FIP relationship. Lefties (.327 wOBA) are hitting him harder than righties (.290 wOBA). Weaver throws four pitches and he throws them almost interchangeably: mid-80s fastballs, low-80s slider, upper-70s changeup, and low-70s curveball. Yes, his fastball sits in the mid-80s. He cuts and sinks it on occasion too. The Yankees didn't see Weaver during their series with the Angels last weekend.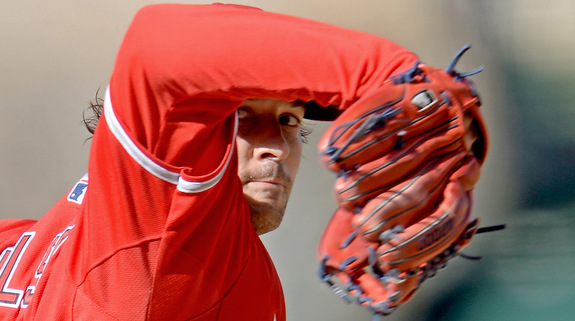 Tuesday: RHP Hiroki Kuroda (vs. LAA) vs. LHP C.J. Wilson (vs. NYY) (Pitcher GIFs)
Wilson, 33, has gotten better and better in each of his three seasons with the Halos. He's pitching to a 3.18 ERA (3.43 FIP) in six starts and 39.2 innings this year thanks to stellar strikeout (9.30 K/9 and 26.1 K%) and ground ball (50.0 K%) rates. His walk rate is good (2.95 BB/9 and 8.3 BB%) and his homer rate (0.91 HR/9 and 11.8 HR/FB%) is fine. Lefties (.252 wOBA) haven't have much luck against him, but neither have righties (.297 wOBA). Wilson throws five pitches — low-90s fastball, upper-80s cutter, mid-80s changeup, low-80s slider, upper-70s curveball — and he uses all of them a lot, so it's a bunch of different looks. He held the Yankees to one run in six innings last weekend.
Wednesday: LHP Vidal Nuno (vs. LAA) vs. LHP Hector Santiago (vs. NYY) (Pitcher GIFs)
This is a rematch of last Saturday's game. The 26-year-old Newark native is off to a rough start (5.01 ERA and 4.99 FIP) even though he's missing bats (7.79 K/9 and 19.7 K%). He walks too many (4.18 BB/9 and 10.6 BB%), doesn't get grounders (30.2%), and gives up homers (1.39 HR/9 and 10.2 HR/FB%), which isn't any way to live. Santiago doesn't have a platoon split even though he's a two fastball (low-90s four and two-seamer), one changeup (low-80s) pitcher. He will mix in the occasional mid-70s screwball but that's really it. Three and a half pitches, basically. The Yankees roughed Santiago up for four runs in 4.1 innings in their previous series.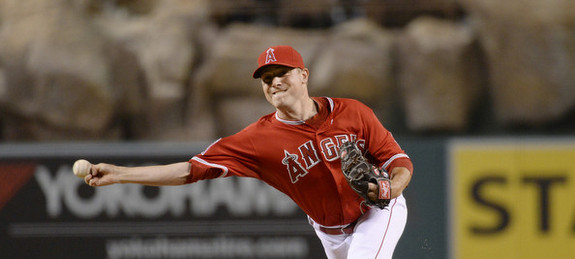 Bullpen Status
Scioscia's bullpen hasn't been very good this season — 19th in ERA (4.07) and 26th in FIP (4.46) — and he's already replaced RHP Ernesto Frieri (7.11 FIP) with RHP Joe Smith (2.29 FIP) at closer. LHP Nick Maronde (4.24 FIP) is the only lefty and both RHP Michael Kohn (3.64 FIP) and RHP Kevin Jepsen (4.28 FIP) tend to see the higher leverage work.
Right now, the rest of the relief unit includes RHP Fernando Salas (4.45 FIP) and RHP Michael Morin (1.77 FIP in very limited time). Kohn, Jepsen, Maronde, Morin, and Salas all pitched in yesterday's blowout loss, and after the game Scioscia hinted that a fresh arm or two could be called up before tonight's game. There's no word on those moves just yet. Al Aceves will be unavailable for a few days following yesterday's long relief outing, but otherwise the Yankees' key relievers are rested. Check out our Bullpen Workload page for details and Halos Daily for the latest and greatest on the Angels.