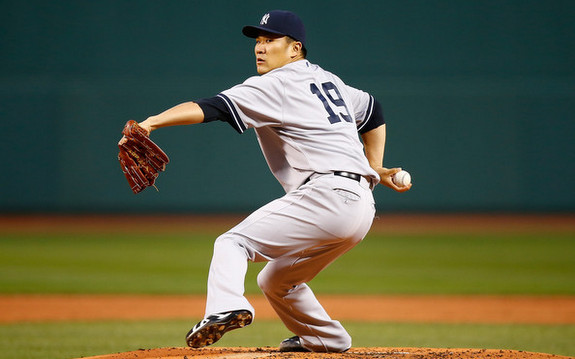 I've been at this for a little while now, and one thing I've learned over the years is that there is a friggin' ton of bad information out there. The bad information outnumbers the good information by like, a factor of a hundred at this point. It's terrible. Sorting through the nonsense is exhausting. It really is. What are you going to do though? It's all in the game.
International players in particular fall victim to bad information because there isn't much information out there to begin with. Even in this age of the internet and the 24-hour news cycle, we still don't know a whole lot about non-MLB players. The tiny little bit of information we have gets extrapolated out and before you know it, Yoenis Cespedes is a five-tool superstar when he's more like a solid, two-tool everyday outfielder. It happens all the time.
To date, I don't think we've seen anything out of Masahiro Tanaka that we didn't hear about in the weeks and months leading up to his free agency. Actually, I guess I should say we haven't seen Tanaka not do something he was said to be able to do in the weeks and months leading up to free agency. That make sense? We're not waiting to see the gyroball or anything like that. Tanaka has been as advertised.
One thing that stood out to me before the Yankees signed Tanaka was this statement by Darrell Rasner, the former Yankee who was Tanaka's teammate with the Rakuten Golden Eagles the last few years. Here's what Rasner told Sweeny Murti back in January:
SM: When you say he has an extra gear, you mean an extra 3 or 4 miles per hour to get somebody out?

DR: I'm talking like an extra 10! I watch him pitch at 88-89 or 90-91, and then I'll see him jump up to 98-99 when he needs it. I saw him do this (last) year, and there was one game that really stands out to me. I wanna say it was the eighth or ninth inning and he was 140 pitches in and he needed a strikeout, and he jumped it from that 90 to about 98-99 and punched the guy out. It's just impressive watching the guy, his mentality and his know-how on pitching, especially being so young.
This sounds like a something that could be totally made up, right? We hear about guys cranking it up a notch in big situations quite a bit but it seems like few actually do it.
Anecdotally, I feel like I have seen Tanaka reach back and bring something extra in important spots during his first six starts, but this is 2014. Anecdotal evidence is for suckers. We can test this stuff. First, let's keep it simple and look at Tanaka's results. Here is how he's fared in situations with varying degrees of pressure:
| | BF | AVG | OBP | SLG | BABIP | wOBA | K% | BB% | GB% | FIP |
| --- | --- | --- | --- | --- | --- | --- | --- | --- | --- | --- |
| Bases Empty | 109 | .262 | .275 | .514 | .318 | .341 | 25.7% | 1.8% | 40.8% | 4.20 |
| Men On | 59 | .130 | .203 | .185 | .250 | .186 | 39.0% | 6.8% | 71.0% | 2.30 |
| RISP | 32 | .103 | .188 | .207 | .143 | .188 | 53.1% | 6.3% | 75.0% | 1.75 |
First things first: take a second to soak in those numbers with runners in scoring position. Hitters had an 0-for-17 stretch against Tanaka in those spots until Ryan Hanigan slapped a ground ball off Kelly Johnson's glove on Saturday. When it comes to runners in scoring position, Tanaka is the Yankees' offense of pitchers. I don't even care that the performance came in a super small sample — the reason I didn't use low/medium/high-leverage stats instead is because Tanaka has faced only nine batters in high-leverage spots — it happened and it's amazing.
Anyway, Tanaka has performed much better with runners on base than he has with the bases empty to date. That isn't proof that he kicks it into another gear in big spots, but it does support the theory. At least somewhat. Obviously Tanaka isn't going to sustain a 53.1% strikeout rate and a 75.0% ground ball rate with men in scoring position (lol) because no one does that. I would expect him to be less effective in those spots going forward only because he couldn't possibly be any better.
The results have been excellent, but when I think of a pitcher reaching back for something extra in big spots, I think of increased velocity. That's what everything thinks, right? Rasner's claim that Tanaka can reach back for "an extra 10!" is completely far-fetched — if a pitcher could really do that, he's probably doing his team and himself a disservice by not doing it more often — but the idea that he throws harder when he really needs an out is not. There are a few guys around the league who can do it, with Justin Verlander jumping to mind.
Courtesy of the amazing Baseball Savant, here is Tanaka's pitch selection and average velocities in those same three situations:
| | FB% | FBv | SNK% | SNKv | SPL% | SPLv | SLD% | SLDv |
| --- | --- | --- | --- | --- | --- | --- | --- | --- |
| Bases Empty | 26.3% | 91.4 | 23.0% | 90.2 | 17.9% | 86.1 | 18.1% | 83.3 |
| Men On | 20.5% | 92.2 | 23.0% | 90.5 | 29.3% | 86.3 | 19.2% | 84.0 |
| RISP | 25.4% | 92.6 | 14.3% | 91.1 | 38.9% | 86.9 | 21.2% | 85.3 |
Those percentages do not add up to 100% simply because Tanaka throws too many different pitches and I didn't include them all. PitchFX has recorded eight different pitches from Tanaka this season, though the four-seamer, sinker, splitter, and slider are his four main offerings. The others (cutter, two-seamer, changeup, curve) aren't used nearly as often, so I'm leaving them out. It's just too much information.
Across the board we see that Tanaka has indeed thrown harder with guys on base, especially when they're in scoring position. The increase in the average velocity of his four-seamer, sinker, and splitter is roughly one mile an hour with men in scoring position while the slider jumps two full miles an hour. The increases with men on base in general are smaller but they still exist, especially with the fastball and slider. The average fastball velocity increase with men on base is only 0.2 mph across the league. It's 0.4 mph with runners in scoring position. Tanaka's fastball has jumped +0.8 mph with men on and +1.2 mph with men in scoring position. The other pitches have shown even smaller velocity increases around the league, so Tanaka is very much unique.
Tanaka has thrown ten pitches at 94+ mph this year and eight have come with men on base. The two exceptions were a pair of 2-2 fastballs to Brock Holt (95.2 mph) and Grady Sizemore (94.7 mph). Both were fouled off and they were Tanaka's fastest and fourth fastest pitches of the season, respectively. Here's the fun part: the pitch to Holt was in the seventh inning (96th pitch), the pitch to Sizemore in the eighth (103rd). Tanaka was really amped up in Boston — ten of his 12 fastest pitches of the season came against the Red Sox — and he was throwing his hardest when his pitch count was approaching or over 100. That qualifies as a guy who ramps it up in big spots to me.
Through his first six starts, Tanaka has shown signs of having that "extra gear" we heard so much about before he joined the Yankees. It is just six starts though, his first six in the big leagues. He admitted to being excited and nervous before both his first overall start and first home start, and I'm sure he felt a little something before his other four starts as well. If Tanaka continues to reach back for more in big situations later in the season, after he has some more innings under is belt and has had more time to adjust to the five-man rotation, then I think we'll know this is a skill he actually possesses and not just a piece of bad misinformation we heard before Tanaka came over to MLB.