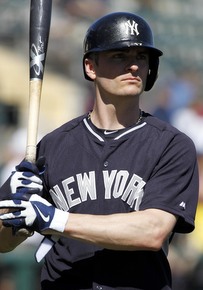 Earlier this afternoon the Yankees officially activated Brendan Ryan off the 15-day DL, just as we all expected. He had been working his way back from a back injury in the minors — seven rehab games plus who knows how many more in Extended Spring Training — and he takes Michael Pineda's spot on the roster. Pineda's suspension expired, so he was placed on the 15-day DL with his back/shoulder injury. The Yankees got their 25th roster spot back and no other moves were required to accommodate Ryan.
The Yankees were forced to play with a three-man bench these last ten games due to Pineda's suspension, so getting back to a normal four-man bench and 25-man roster will be nice only because it gives Joe Girardi some more flexibility. How he uses Ryan remains to be seen because, frankly, he's a pretty limited player whose true value is very much up for debate given the sketchy nature of defense stats. He is a no-hit, all-glove shortstop, after all. I think we can all agree Ryan has zero value if he isn't playing in the field and that's something of a problem because the Yankees have shown no indication are willing to cut back on Derek Jeter's playing time just yet.
As I mentioned this morning, Jeter has not played a single game at DH this season. He's been the starting shortstop exclusively. Given his age and shaky defense, that's probably not something that should continue all season. He's going to wear down if his recent slump isn't an indication he has started to already. Using Ryan to give Jeter a day off his feet, either as the DH or a full day on the bench, is the most obvious way to use him. How often will that happen? Once a week feels like the bare minimum. Twice a week wouldn't be a bad idea.
The Yankees could use Ryan at second and third base once in a while — he hasn't played a position other than short since 2009, for what it's worth — but beyond that, he's not very useful. That's pretty much exactly how the Yankees used Dean Anna for the first few weeks of the season, but Anna was a career minor leaguer who could be buried on the bench for days on end and no one would care. Ryan's making decent money ($2M) and his defense is an asset. Finding that balance between using him enough that he has an impact but not enough that he gets exposes will be tough.
Will Girardi and the Yankees be willing to use Ryan as a defensive replacement for Jeter in the late innings? I'm tempted to say no way, but I think there's a chance it will happen. Girardi did pull Jeter for pinch-runner Ichiro Suzuki earlier this season, something that never would have happened in the past. Maybe we'll see Ichiro pinch-run for Jeter, then stay in the game to play right with Ryan coming off the bench to play short. That could be one way to make the substitution without being so abrupt. Pulling Jeter for Ryan in a straight "your defense sucks" move seems a bit harsh. I don't know. We'll see.
Getting Ryan back tonight will help just because he's another warm body and the Yankees will finally have a full roster. He won't fix the team's main problem right now — get a damn runner in from scoring position already! — but he's going to help somewhat. The needle will move a little bit. It's a weird situation because Ryan has a very specific skillset and they don't line up well with the iconic Jeter, not unless the Yankees commit to reducing Derek's time in the field. Right now Ryan is just a relatively expensive infield caddy.