As a team, the Yankees have one of the lowest strikeout rates in baseball. They came out of last night's game with a 19.6% strikeout rate, below the 20.5% league average and the tenth lowest rate in the game. Guys like Derek Jeter, Jacoby Ellsbury, Brian McCann, Brian Roberts, and Yangervis Solarte have had little trouble putting the ball in play, and that's five-ninths of the starting lineup right there.
And then there's Brett Gardner. He has a career 18.2% strikeout rate and last season it was 20.9%, both of which are more or less league average when you consider baseball's perpetually increasing strikeout rate. (MLB has set a new record high for strikeout rate in each of the last seven seasons.) This season as been different though. Gardner has a 24.4% strikeout rate, by far the highest of his career. His 6.1% swing-and-miss rate is also a career-high (but still below the 9.3% league average). He's been piling up the whiffs in 2014.
Gardner isn't oblivious to the strikeout issues he's had these last few weeks and he's working to correct them. He cites a mechanical flaw and says he isn't planning any kind of major overhaul to his game. That would be a little silly at this point. From George King:
"I have been striking out too much,'' said Gardner, who didn't whiff Wednesday night against the Angels in Anaheim after fanning seven times in the previous four games. "My mechanics have been a little off, rushing the swing and swinging with my head moving. I have been swinging and missing more than I would like.''

…

"I have to do a better job, but I don't want to change my game. I have to be aggressive so when I get a pitch to hit, I put the ball in play and use my speed,'' said Gardner, whose 31 Ks were tied for 22nd among AL hitters Thursday. "I felt better [Wednesday].''
Even if you've never playing anything higher than Little League, you know that too much head movement during your swing is a recipe for swinging and missing. If you can't see the ball properly, you're not going to hit it. Gardner isn't chasing more bad pitches or anything like that — 23.0% swing rate on pitches out of the zone, down from 23.6% last year — he's just coming up empty when he does swing. The swing-and-miss punishment fits the head movement crime.
Gardner struck out 12 times in his first 40 plate appearances of the season (30%) and more recently he had a stretch with 11 strikeouts in 27 plate appearances (40.7%), which is just way too high, especially for a non-power hitter. He has gotten better as the season has progressed …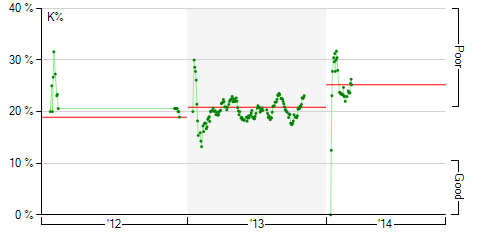 … but it's clear there is still some work to be done. It's not like Gardner isn't hitting at all — both his AVG (.283) and OBP (.352) are better than last season (.273 and .344), he's just hitting for zero power (.053 ISO) — he's just struggling to put the ball in play. It's actually kinda amazing he's remained as productive as he has despite the high strikeout rate.
The most important thing is that Gardner isn't chasing more pitches out of the zone. That would be a real big concern. Since his plate discipline seems to be fine and he's identified a mechanical issue with his head, I think it's only a matter of time before he snaps out of his swing-and-miss funk. It's frustrating, I know it is, but as long as Gardner is getting on base, stealing bases (7-for-7 this year), and playing high-end defense, he remains a productive player for the Yankees and worthy of an everyday lineup spot.