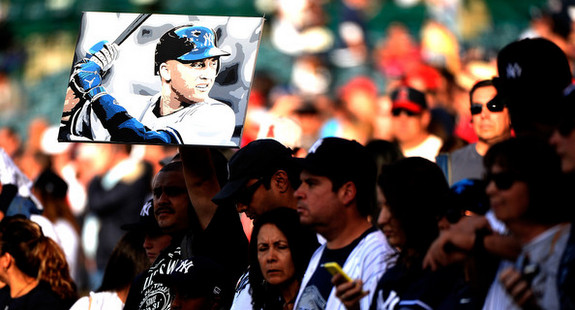 The Yankees are done with the West Coast portion of their six-game road trip and will rest today before beginning a three-game series against the Brewers in Milwaukee tomorrow night. Hooray interleague play, if that's your thing. Here are some scattered thoughts on the off-day.
1. The Angels series was a big positive for the Yankees, beyond the whole won two of three thing. David Phelps, Hiroki Kuroda, and Vidal Nuno pitched very well, their best outings of the season (against a very good offense), and the team needed to see something that indicated the rotation was not in complete tatters. It's only one start each, I know, but there were signs of progress, especially for Kuroda. I thought his stuff was fine in his first six starts, he had just no command of anything. The command appeared to come back Tuesday night and that was good to see. He was vintage Kuroda that game. I guess it took him a little longer than usual to get a feel for his offspeed stuff. The Yankees could probably still use another starter with Ivan Nova out for the year and Michael Pineda on hiatus, but at least now it doesn't feel like all pitching hope is lost.
2. The Yankees will play their next 12 games and 15 of their next 19 games against National League clubs. Ten of those 15 games are on the road too, so they're going to lose the DH spot for a good chunk of the next two weeks. I think Joe Girardi will simply rotate Brett Gardner, Alfonso Soriano, and Carlos Beltran into the starting lineup during the NL park games rather than sitting one guy in particular during that stretch of games. There's really nothing else they can do unless someone gets hurt, which hopefully won't happen. Furthermore, the Yankees will play 13 straight games against teams that either are bad or figure to be bad this year (Mets, Pirates, Cubs, White Sox) following this series with the Brewers. Yeah, there are lots of road games coming up (14 of the next 20!), but this is one of the softer stretches of the schedule this season. Good time to get on a roll and bank some wins.
3. The All-Star Game fan voting has started already — it actually started about two weeks ago, which is crazy early — and as of right now I think three Yankees will be elected to the Midsummer Classic: Jacoby Ellsbury, Masahiro Tanaka, and Derek Jeter. Jeter could go about 0-for-200 between now and mid-July and he'll still probably win the fan vote in his final season. MLB might even rig the vote to get him there because last year's ratings were almost a record low, and Jeter is one of the few players who transcends the sport and has significant marquee value. Either way, it seems like those three are the team's only serious All-Star candidates. Maybe David Robertson if he rattles off about 25 saves with a sub-1.00 ERA in the next two months. The days of having like, five or six All-Stars every season is long gone. Those years were fun.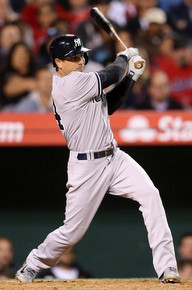 4. After a slow start to the season, Brian Roberts has hit very well of late. Basically since he returned from his little back problem last month. On the other hand, Yangervis Solarte has slowed in recent weeks after his hot start to the season. (He actually had a real nice series in Anaheim.) He wasn't going to hit like Tony Gwynn all summer, unfortunately. These two have basically reversed their April roles, when Solarte was damn near carrying the offense and Roberts wasn't doing much from the bottom of the order. It would be cool if they both hit at the same time, but I guess you take what you can get. I still think those two as well as Kelly Johnson would get exposed with regular playing time, so rotating Johnson in a bit more in the coming weeks would be a wise idea. I know they've faced a lot of lefties of late, but I don't think Johnson should automatically be glued to the bench against southpaws. At least he'll get to play a bunch these next few weeks just because of the interleague games and the need to pinch-hit and all that.
5. Speaking of Solarte, it has only been five weeks but I think we've seen enough from him to know he's a useful big leaguer. When the season started we had no idea what he could be, and the super hot start made it even tougher to judge him. The Yankees grabbed this guy off the scrap heap and he had basically no track to support any kind of projection about his future as an MLB player (other than "he doesn't have one"). Solarte is a switch-hitter who makes a ton of contact, can play second and third, fill in at shortstop in a pinch, and even play some left field. He did it in the minors and he did it in Spring Training. There's a spot for a guy with that skillset on the roster, as a bench player at the very least. I mean long-term too, not necessarily just for the remainder of the season. He can help in 2015 in beyond. Solarte's no star but he's been an excellent find for the Yankees.