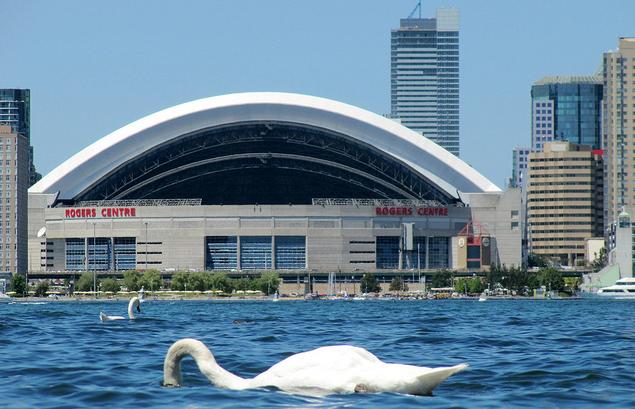 For the second time in a week, the Yankees and first place Blue Jays will meet for three games, only the scene shifts from the Bronx to Toronto. Much like last week, this series is pretty important by late-June standards. The Yankees could leave Canada in first place if things go well. They swept the Jays at home last week but lost two of three at Rogers Centre back in April.
What Have They Done Lately?
The Blue Jays lost two of three to the Reds in Cincinnati over the weekend, and they had to rally back from eight runs down for the one win. Toronto has lost eleven of their last 15 games overall and they come into the series 42-35 with a +25 run differential. They lead the Yankees (and Orioles) by 1.5 games in the AL East.
Offense
Manager John Gibbons watches over one of the best offenses in baseball, which averages 4.67 runs per game with a team 111 wRC+. They did lose both 3B Brett Lawrie (98 wRC+) and OF Jose Bautista (168 wRC+) to injury on Sunday, however. Lawrie had a finger broken by a Johnny Cueto pitch while Bautista left the game with a hamstring problem. He is having an MRI today to determine the extent of the damage. SS Jose Reyes (94 wRC+) is day-to-day with sore knee and IF Maicer Izturis (78 wRC+) is done for an extended period of time with a torn knee ligament. They're pretty banged up.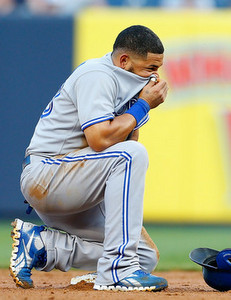 Even with all those injuries, Gibbons can still build his lineup around the trio of OF Melky Cabrera (128 wRC+), 1B Edwin Encarnacion (159 wRC+) and DH Adam Lind (157 wRC+). Melky has a 19-game hitting streak against the Yankees and is hitting .346/.378/.679 with six homers during that stretch. 3B Juan Francisco (135 wRC+) has been good in a platoon role and OF Colby Rasmus (118 OPS+) just came off the DL last week. Francisco figures to see more playing time with Lawrie hurt.
The Jays are currently carrying three catchers in former Yankee C Dioner Navarro (79 wRC+), C Erik Kratz (73 wRC+), and C Josh Thole (91 wRC+ in limited time). Thole is basically R.A. Dickey's personal catcher. That's all. IF Munenori Kawasaki (53 wRC+) and UTIL Steve Tolleson (99 wRC+ in limited time) round out the bench. Toronto's going to have to make at least one roster move today to replace Lawrie and may need to make another depending on Bautista's test results.
Pitching Matchups
The Blue Jays are scheduled to start the same three pitchers this week that they started in New York last week thanks to a spot start over the weekend. Dickey had a minor groin injury, so they simply called up a sixth starter on Friday and pushed everyone back a day.

Monday: RHP Chase Whitley (vs. TOR) vs. RHP Marcus Stroman (vs. NYY)
Stroman, 23, has a 5.14 ERA (3.69 FIP) in 28 innings covering four starts and five relief appearances this season to start his MLB career, though his walk (1.93 BB/9 and 4.7 BB%) and ground ball (51.5%) rates are excellent. His strikeout (7.39 K/9 and 17.8 K%) and homer (0.96 HR/9 and 10.0 HR/FB%) numbers are closer to league average. Lefties (.419 wOBA) have hit him much harder than righties (.307 wOBA) so far. The Long Island raised Stroman uses a mid-90s four-seamer and a low-90s cutter to set up his mid-80s slider, mid-80s changeup, and low-80s curve. He held the Yankees to two runs last week, but they worked him hard and forced him to throw 98 pitches in only 3.2 innings.
Tuesday: RHP David Phelps (vs. TOR) vs. LHP Mark Buehrle (vs. NYY)
The 35-year-old Buehrle is off to a fantastic start (2.32 ERA and 3.45 FIP) that is due almost entirely to his miniscule homerun rate (0.45 HR/9 and 4.6 HR/FB%). His strikeout (5.27 K/9 and 14.3 K%), walk (2.50 BB/9 and 6.8 BB%), and ground ball (42.0%) rates are right in line with his career averages through 15 starts and 100.2 innings. Buehrle has no left/right split but he has been better on the road (.270 wOBA) than at home (.338 wOBA) this year. As always, he works in the mid-80s with his four-seamer, two-seamer, and cutter, mixing in some upper-70s changeups and low-80s curves to keep hitters (even more) off balance. Buehrle allowed three runs (two earned) in six innings against the Bombers last week.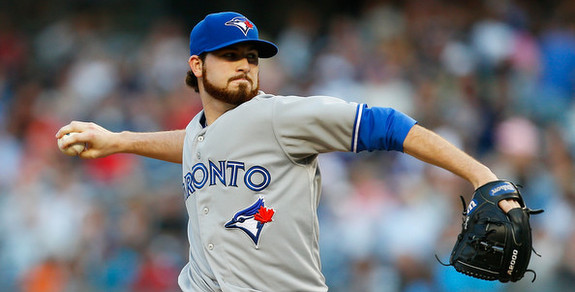 Wednesday: RHP Hiroki Kuroda (vs. TOR) vs. RHP Drew Hutchison (vs. NYY)
Hutchison, 23, has been rock solid following his return from Tommy John surgery, posting a 3.86 ERA (3.90 FIP) in 15 starts and 86.1 innings. His strikeout (7.61 K/9 and 20.2 K%), walk (2.81 BB/9 and 7.5 BB%), homer (1.04 HR/9 and 9.3 HR/FB%), and ground ball (36.7%) numbers are all good. Not great but not awful either. Lefties (.328 wOBA) have been a bit more successful against the Hutchison than righties (.302 wOBA), though he's been far better on the road (.266 wOBA) than at Rogers Centre (.439 wOBA). A low-90s fastball is his main pitch and he throws it a lot, more than 60% of the time. Sliders and changeups in the mid-80s round out the repertoire. The Yankees scored six runs in 3.1 innings off Hutchison back in April, then managed four runs in 4.1 innings against him last week.
Bullpen Status
Despite Dickey's groin issue, he was able to give the team 7.2 innings in the losing effort yesterday. RHP Sergio Santos (5.04 FIP) was the only reliever used and he threw all of two pitches. Gibbons' bullpen is pretty fresh. RHP Casey Janssen (1.68 FIP) is the closer, and with LHP Brett Cecil (2.28 FIP) on the disabled list, LHP Aaron Loup (3.31 FIP) is the primary late-inning lefty.
The rest of the bullpen includes RHP Chad Jenkins (4.77 FIP), RHP Dustin McGowan (4.65 FIP), RHP Todd Redmond (3.16 FIP), and LHP Rob Rasmussen (5.08 FIP in limited time). There really aren't any clearly defined roles at this point outside of Janssen in the ninth. Gibbons just sorta rides the hot hand in the late innings. You can check up on the Yankees' bullpen at our Bullpen Workload page, and for everything you need to know about the Blue Jays, head over to Drunk Jays Fans.
Update (2:15pm): The Blue Jays officially placed Lawrie on the 15-day DL and sent Kratz to Triple-A. OF Anthony Gose and OF Kevin Pillar were called up in corresponding moves. No word on Bautista's test results just yet, but the fact that they called up two outfielders suggests he will miss a few games.