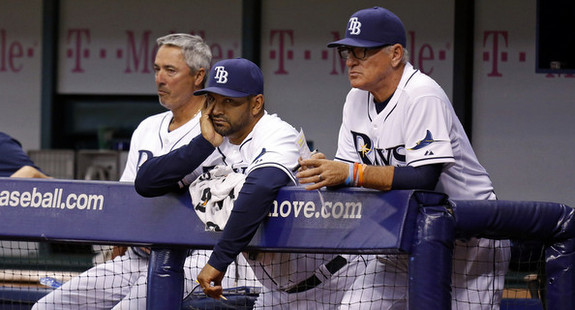 Once again, the Yankees are set to play a division rival as the Rays come to town for three games. This will be the Bombers' fifth straight series against an AL East opponent and they've lost three of the first four. The Yankees will pass the season halfway mark tonight. It's time to start stringing together some wins. They split four games in Tampa in mid-April and lost two of three to the Rays in the Bronx in early-May.
What Have They Done Lately?
The Rays just did the Yankees a solid and took three of four from the Orioles (in Baltimore!) over the weekend. Tampa has won four of their last five and eleven of their last 18 games overall. Despite that, they still have the worst record (35-49) and sixth worst run differential (-37) in baseball.
Offense
Manager Joe Maddon's team is league average offensively with a team 100 wRC+ and an average of 3.79 runs per game. The Rays are currently without OF Wil Myers (wrist), OF David DeJesus (hand), and SS Yunel Escobar (shoulder). Myers and DeJesus are on the disabled list and won't be returning anytime soon. Escobar is day-to-day and could return to the starting lineup as soon as tonight.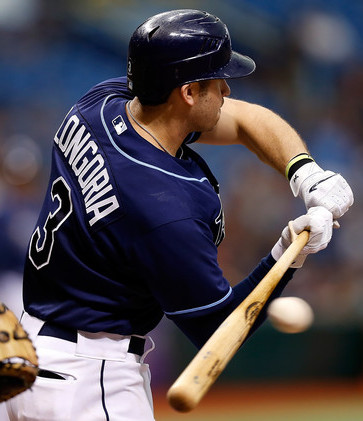 As usual, Maddon's lineup is built around 3B Evan Longoria (107 wRC+) and 2B/OF Ben Zobrist (109 wRC+), but neither is having a particularly great year. OF Matt Joyce (121 wRC+) has been their best regular hitter while 1B James Loney (104 wRC+) and OF Desmond Jennings (103 wRC+) have been solid. OF Kevin Kiermaier (162 wRC+ in limited time) has been awesome filling in for Myers.
The rest of the offense is mix and match. C Ryan Hanigan (98 wRC+) and C Jose Molina (14 wRC+) share catching duties while UTIL Sean Rodriguez (96 wRC+) and OF Brandon Guyer (102 wRC+) sub in against lefties. OF Cole Figueroa (49 wRC+ in very limited time) and UTIL Logan Forsythe (76 wRC+ in limited time) fill out the bench. Tampa has stolen the third fewest bases in the league (Jennings leads the team by far with 12), so these aren't the runnin' Rays of a few years go.
Pitching Matchups
Monday: RHP David Phelps (vs. TB) vs. RHP Chris Archer (vs. NYY)
Once David Price gets traded, the 25-year-old Archer is going to take over as the staff ace by default. He has a 3.29 ERA (2.96 FIP) in 16 starts and 93 innings this year, with improved strikeout (8.32 K/9 and 21.8 K%) and ground ball (47.5%) rates compared to his strong rookie campaign a year ago. Archer's walk rate (3.48 BB/9 and 9.1 BB%) has jumped a bit and his homer rate (0.29 HR/9 and 3.9 HR/FB%) is unsustainably low at this point. I don't think that will last all year. Righties (3.41 wOBA) have actually fared better than lefties (2.55 wOBA) so far this year, which is odd because Archer is a mid-90s fastball/mid-80s slider guy. He throws only a handful of mid-80s changeups per start and those guys tend to have platoon splits, not reverse platoon splits. Small sample, I guess. Archer has never not pitched well against the Yankees — in four starts and 28.2 career inning against New York, he's allowed four runs and 20 base-runners.
Tuesday: RHP Hiroki Kuroda (vs. TB) vs. LHP David Price (vs. NYY)
Could this be Price's final start with the Rays? I think that's possible for every one of his starts from here on out. Price, 28, has a 3.63 ERA (3.00 FIP) in 17 starts and 124 innings this year, but that really undersells just how good he's been. He has 144 strikeouts (10.45 K/9 and 28.4 K%) and 14 walks (1.02 BB/9 and 2.8 BB%) on the season, and has struck out at least ten batters in each of his last five starts. The last pitcher to strike out double-digit batters in five straight games was sicko Johan Santana back in 2004. Price's ground ball rate (42.8%) has been about average but he has been homer prone (1.23 HR/9 and 13.3 HR/FB%). His platoon split is small. As always, Price remains a fastball machine, throwing his low-to-mid-90s two and four-seamer and mid-80s cutter more than 70% of the time combined. He backdoors the cutter to righties for called strikes better than anyone I've ever seen. Unhittable pitch. Mid-80s changeups and upper-70s curveballs round out his repertoire. The Yankees have seen Price twice this season. One start went well for them (six runs in five innings) and the other didn't (two runs in seven innings).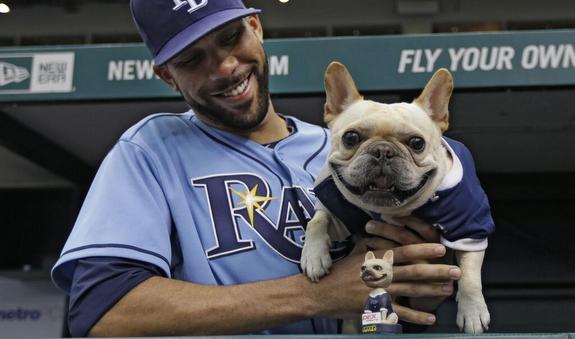 Wednesday: LHP Vidal Nuno (vs. TB) vs. RHP Jake Odorizzi (vs. NYY)
After a very rough start, the 24-year-old Odorizzi has turned his season around of late, allowing two or fewer runs in each of his last four starts. He owns a 4.14 ERA (3.16 FIP) in 16 starts and 82.2 innings with a very high strikeout rate (10.56 K/9 and 25.2 K%). His walk rate is kinda high (3.70 BB/9 and 9.5 BB%), his ground ball rate is low (35.6%), and his homer rate is probably a touch low as well (0.76 HR/9 and 7.4 HR/FB%). Righties (.318 wOBA) have been a bit better than lefties (.297 wOBA). Reverse platoon splits seems to be a trend on Tampa's staff. Odorizzi uses a four-seamer right around 90 mph to set up his mid-80s slider, which is his top secondary pitch. He'll throw a handful of mid-80s changeups and rainbow upper-60s curveballs per start. The Yankees scored three runs in four innings the only time they saw Odorizzi earlier this year.
Bullpen Status
Because RHP Grant Balfour (4.27 FIP) had some big time meltdowns earlier this year, Maddon has been using a closer by committee system in recent weeks. Balfour, LHP Jake McGee (1.58 FIP), RHP Joel Peralta (4.22 FIP), and RHP Juan Carlos Oviedo (4.50 FIP) have all grabbed saves at one point or another. McGee in particular has been fantastic and is not just a lefty specialist.
Peralta, RHP Brad Boxberger (4.27 FIP), RHP Kirby Yates (4.52 FIP in very limited time), and LHP Cesar Ramos (4.46 FIP) all pitched in yesterday's game. Ramos threw 45 pitches and probably won't be available tonight in anything other than emergency. Everyone else threw only one inning and should be good to go tonight. Check out our Bullpen Workload page for the status of Joe Girardi's bullpen and then check out The Process Report for everything you need to know about the Rays.