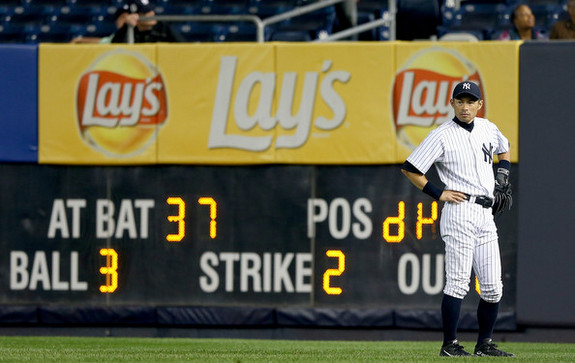 The Yankees have yet to score more than three runs in a game on the homestand — a homestand that is already guaranteed to be a losing homestand, FYI — and they've managed exactly two runs in each of their last three games. Do you think they can top that tonight? I didn't even break out the "Just Win" slump-buster title because I don't want to be greedy. Score more than two runs and I'll be happy. I'm a simple man. Here is the Athletics lineup and here is the Yankees lineup:
LF Brett Gardner
SS Derek Jeter
CF Jacoby Ellsbury
1B Mark Teixeira
DH Brian McCann
3B Yangervis Solarte
2B Brian Roberts
RF Ichiro Suzuki
C John Ryan Murphy
LHP Vidal Nuno
It is cloudy and hot in New York, but the rain isn't expected until much later tonight. Should be no problem for the game. First pitch will be a little after 7pm ET. You can watch the game on YES locally and ESPN2 nationally. Enjoy.
Injury Updates: Carlos Beltran (elbow) is on his way back to New York and could be activated as soon as tomorrow. Joe Girardi said he will mostly DH because they don't want to risk re-aggravating the bone spur in his elbow with throws … CC Sabathia (knee) played catch for the first time, making 25 throws. He felt fine and will do it again tomorrow … Shawn Kelley (back) threw a simulated game and will pitch in a minor league rehab game on Saturday. He could be activated after that if things go well.
Roster Moves: In case you missed it earlier, the Yankees basically swapped Alfredo Aceves and Preston Claiborne for Jose Ramirez and Wade LeBlanc. The latter two are available out of the bullpen tonight.