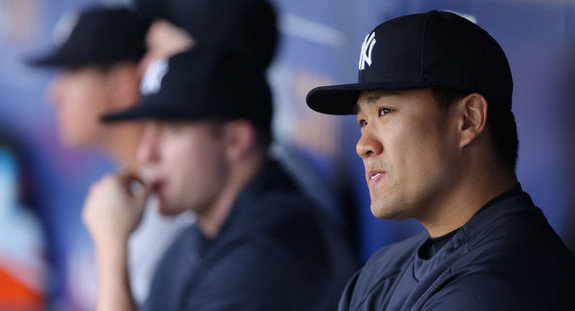 This is the biggest game of the season. At least so far. There are still 90-something games left after tonight. The first place Blue Jays are in town for three games this week, and they currently sit 4.5 games up on the Yankees in the AL East. These two clubs will also play three games in Toronto next week. Best case scenario: Yankees win out and are in first place next week. Worst case: Yankees lose out and the braintrust makes a bunch of panic moves before the deadline.
Masahiro Tanaka will be on the mound tonight and he is absolutely the guy everyone wants starting this game. This is an ace game. Home against the team you're chasing? And they have a kid pitcher making his first fourth career start on the bump? I know the Blue Jays have the best and most powerful offense in the league, but this is a game you want to see Tanaka control and dominant. Start the series off with a win and inch closer in the standings. Here's the Blue Jays lineup and here's the Yankees lineup:
LF Brett Gardner
SS Derek Jeter
CF Jacoby Ellsbury
1B Mark Teixeira
C Brian McCann
DH Carlos Beltran
RF Ichiro Suzuki
2B Brian Roberts
3B Kelly Johnson
RHP Masahiro Tanaka
It's nice and hot in New York. A few clouds too, but there's no rain in the forecast tonight. First pitch is scheduled for 7:05pm ET and you can watch on MY9. Enjoy the game.