The four-game losing streak is over. The Yankees salvaged the final game of this three-game set up in Toronto, beating the Blue Jays 5-3 on Wednesday night to take the series finale.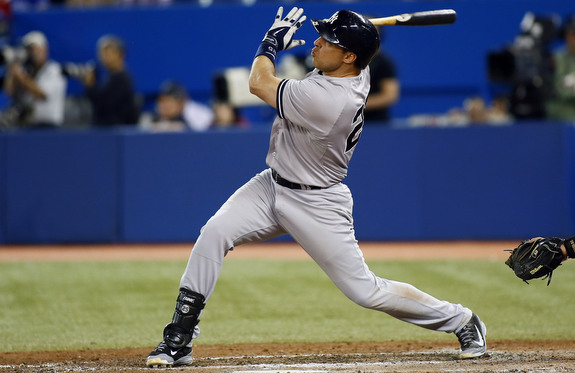 The Big Inning
The Yankees' four-run third inning was confusing because the hitters were not stopping at first base after getting hits. I didn't know that was allowed. One double and one homer contributed to the rally, plus another two-out double was wasted. Three extra-base hits in an inning? That's a miracle. The Yankees only had three extra-base hits in an entire game seven times in 22 games this month coming into Wednesday.
The rally all started with a leadoff five-pitch walk by Kelly Johnson. Frankie Cervelli doubled him home with a right-center field wall-banger — that ball just kept carrying and carrying, I thought it was a routine-ish fly ball off the bat — but Brett Gardner (pop up) and Derek Jeter (strikeout) followed with two quick outs. It looked like another one-run-and-done rally. This team has been allergic to big innings of late.
Then, thankfully, Jacoby Ellsbury singled to center to score Cervelli, and Mark Teixeira clubbed a two-run homer to right. Apparently they put some netting over the bullpens at Rogers Centre, so the ball hit the netting and hopped back onto the field. I thought it was a double off the wall at first. Am I going crazy? The netting over the bullpens is new, right? Anyway, Carlos Beltran laced a ground-rule double that was ultimately wasted, but the Yankees managed to score four runs in the inning, three with two outs.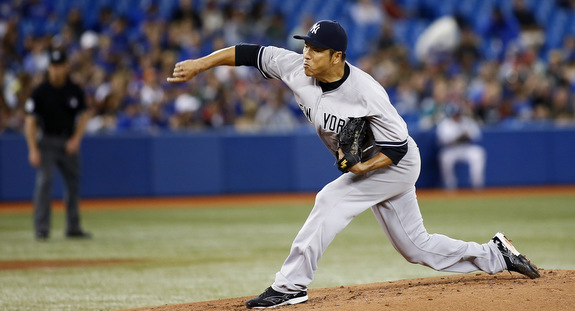 Grindin'
For the second time in a week, Jose Reyes ambushed a first pitch fastball for a solo homer to leadoff the game. That's getting annoying. Hiroki Kuroda shook the dinger off and worked through the next four innings without allowing a run, giving up four singles. One was an infield single. The Blue Jays did push across two runs in the fifth thanks to a walk (Munenori Kawasaki), a ground-rule double (Reyes), and two-out single (Melky Cabrera), but that was it.
Because the bullpen was a little short — Dellin Betances was unavailable after throwing two laborious innings on Tuesday — Joe Girardi pushed Kuroda into the seventh inning and got one base-runner and one out from him. It would have been two outs if the Yankees were able to turn a double play in something other than slow motion. Kuroda exited with a man on first and one out in the seventh, allowing just the three runs on eight hits and two walks. He struck out four. Kuroda has been much better over the last month or so, but this one was a grind.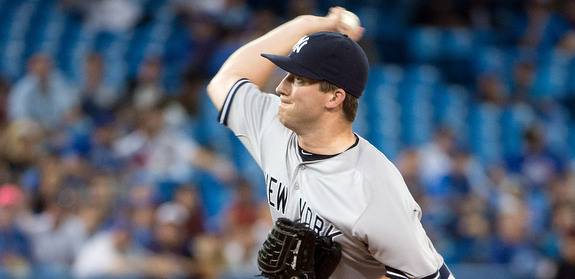 Late Innings
Despite their best efforts, the Yankees did manage to score an insurance run in the seventh inning. Two walks (Gardner and Ellsbury) and a hit-by-pitch (Jeter) loaded the bases with no outs (!), then Teixeira brought home Gardner with a sacrifice fly. Beltran struck out, Ichiro Suzuki drew another walk, and Brian Roberts flew out to end the inning. Four base-runners, none put the ball in play. The extra run is always appreciated.
Once Kuroda was out of the game, Girardi went to Shawn Kelley (one single, one fly out) and Matt Thornton (tapper back to himself) to finish off the seventh. Anthony Gose and Reyes pulled off a double steal on Thornton, so the tying run was in scoring position when he broke Adam Lind's bat for the final out. Adam Warren started the eighth, got a quick ground out from Edwin Encarnacion and allowed a single to Dioner Navarro, and that was that. David Robertson came in for the five-out save. Think Girardi was desperate to win this one?
Robertson, who had not pitched in a week, struck out Juan Francisco and Colby Rasmus on nine total pitches to end the eighth inning. Then he struck out Kawasaki and got ground balls from Gose and Reyes in the ninth inning to close things out. Five outs on 22 pitches. How about that? By the way, Robertson (16.06 K/9 and 44.3 K%) had zoomed by Betances (14.7 K/9 and 43.9 K%) in strikeout rate. He now has 40 strikeouts in his last 18.1 innings (19.64 K/9 and 51.9 K%). Helluva contract push.
Leftovers
The Yankees made two base-running funnies in the seventh inning that ultimately did not matter. Gardner and Jeter were on first and second, respectively, when lefty Rob Rasmussen uncorked a wild pitch. Gardner did not advance even though the ball bounced plenty far away from Navarro. Rasmussen threw another wild pitch later in the at-bat, this one even further away, and Gardner advanced but Jeter did not. Ellsbury ended up drawing a walk, so it didn't matter. It was just weird.
I'm going to pretend Jeter intentionally dropped Navarro's line drive in the fourth inning. There was a runner on first, Jeter had to jump to catch it, but the ball hopped out of his glove and hit the turf. Jeter picked it up, stepped on second for one out and fired to first for the double play. Both Navarro and Encarnacion (the runner at first) froze because they thought the line drive was caught. Two innings earlier Jeter fielded a Kawasaki chopper and never bothered to throw to first even though replays made it appear he had a play. Whatever.
Ellsbury went 3-for-4 with a walk and his only out was a line drive right at Reyes at short. He was thrown out trying to steal for only the third time this year, but replays did show he might have been safe. Girardi did not challenge the play. Gardner, Beltran, and Johnson also had a hit and a walk each. Jeter singled, Ichiro walked, and Cervelli doubled. Roberts was the only player in the starting lineup who failed to reach base. The Yankees did go 1-for-10 with runners in scoring position, but who cares at this point. A win's a win.
Box Score, WPA Graph & Standings
MLB.com has the box score and video highlights, FanGraphs has the nerdier stats, and ESPN has the updated standings. The Yankees were 4.5 games back of first place at the start of this nine-game stretch stretch against the Blue Jays and Orioles and are 2.5 games back at the end of it. Progress!

Source: FanGraphs
Up Next
This quick little three-game road trip it over. The Yankees are off on Thursday, then they will welcome the Red Sox to the Bronx for a three-game series. That series is going to get hyped up way, way too much given the present state of the two clubs. Vidal Nuno and Brandon Workman will start the opener on Friday night. Head over to RAB Tickets if you want to catch that game or any game on the upcoming six-game homestand live. It's the last homestand before the All-Star break, you know.