Make it 15 straight wins for the Yankees over the Blue Jays in Yankee Stadium. Geez. The Jays don't just lose in the Bronx either, they lose and get hurt. Brett Lawrie left Wednesday's game after taking a pitch to the left hand, though x-rays came back negative. Still. Injury to insult. The Yankees clinched the series win with a 7-3 victory.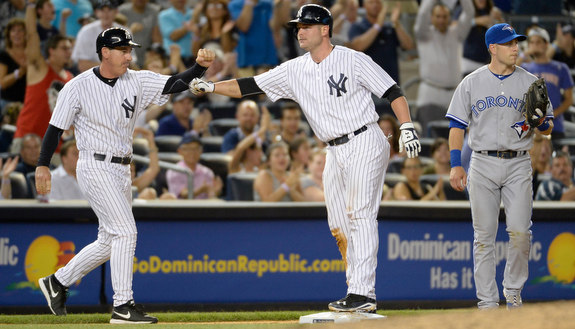 In Play: Run(s)
Brian McCann has had a few big games this season. He hit two homers off John Lackey in April, had three hits including a double against the Red Sox later that month, and picked up three hits including a homer against the Mets in May. Wednesday's game was his best as a Yankee because of the circumstances — they were playing the Blue Jays team they are chasing in the standings. Yeah, it's only mid-June, but these head-to-head games are crucial when you're trying to make up ground.
McCann had the team's two biggest hits of the night. In the fourth, he swatted a go-ahead two-run homer off Mark Buehrle to cap off an excellent ten-pitch, six-foul ball at-bat. It was a cheap Yankee Stadium homer, but hey, that's why the signed him. The Yankees brought him on board because they believed his dead pull lefty swing would result in a lot of Yankee Stadium cheapies, and that's what they got in this game.
Later on in the seventh inning, McCann tripled (!) into the right-center field gap to clear the bases and plate three huge insurance runs. Colby Rasmus' dive came up juuust short. McCann came into Wednesday's game with 4,595 career plate appearances. That was his third career triple and first since 2009. Add in a walk and he reached base three times and drove in five of their seven runs.
Ace Whitley
Against what is by far the best lineup he's faced as a big leaguer, Chase Whitley gave the Yankees a quality outing and held the Blue Jays to two runs in five innings. They worked him hard (98 pitches) as they did Masahiro Tanaka on Tuesday, but Whitley held his own and limited the damage in a two-run fourth inning that could have easily spiraled out of control. Toronto had only five singles, one walk, and one hit batsman against the rookie righty. This was not an easy assignment but Whitley got the job done. Remember, we're talking about the Yankees' eighth starter here.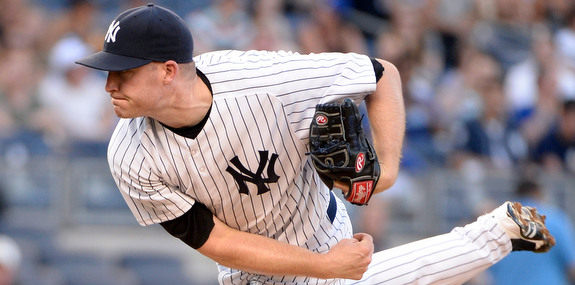 In Play: Out(s)
Joe Girardi used five pitchers on the night (including Whitley) and all five were homegrown. Adam Warren came in and retired all six men he faced in the sixth and seventh innings — the sixth inning was three strikeouts while the seventh was three grounders to second — while the lead was still one run. Once McCann broke it open, Girardi went to Jose Ramirez, who faced two batters, allowed two hits, and was yanked. Dellin Betances cleaned up the mess and retired all three men he faced.
If you want to nitpick, you could argue Girardi should have used Betances to start the eighth inning if Ramirez's leash was going to be so short. Betances had already warmed up and Melky Cabrera, Jose Bautista, and Edwin Encarnacion were due to hit. Let Betances get through them with the five-run lead, then let Ramirez face the bottom of the order in the ninth. Instead, Ramirez allowed a run on those two hits and Girardi wound up having to use David Robertson in the ninth. Robertson retired the side in order in the non-save situation. These games are pretty important and I have no issue with using Robertson there once Ramirez and Betances pitched in the eighth. Four relievers, all homegrown, held the most powerful offense in the league to one run on two hits in four innings. Well done.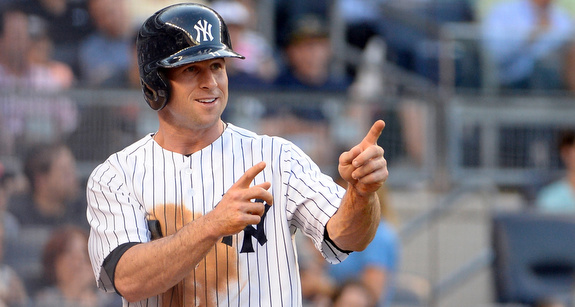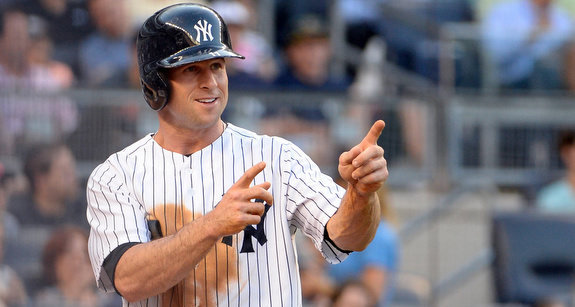 Leftovers
The Yankees scored their two non-McCann runs when Alfonso Soriano poked a two-out single through the shift in the first inning to score Brett Gardner and pinch-hitter Ichiro Suzuki drew a bases loaded walk ahead of McCann's triple in the seventh. So all seven runs were driven in by the catcher and right field positions.
Gardner went 4-for-5 and could have easily been 5-for-5 — the one out was a line drive snagged by Encarnacion at first. Derek Jeter doubled off the right-center field wall and Jacoby Ellsbury, Mark Teixeira, and Carlos Beltran also chipped in base hits. Yangervis Solarte drew a walk and Brian Roberts was the only starter who did not reach base.
For Wednesday's HOPE Week event, the Yankees signed Quinn Ostergren (age 4), Ryan Tucker (12), and Sean Callahan (11) to one-day contracts and had them spend the day with the team. They are all battling pediatric brain cancer and going through chemotherapy. They're with an organization called Friends of Jaclyn, which helps improve the life of pediatric brain cancer patients. Here's the Friends of Jaclyn website, here's more on the day, and here's the HOPE Week video archive.
Box Score, WPA Graph & Standings
MLB.com is the place to go for the box score and video highlights. FanGraphs has some other stats and ESPN has the updated standings. The Yankees are now only 2.5 games back of the Blue Jays for first place in the AL East. There are a ton of games left, but the sooner they catch up, the better.

Source: FanGraphs
Up Next
The Yankees will go for the sweep on Thursday night, when David Phelps gets the start against righty Drew Hutchison. Check out RAB Tickets if you want to catch the series finale.