For the third straight game, the Yankees scored exactly two runs. That's their daily allotment. Two runs certainly isn't enough to beat the high-powered Athletics, who grabbed the series-opener by the score of 5-2 in ten innings on Tuesday night. The Yankees have lost three straight and have scored no more than three runs in all five games on the homestand.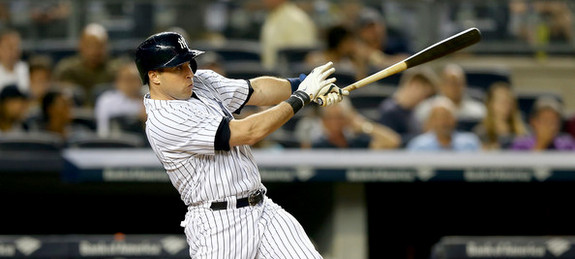 I Guess The Wrist Is Healthy
The Yankees have been without Mark Teixeira for five and a half of their last seven games due to nagging soreness in his surgically repaired wrist. He received a cortisone shot over the weekend, was re-evaluated on Tuesday afternoon, and was back in the lineup Tuesday night. His impact was immediate.
The Yankees used one of their patented "three hits, one run" rallies in the first inning to jump out to an early lead. Brett Gardner singled through the right side of the infield, Jacoby Ellsbury singled on a line drive to shallow left, then Teixeira blooped a single into right to plate Gardner from second. It was the bloopiest bloop that ever blooped. Stayed just inside the line and out of the reach of two fielders. Perfectly placed for the quick one-zip lead.
Then, later in the game after the Athletics knotted things up at one, Teixeira hooked a very poorly located Scott Kazmir fastball into the visitor's bullpen for a solo homer. His team-leading tenth dinger gave the Yankees a 2-1 lead in the sixth inning. The right wrist is the one that hurts, so it shouldn't bother him too much batting right-handed. If it does, you couldn't tell on Tuesday.
Kuroda Parties Like It's April-July 2013
For at least one night, the good version of Hiroki Kuroda returned to Yankee Stadium. The slider was working, the splitter was working, and home plate umpire Chris Guccione had a nice big strike zone. Here's the strike zone plot. That definitely helped. Kuroda allowed just one run — a solo homer by Brandon Moss, which happens — in 6.2 innings of work, though with his pitch count at 93, he could have easily finished the inning. Joe Girardi just didn't want him facing Moss a third time. I don't blame him.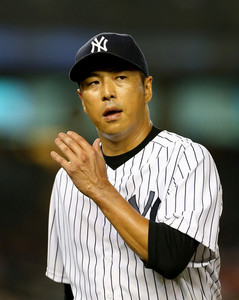 Kuroda allowed only three base-runners all night: a Yoenis Cespedes single in the second, a Coco Crisp walk in the fourth, and the Moss homer in the fifth. Both Cespedes and Crisp were immediately erased by ground ball double plays. Kuroda threw seven of his 93 pitches from the stretch. That's it. He struck out only two but recorded 15 other outs on the infield via pop-ups and ground balls. That's what the good version of Kuroda does, he manages contact well and gets a lot of high-percentage outs on weakly hit balls in play. Does this mean he has turned the corner and will be better going forward? Who in the world knows. Kuroda was excellent on Tuesday. That's all we know.
Don't Do That Dellin
The Yankees had a golden opportunity to tack on another run or two after Dellin Betances struck out Moss to end the seventh inning. Scott Sizemore and John Ryan Murphy singled and walked, respectively, to put runners on first and second with no outs. Brendan Ryan tried to bunt them over, but he fouled a pitch off. For whatever reason, he never tried to bunt again. He struck out, Gardner struck out, and Derek Jeter flew out to end the rally. I don't get it. It's Brendan Ryan. He should be bunting in that situation even with two strikes.
Anyway, the insurance run never came, so Betances went back out for the eighth inning. He started the inning innocently enough with a weak ground out and a strikeout, but then Dr. Dellin showed up and Mr. Betances was nowhere to be found. Betances walked Alberto Callaspo before leaving a total meatball of a fastball out over the plate for Stephen Vogt, who lined a double into the gap to score Callaspo all the way from first to tie the game at two. It was a terrible pitch. After getting three outs on eleven pitches, Betances threw 13 to Callaspo and Vogt. It was the first run he allowed in 9.1 innings and the first non-homer run he allowed in 16.1 innings.
The A's tried to give this game to the Yankees, but the Yankees just didn't want to take it. Not only did they blow that two on, no outs situation in the seventh, but they couldn't get Ellsbury in after he drew a four-pitch walk to leadoff the eighth. Teixeira struck out, Yangervis Solarte grounded out, and Ichiro Suzuki flew out. Ellsbury stole second during Solarte's at-bat — he didn't run earlier because they would have walked Teixeira, and the Yankees need him to hit — and was eventually stranded at third. This goes here.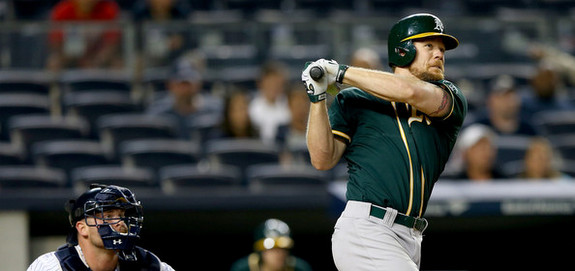 Leftovers
David Robertson pitched for the first time since his meltdown on Sunday, and, unsurprisingly, he was totally fine. His psyche was not shattered. He threw a perfect ninth inning on 13 pitches. It was Adam Warren's turn to cough it up, however, and he surrendered three runs in the top of the tenth. An absolute missile of a solo homer by Moss to lead off the inning was the only run that really mattered. So, within the last three games, each of Girardi's key late-inning relievers blew up. Maybe throwing multiple innings every other day last month is catching up to them.
Teixeira was the only player in the lineup with two hits. His homer was the only extra-base hit as well. The Yankees have exactly one extra-base hit in three straight games. Gardner, Ellsbury, Solarte, Sizemore, and pinch-hitter Brian McCann had singles. Ellsbury, Solarte, and Murphy all drew walks. Ten base-runners in ten innings is good, right? Michael Kay said a 1.00 WHIP was good during the broadcast.
This was probably the infield's best defensive game of the season. Sizemore made two nice plays (one to turn a double play, one jumping to field a chopper), Ryan made a few nice plays (one jumping to snag a liner), and both Solarte and Teixeira were solid as well. It was really refreshing to see. The infield has been a nightmare this year.
So far this year the Yankees are averaging 3.70 runs per game at home and 4.47 runs per game on the road. That's a pretty huge difference. Maybe they should offer to swap ballparks with the Mets. This offense is much more suited for a large pitcher's park like Citi Field, where hitting for power isn't a thing.
Box Score, WPA Graph & Standings
For the box score and video highlights, head on over to MLB.com. For some other stats, go to FanGraphs. For the updated standings, check out ESPN.

Source: FanGraphs
Up Next
Same two teams on Wednesday night, when the Yankees will look to avoid falling to .500 for the first time since May 13th, after the second game against the Mets. Don't worry, Vidal Nuno will be on the mound. He'll be matched up against Jesse Chavez. Check out RAB Tickets if watching this team on television isn't off-putting enough.