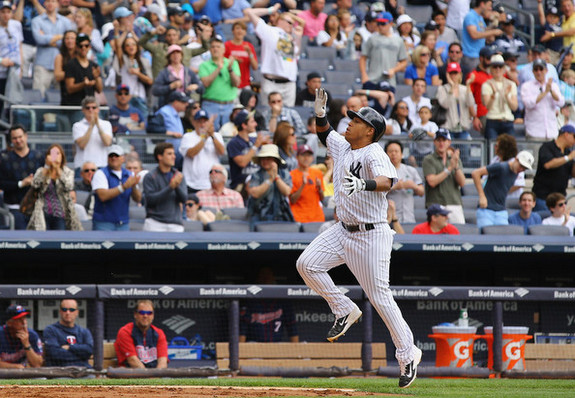 The 2014 season is now one-third of the way complete. Well, technically it's one-third plus one game complete for the Yankees. They played their 54th game of the season on Saturday, and through that game they were on pace to go 87-75 with a -30 run differential. There is still a pretty big disconnect between the win-loss record and run differential this time of year. The relationship usually doesn't start to stabilize until the All-Star break or so, according to Russell Carleton.
Anyway, as is the case every year, the Yankees have had some players or parts of their game be a pleasant surprise this season. There have also been some disappointments as well. That's just baseball. Things don't always go according to plan, both for better and worse. So, with all that in mind, let's review the Yankees' biggest surprises and disappointments at the one-third (plus one game) point of the 2014 season.
Surprise: Yangervis Solarte
I can't imagine anyone doesn't consider Solarte a massive surprise this year. Even if you totally bought into his excellent Spring Training, I still don't think you could have reasonably expected a .294/.363/.458 (127 wRC+) batting line through the first third of the season. How could you? This is best case scenario stuff. Solarte is not a total fluke either — he has a not outrageous .305 BABIP and is a high contact switch-hitter hitter with a solid approach (23/20 K/BB). That's a good recipe for success. The infield was pretty unsettled coming into the season, but Solarte has emerged as a legitimate everyday player and a much-needed above-average bat to lengthen the lineup.
Disappointment: Hiroki Kuroda
Maybe Kuroda's shaky start to the season shouldn't be much of a surprise given his age (39) and the way he closed out last season (terribly). His 4.57 ERA is by far a career-high — he's also allowed seven unearned runs because of the lol defense — yet his peripheral stats are right in line with recent years. Check it out:
| | K% | BB% | GB% | HR/FB | Whiff% | Zone% | BABIP |
| --- | --- | --- | --- | --- | --- | --- | --- |
| 2014 | 17.3% | 3.9% | 47.2% | 12.3% | 9.8% | 42.9% | 0.311 |
| 2013 | 18.2% | 5.2% | 46.6% | 10.3% | 9.9% | 38.8% | 0.282 |
| 2012 | 18.7% | 5.7% | 52.3% | 13.0% | 9.6% | 38.7% | 0.281 |
There's nothing really crazy going on there. The biggest difference between Kuroda this year and Kuroda the last two years might be that he is throwing too many pitches in the strike zone, which would explain the jump in BABIP. More balls in the zone means more strikes to hit. (The shaky infield defense would explain that too.) Anecdotally, Kuroda has really struggled with his slider and to a lesser extent his splitter. When he misses, he's missed out over the plate and the ball gets hit hard. When he's going well, Kuroda lives on the edges and manages contact, meaning lots of weak pop-ups and grounders. Now he's missing his spots and those pop-ups are line drives. I don't know if it's an age thing or a mechanical thing or something else entirely. Whatever it is, it's made Kuroda part of the problem for the first third of the season.
Surprise: Masahiro Tanaka
Man, how great has Tanaka been? He has taken over as the undisputed staff ace and has legitimately been one of the very best starters in all of baseball. I mean, the Yankees didn't invest $175M in him because they thought he would be a solid mid-rotation workhorse, they expected him to be an ace. But this good, this soon? An adjustment period to life in the big leagues (and a new country) would have been totally normal.
Instead, Tanaka has been elite (2.06 ERA and 2.52 FIP), with excellent strikeout (10.07 K/9 and 28.7 K%), walk (1.37 BB/9 and 3.9 BB%), and ground ball (48.0%) rates. After allowing seven homers in his first six starts, he's allowed zero long balls in his last five starts. Tanaka's splitter has been as advertised (49.2% whiff rate!), ditto his toughness and poise. Dude is a stone cold killer on the mound. I expected Tanaka to be very good this year, but not this good.
Disappointment: Brian McCann
Yeah, he's been much better over the last three weeks or so, but the Yankees absolutely did not expect a .229/.292/.380 (84 wRC+) batting line out of McCann when they agreed to give him $85M over five years. The homers have been there (seven so far), the other base hits (career-low .233 BABIP) and walks (6.7%, worst in seven years) have not. I've thought McCann was pressing more than anything — he is hitting .269/.363/.434 with an 11/9 K/BB in 21 games dating back to the start of the Brewers series, for what it's worth — and it really isn't ridiculous to think a guy who changed leagues and had to learn a new pitching staff needed a few weeks to adjust. McCann is trending in the right direction, but he was a negative in the first third of the season, there's no doubt about it.
Surprise: Dominant Setup Crew
I had no concerns about David Robertson taking over the ninth inning, and yesterday's total meltdown notwithstanding, he's been pretty awesome as the closer. Getting the ball from the starters to Robertson looked like it might be something of a challenge when Spring Training opened, but, as has been the case the last few seasons under Joe Girardi's watch, setup men have stepped forward.
Dellin Betances has been unreal, with a 1.38 ERA (0.86 FIP) and a 46.7% strikeout rate in 32.2 innings. I love that Girardi has been using him as a multi-inning setup man (I just wish it wasn't every other day, fatigue in the second half could be a problem) and effectively turning it into a six or sometimes even five-inning game. Adam Warren has not been quite as dominant as Betances, but a 1.71 ERA (2.34 FIP) with a 23.8% strikeout rate in 31.2 innings plays just fine. Shawn Kelley had 3.52 ERA (2.35 FIP) and a 25.0% strikeout rate in 15.1 innings before hurting his back as well.
Given the lack of offense and generally short outings from the non-Tanaka starters, the setup crew has been super important this season and they have been dynamite. Getting Kelley back will allow Girardi to spread the workload around a little more, which should make them even more effective.
Disappointment: Injuries, Again
The Yankees, once again, dealt with several injuries to key players. Some of them, like Michael Pineda going down with a shoulder issue and Mark Teixeira dealing with nagging wrist soreness, should not be surprising at all. They're coming off surgery and complications come with the territory. Others, like Ivan Nova blowing out his elbow or Carlos Beltran developing (or, really, aggravating an existing) bone spur in his elbow, kinda popped up out of nowhere.
The injuries have stretched the Yankees thin and exposed their lack of offensive depth — they had four guys (Brett Gardner, Jacoby Ellsbury, Brian Roberts, Ichiro Suzuki) in the lineup yesterday who have spent the majority of their careers as leadoff hitters, and that doesn't include long-time number two hitter Derek Jeter either — as well as forced them to play guys out of position. I mean, 21 games at first base for Kelly Johnson? Really? Injuries are part of the game and no one is going to feel bad for the Yankees. But these are real problems they have to overcome. Again.
Surprise: The AL East Sucks
Overall, the Yankees have been pretty mediocre this season. Let's call a spade a spade here. At the same time, the AL East as a whole has been mediocre as well. The Blue Jays have been the best team in the division by a decent margin with a 34-24 record and a +34 run differential. The other four teams are 107-116 with a -65 run differential combined. The Rays are especially terrible. They're a half-game worse than the Astros (!) at 23-34 with a -38 run differential. Can you believe that?
The Yankees are only 3.5 games back of Toronto, which is nothing with two-thirds of the season to go. They still have five head-to-head series to play. There does not appear to be that one great team that will run away with the division, which means New York's general mediocrity will not sink them over the summer. This division could be decided by which team gets the most impact from a call-up or makes the best (not necessarily the biggest or the most) moves at the trade deadline.
* * *
Some aspects of the Yankees are not surprising and have played out exactly as expected. The bad infield defense and general lack of power, for example. Gardner again being totally awesome and one of the most unheralded players in the league is another one. The Yankees are a flawed team and there is no argument to be made against that. They are also a flawed team in an eminently winnable division full of flawed teams. The first third of the season revealed some very real cracks in the dam. The second third is for fixing those cracks and putting the club in the best position to make a run at a postseason berth, AL East title or otherwise.