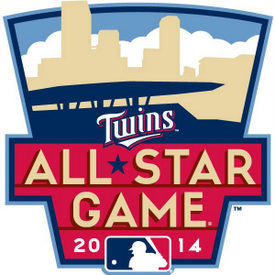 I enjoy the All-Star Game more than most people seem to. It's the cool thing to bash, I guess. It's totally silly that the game determines home field advantage in the World Series, I have no idea why that is a thing, but the game itself is a lot of fun. You've got all these great players in one place, they wear funny looking cleats and batting gloves, it's cool. It's the perfect game to just chill out and watch.
The Yankees have three All-Stars this year but only two are in Minnesota. The players voted Masahiro Tanaka into the game — he received more votes than any other starting pitcher — but he is currently dealing with the partially torn ligament in his right elbow. For shame. Derek Jeter was voted into the starting lineup by the fans and he will leadoff for the AL team. Dellin Betances was voted in by the players as well. AL manager John Farrell said he would like to get as many players into the game as possible, and as awesome as it would be to see Betances pitch, I would be more than fine with him getting the night off and resting.
There are a total of 81 All-Stars this season between players originally elected to the game and various replacements. Basically 11% of the league. If you're an MLB player right now, there's better than a one in ten chance you're an All-Star. Crazy. That might be a few too many. Anyway, here are the full rosters and here are the fan-voted starting lineups:
National League
CF Andrew McCutchen, Pirates
RF Yasiel Puig, Dodgers
SS Troy Tulowitzki, Rockies
1B Paul Goldschmidt, Diamondbacks
DH Giancarlo Stanton, Marlins
3B Aramis Ramirez, Brewers
2B Chase Utley, Phillies
C Jonathan Lucroy, Brewers
LF Carlos Gomez, Brewers
RHP Adam Wainwright, Cardinals
American League
SS Derek Jeter, Yankees
LF Mike Trout, Angels
2B Robinson Cano, Mariners
1B Miguel Cabrera, Tigers
RF Jose Bautista, Blue Jays
DH Nelson Cruz, Orioles
CF Adam Jones, Orioles
3B Josh Donaldson, Athletics
C Salvador Perez, Royals
RHP Felix Hernandez, Mariners
Unlike last night, the weather in Minneapolis is nice and clear tonight. It is cool and cloudy but there is no rain in the forecast, thankfully. The All-Star Game can be seen on FOX and the broadcast is scheduled to begin at 7:30pm ET. They have to go through the baseline introductions and all that first, remember. Talk about the All-Star Game or anything else right here tonight. Enjoy the game.