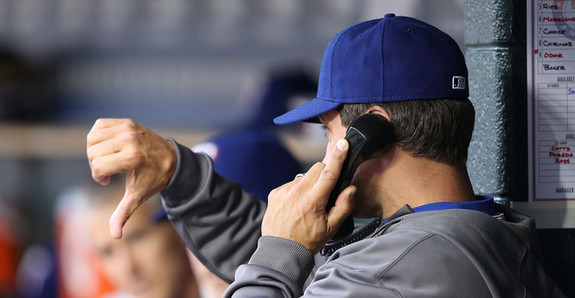 The Yankees have taken care of business so far in the second half. They swept the Reds over the weekend and now welcome the last place Rangers to the Bronx for a four-game series. It is their first meeting of the season. These two teams will play seven games in the next ten days, so the scheduling gods have been kind to the Bronx Bombers.
What Have They Done Lately?
The Rangers dropped two of three to the Blue Jays in Toronto over the weekend, and, immediately before the All-Star break, they lost eight straight and 22 of 25 (!). These aren't the same Rangers that won back-to-back AL pennants a few years ago, that's for sure. Texas is 39-59 overall with a -110 run differential, both of which are the worst marks in baseball.
Offense
With a team 89 wRC+ and an average of 4.14 runs per game, the Rangers have had a below-average offense overall this season. Their lineup has been decimated by injuries though, so this isn't the same lineup manager Ron Washington was trotting out there earlier in the year. Texas has 14 players (!) on the disabled list right now, including six position players. Among the notables are 1B Prince Fielder (neck), 2B Jurickson Profar (shoulder), 1B Mitch Moreland (ankle), and 3B Kevin Kouzmanoff (back). All four are done for the year. Here is the full list of injuries, if you're interested.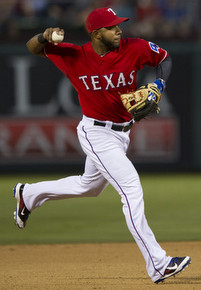 Among those still left standing, Washington does have one top notch hitter in 3B Adrian Beltre (145 wRC+). His defense isn't as good as it once was — that means it is merely very good instead of elite — but he can still rake. OF Alex Rios (103 wRC+) is day-to-day with an ankle issue but is expected to avoid the disabled list and return to the lineup sometime this week. OF Shin-Soo Choo (100 wRC+) has been very disappointing in his first year with Texas. OF Leonys Martin (92 wRC+) has been okay and OF Jake Smolinksi (142 wRC+) is their only other above-average hitter, and he has all of 36 plate appearances.
SS Elvis Andrus (77 wRC+) has regressed at the plate these last two seasons and his eight-year, $120M extension doesn't even kick in until next year. Sure, he's great defensively, but yikes. 2B Rougned Odor (90 wRC+) has shown flashes of why he was considered a top prospect coming into the season. Journeymen IF Adam Rosales (71 wRC+ in limited time) and OF Daniel Robertson (65 wRC+ in limited time) are helping cover for the injuries. Texas is carrying four (!) catchers at the moment: C J.P. Arencibia (23 wRC+), C Chris Gimenez (90 wRC+), C Robinson Chirinos (84 wRC+), and C Geovany Soto (just off the DL). Arencibia has been playing first base and Soto's been spending time at DH after knee surgery. Can't say this is the scariest lineup the Yankees will see this year.
Pitching Matchups
Monday: RHP Shane Greene (No vs. TEX) vs. RHP Miles Mikolas (vs. NYY)
Injuries have hit the Rangers' rotation hard as well, which is why Mikolas, a career reliever, is now in the rotation. The 25-year-old will be making his fourth start with Texas tonight — it is his tenth start of the season and 21st of his six-year career overall, so he is their Chase Whitley — and he's pitched to a 10.05 ERA (4.11 FIP) in the first three. Mikolas has a dozen strikeouts and three walks in 14.1 innings so far, also allowing two homers. His numbers in six Triple-A starts before being called up were alright: 3.58 ERA (3.36 FIP) with a 7.99 K/9 (20.4 K%), 0.83 BB/9 (2.1 BB%), and 0.83 HR/9. Mikolas heavily uses his low-90s two and four-seamers, throwing them roughly 85% of the time combined, while mixing in a handful of low-80s changeups and mid-70s curveballs.
Tuesday: RHP Chase Whitley (No vs. TEX) vs. RHP Nick Martinez (No vs. NYY)
Martinez, 23, jumped straight from Double-A to the Opening Day roster thanks to the various injuries on the staff. He has a 5.10 ERA (5.99 FIP) in 67 innings across eleven starts and five relief appearances while issuing more walks (4.16 BB/9 and 10.2 BB%) than strikeouts (3.90 K/9 and 9.5 K%) and not getting any ground balls (31.5%). Martinez is also pretty homer prone (1.61 HR/9 and 10.3 HR/FB%) and lefties (.415 wOBA) hit him hard, though righties (.350 wOBA) don't have much trouble either. A low-90s four-seamer is his primary fastball, though he will also throw a few low-90s two-seamers and upper-80s cutters per start. Martinez's two secondary pitches are a slider and a changeup, both in the mid-80s.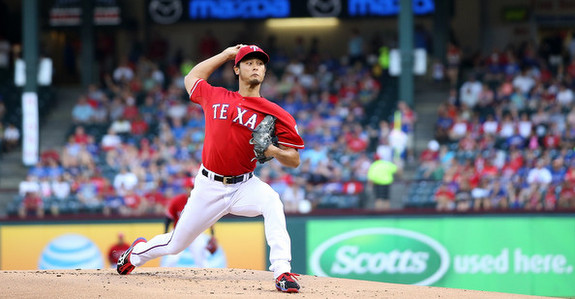 Wednesday: RHP David Phelps (vs. TEX) vs. RHP Yu Darvish (vs. NYY)
It's a four-game series, so the odds were against the Yankees missing Darvish. The 27-year-old is in the middle of his best MLB season with a 2.88 ERA (2.75 FIP) in 18 starts and 122 innings, and of course he has piled up a ton of strikeouts (11.36 K/9 and 30.5 K%). His walk rate (3.10 BB/9 and 8.3 BB%) is his lowest in three years with Texas and so is his ground ball rate (33.9%). Darvish's homerun rate (0.74 HR/9 and 7.8 HR/FB%) is probably lower than it should be given his grounder rate and home ballpark. Lefties (.323 wOBA) have been much more successful against him than righties (.239 wOBA). Darvish throws six different pitches and uses his mid-80s splitter and slow upper-60s curveball the least, just a little more than 9% of the time combined. He throws his low-90s four-seamer, low-90s two-seamer, upper-80s cutter, and upper-70s slider regularly. The slider is devastating. That's his moneymaker. Darvish will be a handful on Wednesday.
Thursday: RHP Brandon McCarthy (vs. TEX) vs. RHP Colby Lewis (vs. NYY)
Lewis, 34, is having an awful season (6.37 ERA and 4.10 FIP in 17 starts and 89 innings) for an awful team and the frustration is starting to boil over — he ripped Colby Rasmus for bunting to beat the shift in the fifth inning of a two-run game following his last start. That's as silly as it gets. Lewis' strikeout (7.89 K/9 and 18.5 K%) and walk (2.93 BB/9 and 6.9 BB%) rates are fine, his homer (1.11 HR/9 and 8.5 HR/FB%) and ground ball (33.1%) rates aren't. Same goes for his platoon splits: lefties have tagged him for a .443 wOBA while righties have a comparatively better .352 wOBA. At this point of his career, Lewis works with an upper-80s four-seamer and a low-80s slider as his two main pitches. He'll also throw a few low-to-mid-80s changeups and mid-70s curveballs per start.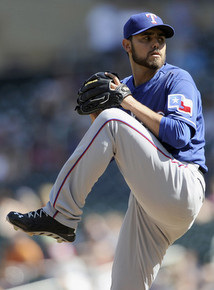 Bullpen Status
Like I said, the Yankees and Rangers will play seven times in the next ten days, and there's a decent chance Texas will trade closer RHP Joakim Soria (0.84 FIP) and LHP Neal Cotts (2.63 FIP) at some point during that stretch. They already traded away RHP Jason Frasor (to the Royals) and those two are said to be on the block. RHP Neftali Feliz (6.48 FIP in limited time) was recalled from Triple-A not too long again and figures to retake the closer's job once Soria is traded.
The rest of Washington's bullpen includes RHP Scott Baker (4.69 FIP), LHP Ryan Feierabend (2.80 FIP in very limited time), RHP Roman Mendez (2.99 FIP in limited time), RHP Shawn Tolleson (4.94 FIP), and RHP Matt West (2.39 FIP in limited time). Baker is the swingman and has four relief appearances of at least five innings this year. He's the first pitcher to do that since Tom Bolton had five such relief appearances for the 1993 Tigers. Tolleson, Feliz, and West all pitched yesterday. Check out our Bullpen Workload page for the status of the Yankees' relievers, then check out Lone Star Ball for everything you need to know about the Rangers.