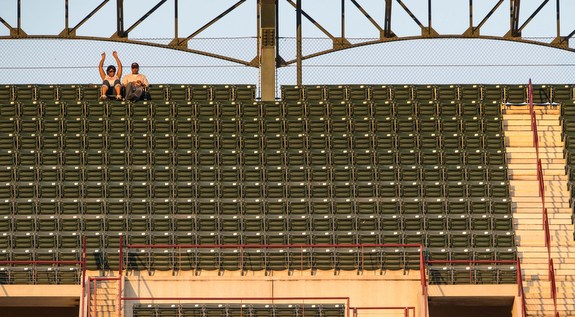 After a successful ten-game homestand to open the second half, the Yankees now head out on the road for a six-game, seven-day road trip against two last place teams. They open a three-game set at Texas tonight. The Yankees won three of four against the Rangers in the Bronx just last week.
What Have They Done Lately?
Texas dropped two of three to the Athletics over the weekend and they've lost seven of ten games since the All-Star break. They are 41-64 overall with a -119 run differential, both the worst marks in all of baseball.
Offense
As you saw last week, the Rangers currently have a below-average lineup due to injuries. Their overall season averages of 3.99 runs per game and a team 88 wRC+ don't tell the whole story either. 1B Prince Fielder (neck), 1B Mitch Moreland (ankle), 3B Kevin Kouzmanoff (back), and IF Jurickson Profar (shoulder) are out for the rest of the season. C Geovany Soto (groin) and OF Jake Smolinski (foot) were placed on the disabled list since the last time these two clubs played as well.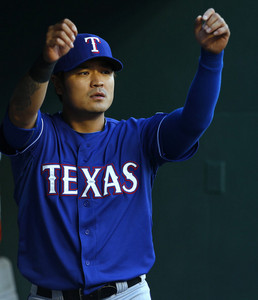 Even with all the injuries, manager Ron Washington still has one outstanding hitter in 3B Adrian Beltre (140 wRC+). He's the guy the Yankees can't let beat them these next three games. OF Alex Rios (101 wRC+) is a nice supporting piece and OF Shin-Soo Choo (101 wRC+) has been very disappointing during his first year with the Rangers. OF Leonys Martin (89 wRC+) and 2B Rougned Odor (91 wRC+) have been good enough considering their defense.
SS Elvis Andrus (76 wRC+) has taken a big step back offensively these last two years at an age when he should be taking big steps forward. C J.P. Arencibia (28 wRC+) is now at first base and the trio of OF Jim Adduci (96 wRC+), IF Adam Rosales (63 wRC+ in limited time), and OF Daniel Robertson (69 wRC+ in limited time) are helping cover for the injuries. C Chris Gimenez (92 wRC+) and C Robinson Chirinos (75 wRC+) are the catching tandem. Keep Choo and Andrus off base in front of Beltre and everything should be okay.
Pitching Matchups
Monday: RHP David Phelps (vs. TEX) vs. RHP Yu Darvish (vs. NYY)
The Yankees lucked out and beat Darvish with the help of Mother Nature last week. The 27-year-old has a 2.92 ERA (2.80 FIP) in 19 starts and 129.1 innings this year with spectacular peripherals: 11.33 K/9 (30.4%), 2.99 BB/9 (8.0 BB%), 0.78 HR/9 (8.1 HR/FB%), and 34.1% ground balls. Yeah, he gives up a lot of fly balls, but he has one of the highest infield pop-up rates in baseball. Not every ball in the air is hit to the warning track, you know. Lefties (.322 wOBA) hit him a lot harder than righties (.245 wOBA) and he's been much better at home (.253 wOBA) than on the road (.245 wOBA). Darvish throws six different pitches and uses his mid-80s splitter and slow upper-60s curveball the least, just a little more than 9% of the time combined. He throws his low-90s four-seamer, low-90s two-seamer, upper-80s cutter, and upper-70s slider regularly. The Yankees managed to score two runs in 4.1 innings against Darvish before the rain last week.
Tuesday: RHP Brandon McCarthy (vs. TEX) vs. RHP Nick Martinez (vs. NYY)
Martinez, 23, has a 4.73 ERA (5.74 FIP) in 72.1 innings across 12 starts and five relief appearances this year after making the jump from Double-A to help cover for the team's injuries. He has exactly as many walks as strikeouts (3.98 per nine and 9.9%) and he gives up both a lot of homers (1.49 HR/9 and 9.8 HR/FB%) and a lot of fly balls (32.0%). Lefties pound him (.403 wOBA vs. .336 for RHB) and he's been much worse at home (.443 wOBA vs. .339 on the road). A low-90s four-seamer is Martinez'a primary fastball, though he will also throw a few low-90s two-seamers and upper-80s cutters per start. His two secondary pitches are a slider and a changeup, both in the mid-80s. Martinez managed to throw 5.1 shutout innings in Yankee Stadium last week, annoyingly.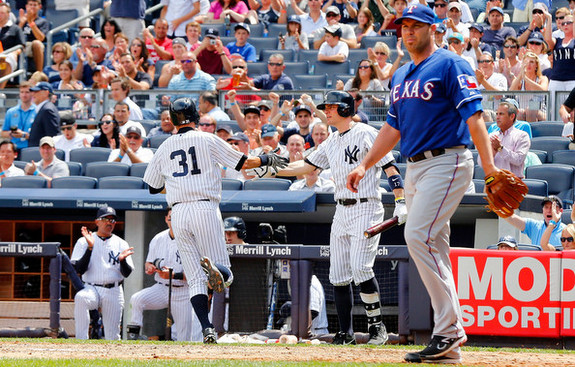 Wednesday: RHP Hiroki Kuroda (vs. TEX) vs. RHP Colby Lewis (vs. NYY)
The Rangers have been hit so hard by injuries this year that the 34-year-old Lewis and his 6.23 ERA (4.13 FIP) have made 18 starts and thrown 95.1 innings. They've simply run out of alternatives. Lewis' strikeout (7.55 K/9 and 17.8 K%), walk (3.02 BB/9 and 7.1 BB%), and homer (1.04 HR/9 and 8.0 HR/FB%) rate are not great but not terrible either. He doesn't get any grounders (33.2%) and lefties (.426 wOBA) have been less forgiving than righties (.353 wOBA). Home (.426 wOBA) hasn't been as kind as the road (.364 wOBA) either. At this point of his career, Lewis works with an upper-80s four-seamer and a low-80s slider as his two main pitches. He'll also throw a few low-to-mid-80s changeups and mid-70s curveballs per start. Lewis held the Yankees to three runs in 6.1 innings last week.
Bullpen Status
As you might remember, the Rangers traded closer Joakim Soria in the middle of their series with the Yankees last week. RHP Neftali Feliz (5.79 in limited time) has moved back into the ninth inning with RHP Roman Mendez (3.41 FIP), RHP Shawn Tolleson (4.81 FIP), and LHP Neal Cotts (2.76 FIP) handling setup duty. Both Mendez and Tolleson threw an inning yesterday.
The Rangers are currently carrying eight relievers (like the Yankees!), so the rest of Washington's bullpen includes RHP Nate Adcock (13.14 FIP in very limited time), RHP Scott Baker (4.65 FIP), LHP Ryan Feierabend (2.87 FIP), and RHP Jerome Williams (4.33 FIP). Williams made a spot start over the weekend and won't be available right away. Feierabend threw multiple inning yesterday. Check out our Bullpen Workload page for the status of the Yankees' relievers and Lone Star Ball for everything you need to know about the Rangers.