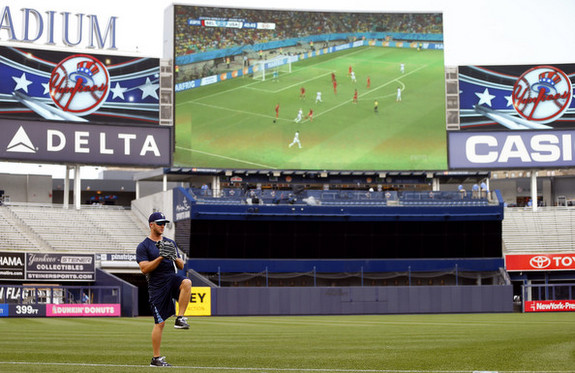 The Yankees wrap up their ugly six-game homestand this afternoon, a homestand in which they won the first game (yay!) but lost the last four (boo!). They've lost eight of their last ten games overall while being outscored 48-31. Worst of all, all ten of those games were played against AL East rivals. The Yankees are 17-17 in their division so far this year but I don't believe it. The standings are lying. It feels like they're 5-29 against the AL East.
The homestand ends today and the Yankees head out on an eleven-game road trip starting tomorrow. This is the last time they play in the Bronx for 16 days, until after the All-Star break. Given their performance at home (18-22, outscored 186-144), I'm not sure that's a bad thing. End the homestand with a win and get the hell outta here. Here is the Rays lineup and here is the Yankees lineup:
LF Brett Gardner
SS Derek Jeter
C Brian McCann
DH Carlos Beltran
1B Kelly Johnson
RF Alfonso Soriano
CF Ichiro Suzuki
2B Brian Roberts
3B Yangervis Solarte
LHP Vidal Nuno
It is pretty gross out in New York right now. Overcast but really hot and humid. There is also some rain in the forecast for later this afternoon, though it doesn't look like it will impact the game unless they go to extra innings. I love watching games live and being at the Stadium, but this is one I will happily enjoy from my air-conditioned home. This afternoon's game is scheduled to begin at 1:05pm ET and you'll be able to watch on YES locally and MLB Network nationally. Try to enjoy.
Injury Updates: Mark Teixeira had his knee drained last night and is expected to be back in the lineup tomorrow. He's been playing through some discomfort … Jacoby Ellsbury is a "little beat up" and needs a day off, according to Joe Girardi.