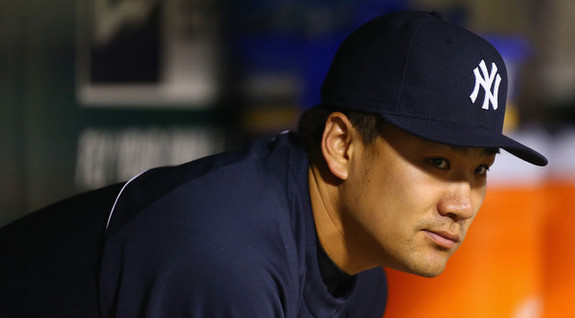 After traveling from Cleveland to New York to Seattle within the last 48 hours, Masahiro Tanaka's elbow was finally examined by team Dr. Ahmad on Thursday night. Brian Cashman confirmed his ace right-hander has been diagnosed with a partially torn ulnar collateral ligament by Ahmad and two other doctors. All three recommended rehab — not Tommy John surgery — because the tear is small.
Tanaka, 25, will receive a platelet-rich plasma injection on Monday and eventually begin a throwing program. If all goes well, he could be back on a mound within six weeks, so the best case scenario has him back in pinstripes in late-August. Cashman noted other pitchers in the organization have successfully rehabbed from similar tears without saying who those pitchers were. Surgery can not be completely ruled out until the rehab program is complete. Here is what Cashman said during his conference call, courtesy of Chad Jennings:
"He has seen three physicians, our chief physician, Chris Ahmad, David Altchek and he has seen Neil elAttrache. All three are in agreement with a diagnosis of a new injury; a partially torn ligament in his throwing arm. The recommendation on the treatment is a rehab protocol that would begin with one PRP injection and a throwing program after an exercise routine. The ligament tear in question is considered small and we, the Yankees, have had success with pitchers that have had this.

"It doesn't rule out the possibility of Tommy John (surgery) in a failed attempt, but all three doctors agree on the diagnosis and the rehab protocol. We are going to follow their recommendation and none of them recommend surgery at this time. They're all hopeful that in roughly maybe a six-week period that we will have a pitcher back if he responds positively."
The most notable example of a pitcher who successfully rehabbed a partially torn ligament is Adam Wainwright, who was able to continue pitching for a half-decade before going under the knife. Ervin Santana has pitched with a partially torn ligament the last few years as well. The odds are strongly in favor of Tanaka needing elbow reconstruction at some point in his career — once a ligament tears, it's usually only a matter of time before it goes completely — but Cashman said all three doctors do not feel surgery is necessary at this point.
I understand the fear that all they're doing is delaying the inevitable by trying rehab, but given where they are in the season, having the surgery now would likely knock Tanaka out until sometime next August. Three doctors all agree surgery is avoidable and that Tanaka has a chance to return to the mound this season. Surgery is always the last resort — you don't want to cut into the elbow of a world class pitcher unless you absolutely have to — and if there's a possibility it can be avoided, they have to try.
Now, obviously the injury hurts the Yankees on the field immensely. Tanaka was by far the club's best pitcher and they were already without CC Sabathia (knee), Michael Pineda (shoulder), and Ivan Nova (elbow). None of those four is returning anytime soon. Somehow 39-year-old Hiroki Kuroda is the only member of the Opening Day rotation left standing. Tanaka's partially torn ligament is not the worst case scenario, but losing him for at least six weeks is a devastating blow to a pitching staff already thinned by injury.