The losing streak has hit four and the Yankees are back at .500 with a 41-41 record. This is the latest into the season the team has been at or below .500 during the Joe Girardi era. Tuesday night's 2-1 loss to the Rays was a fairly straight forward "they just couldn't get the big hit" loss.
Wait, They Scored How?
When I write these recaps, I tend to jot down notes while watching so I don't forget stuff. Many of those notes don't even make it into the recap, but you never know. I was at this game though, so I needed to look over the gamelog when I got home to remember exactly what happened. I remembered they scored just the one run and the box score says they went 1-for-7 with runners in scoring position, but wait … the one hit didn't even score a run. Then I remembered how they scored.
David Price was not necessarily on cruise control, the Yankees did make him work a bit, but he held them scoreless in the first three innings before Derek Jeter led off the fourth with a booming double to center. The Cap'n just destroys Price for whatever reason. Jacoby Ellsbury followed with a soft line drive single to center — that was the lone hit with runners in scoring position, Jeter had to hold up because Ben Zobrist almost made the diving catch — to put runners on the corners with no outs.
Great situation, right? Well, it was until Mark Teixeira flew out to shallow right (too shallow to score Jeter) and Ellsbury got picked off first. He was dead to rights between first and second, but Zobrist's throw hit Ellsbury in the back and allowed a) him to slide into second safely, and b) Jeter to cross the plate without a throw. That's how the Yankees scored their one run on Tuesday. Ellsbury got picked off first and Zobrist hit him in the back with a throw during the rundown. Sigh.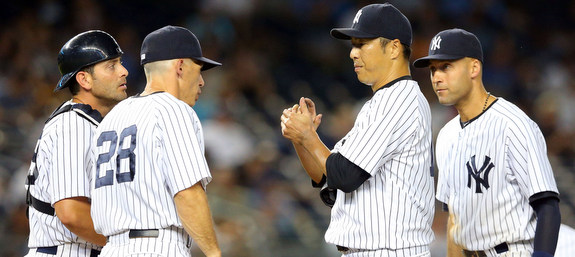 Deserved Better
It was not his prettiest start of the season, but with a short bullpen, Hiroki Kuroda gave his team eight innings of two-run ball. Logan Forsythe singled in a run in the third and James Loney hit a solo homer in the sixth, and that was it. Kuroda stranded runners on first and second in the fourth, on the corners in the fifth, and on second and third in the eighth. He had to grind a bit, yet at the end of the day he plenty effective and good enough to win.
All told, Kuroda allowed just those two runs on nine hits and one walk. He struck out seven and threw 69 of his season-high 109 pitches for strikes (63%). Twenty-one of his 24 outs were recorded on the infield. It wasn't Kuroda at his best but in a sense it was a microcosm of his MLB career: reliable, effective, unrewarded. This poor guy never gets run support — he didn't with the Dodgers back in the day either — yet he keeps plugging along. Kuroda now has a 3.58 ERA in his last eleven starts, by the way. He's bounced back well from his poor April.
Blown Chances
As usual, the Yankees did have some opportunities to plate the go-ahead or game-tying or whatever run. Teixeira lined out to left to end the first with Brett Gardner on second. Carlos Beltran and Alfonso Soriano flew out and struck out, respectively, with a) Ellsbury on second to end the fourth, and b) Jeter on second and Teixeira on first to end the sixth. And finally, Yangervis Solarte grounded out to first to end the game with Ichiro on second and Kelly Johnson at first. The four through eight hitters went a combined 0-for-17 with three walks. Gross.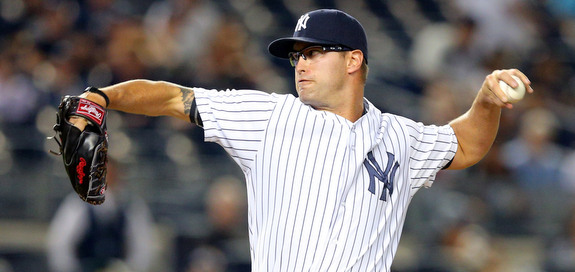 Leftovers
Jeter had two of the team's four hits. His fourth inning double was the 534th of his career, which tied him with Lou Gehrig for the most in franchise history. As Jeff Quagliata points out, Price has now given up Jeter's 3,000th hit, the hit that moved Jeter into a tie with Willie Mays on the all-time list, the hit that tied Jeter with Gehrig for the most in Old Yankee Stadium history, and the double that moved Jeter into a tie with Gehrig for the most in team history. "I feel like if I had (to face) a lineup full of 40-year old Derek Jeters, I might not make it through the fifth," said Price to Bryan Hoch after the game.
The Yankees struck out eleven times as a team and it was only their third time with double-digit strikeouts in their last 25 games. That includes extra-inning games. Strikeouts are at an all-time high right now but the club has an 18.5% strikeout rate overall, the fifth lowest in baseball. Putting the ball in play isn't a problem. The quantity of contact is fine, the quality of contact is not. Price struck out nine and had his streak of consecutive starts with 10+ strikeout snapped at five. The last to do that was vintage Johan Santana back in 2004.
Kuroda's eight innings spared the bullpen one day after the 12-inning game. David Huff was the only reliever used and he retired the side on 15 pitches. He hit 95.0 mph (!) with his fastball according to PitchFX. What in the world is that about? Maybe it's time to see what Huff can do in a one-inning, air-it-out role? Maybe he'll turn into the left-handed version of Adam Warren.
Last but unfortunately not least, the Yankees are now 18-22 at Yankee Stadium this season. They've been outscored 186-144 and out-homered 57-45 in the Bronx. I shouldn't be looking forward to seeing this team go out on an extended road trip at the end of the week, but here we are.
Leftovers
MLB.com has the box score and video highlights, FanGraphs has some additional stats, and ESPN has the updated standings. Both the Orioles and Blue Jays won, so the Yankees are 3.5 games back of Toronto and 2.5 games back of Baltimore. They're four games back of the second wildcard spot.

Source: FanGraphs
Up Next
The Yankees will look to avoid being swept on Wednesday afternoon — yes, it's an afternoon game — in their final home game before the All-Star break. Vidal Nuno and Jake Odorizzi will be the pitching matchup. If you want to see that one live, head over to RAB Tickets.