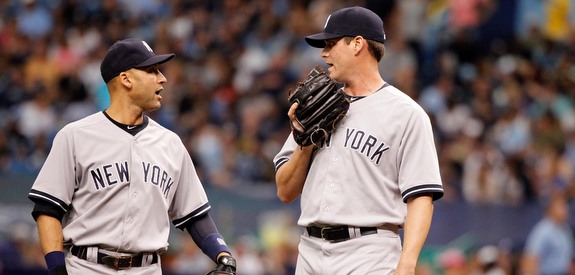 Yesterday afternoon, the Yankees dumped lefty reliever Matt Thornton on the Nationals after Washington claimed him off trade waivers. The Yankees literally gave Thornton away — the Nats claimed him and the Bombers could have pulled him back off revocable waivers, but they opted to send him and the $4.5M or so left on his contract south to the nation's capital for no return. It was a surprising move only because the Yankees need as much pitching as they can get these days.
"We have some young left-handers who are emerging quickly that we're excited about," said Brian Cashman to Dan Martin after the move was announced. "It's about flexibility in 2014 and 2015. I'm not shut down for business, whether it's buying, whether it's reshuffling the deck, as we're doing today … We've been mixing and matching all year. That's not going to stop. I can't predict what's going to happen tomorrow."
Both Cashman and Joe Girardi cited the team's collection of upper level lefty bullpen prospects — Tyler Webb, James Pazos, and 2014 second round pick Jacob Lindgren were all mentioned by name — as one reason why they let Thornton go. (Girardi didn't seem to fully trust him, which I'm guessing made the move easier.) It seems they simply believe they can replace him from within and better use that $4.5M elsewhere. Given their recent history with veteran lefty relievers on multi-year contracts, dumping Thornton before he went all Damaso Marte or Pedro Feliciano on them makes sense.
Soon after the deal, Ken Rosenthal reported the Yankees are "working on other things" and could reallocate the savings from Thornton elsewhere. I know $4.5M doesn't sound like much, especially when the team has a $200M+ payroll and $3.5M of the $4.5M comes next year, but Hal Steinbrenner is very focused on the bottom line and it does appear the club is bumping up against some kind of payroll limit. Hal reportedly had to give Cashman approval to up payroll at the trade deadline, and even then they had cash thrown into the Brandon McCarthy ($2.05M), Chase Headley ($1M), and Stephen Drew ($500K) deals.
The Yankees are presumably still looking to add some rotation help this month — Chuck Garfien noted Yankees special assistant Jim Hendry was in Chicago scouting the White Sox last night, presumably because the very available John Danks was pitching (he got capital-D destroyed) — and the Thornton deal gives them some extra money to make that happen. Not having that roster spot married to a specific veteran pitcher makes swapping out players easier as well, even if we're only talking about calling up fresh arms whenever they're needed. (Like today.)
I don't see this as the Yankees admitting signing Thornton was a mistake. Not at all. Circumstances have changed over the last few months and right now the financial and roster flexibility is more valuable to them than a good but not great left-handed specialist. It's not often you get to simply walk away from a contract like that, even a relatively small one like Thornton's. The Yankees took advantage and are now in position to use the savings elsewhere, specifically on a rotation upgrade. I don't think getting rid of Thornton was the endgame. I think it was the first domino.