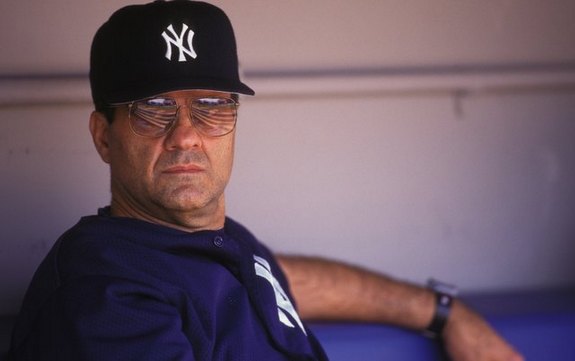 Prior to this afternoon's game against the White Sox, the Yankees will retire No. 6 in honor of Joe Torre. The team's long-time manager was unanimously elected to the Hall of Fame by the Expansion Era committee last December, thanks mostly to his time running the Yankees. He was a damn fine player in his day, though.
Torre spent the 1996-2007 seasons with the Yankees, leading the team to ten AL East titles, six AL pennants, and four World Series championships. He is second on the franchise's all-time games managed (1,942) and managerial wins (1,173) list, behind only Joe McCarthy. Say what you want about his managerial style and his book The Yankee Years, but Torre definitely deserves to have his number retired in my opinion. No brainer, really. Once Derek Jeter's No. 2 is inevitably retired, the Yankees will be out of single-digit numbers. Crazy.
This afternoon's number retirement ceremony is scheduled to begin at 12:15pm ET or so. It's cool and cloudy in New York, but there is no rain in the forecast, so that's good. The ceremony will be carried on YES but I'm not sure if you'll be able to see it on MLB.tv. Usually they don't show these pre-game ceremonies. Here is the White Sox lineup and here is the Yankees lineup for this afternoon's game:
CF Jacoby Ellsbury
LF Brett Gardner
C Brian McCann
1B Mark Teixeira
DH Carlos Beltran
2B Martin Prado
3B Chase Headley
SS Stephen Drew
RF Ichiro Suzuki
RHP Hiroki Kuroda
First pitch is scheduled for a little after 1pm ET and you can watch on YES. Enjoy.