So that was the best series of the season, no? The Yankees held on for a 1-0 win on Thursday afternoon, taking three of four from the first place Tigers. The one loss was a very winnable game as well. Great game, great series.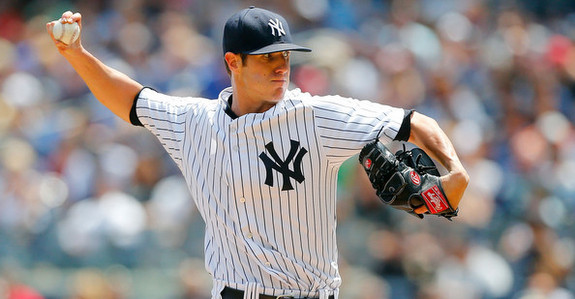 Tame The Tigers
I don't know how they did it, but the Yankees' patchwork rotation went toe-to-toe with Detroit's collection of aces this week and collectively outpitched them. It was pretty awesome. Shane Greene stepped up on Thursday afternoon and was masterful, allowing five singles and three walks in eight shutout innings. He struck out five and recorded 13 of his other 19 outs on the ground. He was efficient too, throwing 99 pitches total and never more than 18 in an inning (only once more than 14). What more could you want?
The Tigers had two runners reach second base and one reach third base against Greene all afternoon. That's all. A single (Victor Martinez) and a walk (J.D. Martinez) gave them runners on first and second with two outs in the fourth, but Greene rebounded to strike out Don Kelly. Two innings later an infield single (Ezequiel Carrera) and a bloop single (Ian Kinsler) gave Detroit men on the corners with one out, and this time Greene got out of it by getting V-Mart to bang into a 4-6-3 double play. He executed the exact right pitches at the exact right times.
Greene has been rock solid during his brief time as a big league starter, and I think the difference between his last few starts and this one was his slider. PitchFX says he threw 29 sliders out of 99 pitches, including 21 for strikes and seven for swings and misses. He was able to locate it just off the plate outside to the Tigers' bevy of right-handed batters, resulting in whiffs and a lot of soft contact. It helps when you can back that up with a mid-90s sinker, of course. Greene was fantastic. What a job.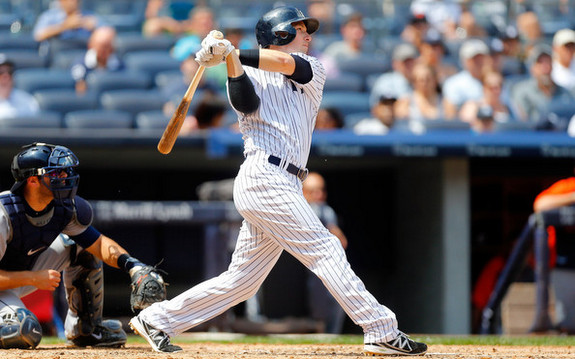 All With Two Outs
The Yankees scored one run on Thursday and that's all they needed. Naturally, they did not score that run after Ichiro Suzuki (infield single) and Brendan Ryan (single) reached base with one out in the third, setting things up for the top of the lineup. Brett Gardner hit into a rare 4-6-3 double play to kill that rally. It was only his third double play ball of the season. Bases loaded with two outs in the seventh? Nope, didn't score then either. Martin Prado grounded out weakly to short to end the threat.
No, the Yankees scored their run after having the bases empty with two outs in the fourth. Prado and Jacoby Ellsbury lined out to left and center field to start the inning, respectively, so it seemed like another quick scoreless inning for Rick Porcello. Instead, the Yankees were able to string together three soft hits to score a run. Carlos Beltran singled to center, Chase Headley blooped another single to center, then Stephen Drew blooped a ground-rule double to left. It was perfectly placed just inside the foul line. Had it not hopped over the wall, I'm pretty sure Headley would have scored from first. Alas. One run is better than none.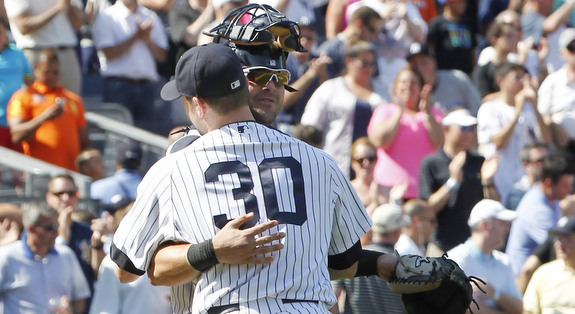 Leftovers
Joe Girardi surprisingly let Greene start the ninth, but his shutout complete-game bid ended when Kinsler led the inning off with a single to center. David Robertson came on, walked (Victor) Martinez, got super scary pinch-hitter Miguel Cabrera to bang into a 4-3 double play, then got Kelly to line out softly to short for his 31st save. No sweat. (Lots of sweat.)
Everyone in the starting lineup had exactly one hit except for Frankie Cervelli (zero) and Ichiro (two). Drew's double was the only extra-base hit and Headley drew their only walk, a four-pitch job off ex-Yankee Phil Coke with two outs in the bottom of the eighth. Ryan took a fastball to the back as part of that ultimately fruitless seventh inning rally.
Greene is the first Yankees' starter to complete eight innings of work since Hiroki Kuroda on July 1st. They've gotten only five other 8+ innings starts this year, all by (who else?) Masahiro Tanaka. The bullpen really needed an easy day like this. No one even had to warm up until Robertson got ready for the ninth.
This was only the fifth 1-0 game in New Yankee Stadium history and the first since Chris Archer shut the Yankees out last July. The Bombers are 2-3 in those five games. The other win was CC Sabathia's shutout of the Rays in 2011, when James Shields threw away a pickoff throw for the only run.
Box Score, WPA Graph & Standings
MLB.com has the box score and video highlights, FanGraphs some other stats, and ESPN the updated standings. Depending on the outcomes of the night game, the Yankees will be either four games back in the AL East and one game back of the second wildcard spot (Blue Jays beat Orioles), or five games back in the AL East and tied for the second wildcard spot (O's beat Jays).

Source: FanGraphs
Up Next
This four-game series with the Tigers is finally over. The Indians are coming to town for a three-game weekend set next and they'll have Trevor Bauer on the mound for Friday's opener. The Yankees? They still have not announced their starter. Chances are it will be Esmil Rogers in place of the injured David Phelps. Chase Whitley seems to be the other option. We'll find out soon enough.