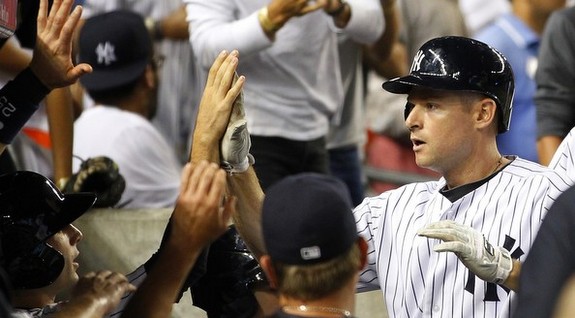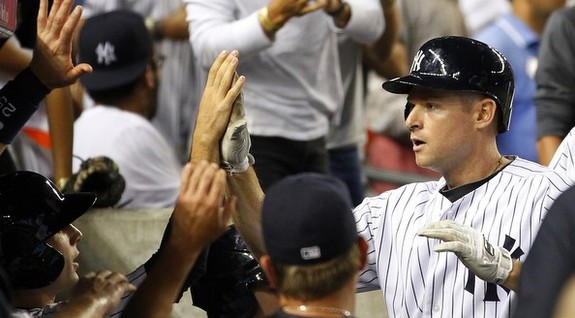 I have a whole bunch of stray links lying around in the wake of the trade deadline and I'm not quite sure what do with them, so I might as well dump them all in one post. Here are some miscellaneous links and notes as the Yankees and Tigers wrap up their series in the Bronx (game thread).
Yankees add most projected production at trade deadline
Although they didn't land a big fish like Jon Lester or David Price, the Yankees were one of the most active teams prior to the trade deadline, making four deals that qualified as what Brian Cashman called "incremental upgrades." Friend of RAB Eno Sarris put together a real quick and dirty analysis looking at which teams added the most production at the trade using projected WAR. It's a simple WAR coming in minus WAR going out calculation. The Yankees added 2.0 WAR (projected!) at the deadline, by far the most in baseball. The Mariners were second at 1.3 WAR. Those incremental upgrades, man. They add up in a hurry.
Headley loves New York, surprising
Chase Headley has only been a Yankee for a bit more than two weeks now, but that has been long enough for New York to grow on him. He told Ken Davidoff he never expected to enjoy playing in Bronx as much as he has. "If you had told me a couple of weeks ago that I would enjoy playing in New York, I would've told you you're crazy … You don't know what to expect when you come to a clubhouse with this many All-Stars and established guys and great players. You don't know how you're going to be accepted in a clubhouse and be treated. And it's been phenomenal. Top-notch organization, and then I've loved every second I've been here and I anticipate that I will as long as I'm here," said Headley. He has also told people with the team how much he's enjoyed it as well, says Jon Heyman. Headley will be a free agent after the season and re-signing him is something to consider once the final 50 games play out, but for now he's fit in wonderfully and given the Yankees a big lift.
Red Sox, Rays blacklisted Yankees at deadline
According to David Lennon, the Red Sox and Rays were both told by ownership they could not deal Lester and Price to the Yankees at the trade deadline. Each team was free to trade their lefty ace anywhere but the Bronx. Nick Cafardo says the Yankees did try to engage the BoSox on both Lester and John Lackey, but no dice. The Bombers also called Tampa about Price, says Bob Nightengale, but again, it wasn't happening. Oh well, what are you going to do. I'm not sure if the Yankees could have put together competitive offers for the two southpaws anyway.
Gardner's ever-changing approach
This has been a career year for Brett Gardner, as he continues to hit for a surprising amount of power while maintaining his pesky leadoff hitter on-base ability. It's been a blast to watch. Jeff Sullivan looked at Gardner's sudden power production and, long story short, found that he's adjusted to the way pitchers were pitching him. They were treating him like a slap hitter with fastballs in the zone. Like a hitter who couldn't hurt them. Gardner has become more aggressive and learned how to better pull the ball in the air, a trademark of hitting coach Kevin Long. The league basically dared him to adjust to the way they pitched him, and he's done exactly that.
Rusney Castillo's workout scheduled for tomorrow
Free agent Cuban outfielder Rusney Castillo is scheduled to have a private workout with the Yankees at their Tampa complex tomorrow, according to George King. He has already had private workouts for the Phillies, Red Sox, Cubs, and Mariners. Ben Badler recently dropped a Rajai Davis comp on Castillo, in case you're wondering what type of player he is. King says the outfielder may fetch upwards of $45M.