I've got seven questions for you this week. If you want to send us anything, mailbag questions or comments or links or whatever, just use the Submit A Tip box in the sidebar at any time.
Many asked: What about playing Alex Rodriguez at shortstop next season?
We get asked this question a shocking number of times each week and I guess we can't ignore them any longer. Alex can not play shortstop anymore. He hasn't had the mobility for the position for about five years now based on his play at third. His arm is fine and his baseball instincts are literally the best I've ever seen, so I'm sure he knows what to do and all that, but physically he doesn't move like he once did. Remember, we're talking about a 39-year-old with two bad hips who has played 44 games total from 2013-14. By time Opening Day rolls around, it will have been 12 years since Alex played short. I'm am confident saying there is zero chance of this happening.
Assuming the Yankees don't release A-Rod once his suspension is over — earlier this year I thought they would for sure, I think I wrote that somewhere, but now I don't think that's likely because he's such a rating and ticket sale powerhouse — I'm sure they'll try him at third base next year but wind up playing him at DH most of the time. I guess that would mean Martin Prado at third? Maybe they can teach Rodriguez to play some first base as well. But anything that requires actual mobility? I can't see it. He'll have to overcome a lot of physical obstacles to play the field regularly next season. Part-time third base, part-time first base, part-time DH seems like the best we could hope for going forward.
Justin asks: How does Jon Lester compare in age, innings pitched and injury history to CC Sabathia prior to his signing with the Yanks? Am I wrong to think off the top of my head that he would be well under CC's innings total?
Sabathia was only 28 years old when he signed with the Yankees, remember. At the time of his free agency he had thrown 1,684.1 big league innings between the regular season and postseason, and his only notable injury was a torn meniscus following the 2006 season. Lester will turn 31 this offseason and he's at 1,623.2 big league innings, so he'll finish the year in the 1,650-1,700 range. He missed two weeks with a lat strain in 2011 and went through the cancer stuff back in the day. When Sabathia was Lester's age, he had thrown 2,450.1 total innings. He started breaking down the next season (2012). (I'm not saying Lester will break down at the same age.) Lester's arm is much fresher than Sabathia's at the same point of his career, theoretically.
Paul asks: Approximately how bad would the Yankees have to be the rest of the way to get a protected draft pick? Where do you think they'll end up picking (or which pick will they be losing to sign a qualified free agent if that's what you think will happen)?
Because the Astros did not sign first overall pick Brady Aiken, they will receive the second overall pick as compensation next year. That pick as well as the first ten "natural" first round picks are protected from draft pick compensation. The Yankees currently have the 13th best record in baseball at 64-61, putting them in line for the 18th overall pick. The Mets have the tenth worst record at 60-68, a .469 winning percentage. Let's say the Yankees would need to finish with a .460 winning percentage to secure a protected first round pick. That would mean a 74-88 overall record, or 10-27 in the final 37 games. The Yankees stink, but I can't imagine they'll play the .270-ish ball they would need to play the rest of the season to get a protected first rounder. In all likelihood they'll end up picking in the 15-20 range.
Charlie asks: Just curious, how much longer is Big Mike under team control for? Does all of his injury time delay his arbitration? Thanks.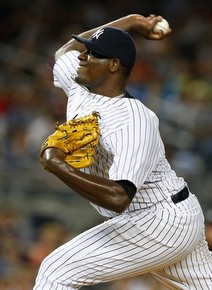 The Yankees did delay Michael Pineda's free agency and arbitration one year by activating him off the disabled list and optioned him to Triple-A last July. He should have been in his first arbitration year right now and scheduled to become a free agent after the 2016 season. Instead, Pineda will be arbitration eligible for the first time next year and hit free agency after the 2017 season, when he'll still only be 28. Time spent on the DL is the same as the active roster for service time purposes.
Mark asks: It seems to me that as bad as the Yankees power output has been this year, a larger percentage of the few HRs that they hit have been solo HRs. Is that true?
The Yankees have hit 112 homers this season, which are broken down into 75 solo homers (67%), 27 two-run homers (24%), eight three-run homers (7%), and two grand slams (2%). Two grand slams! Remember when they hit three grand slams in one game a few years ago (video)? Good times. Good times. Anyway, the AL averages this year are 57% solo homers, 29% two-run homers, 11% three-run homers, and 2% ground slams. So yes, the Yankees have hit far more solo homers than a) any other type of homer, and b) the league average this year.
Drew asks: I know no prospect is perfect but which Yankee hitting prospect has the most complete tool set? My first initial thought was Aaron Judge, or am I missing someone? Does most complete tools equal best prospect? I'm not too sure, and it depends on how high you value a particular skill set and ceiling.
I would say Judge has the most complete set of tools in the system right now. In fact, I think he does easily. I'm not even sure who's close at this point. Tyler Austin lacks speed and a strong arm, Greg Bird has all the hitting tools but not much else, and Jake Cave lacks power. Slade Heathcott probably has the second most complete set of tools in the system but he's never healthy. I wouldn't say the most complete tools automatically equals the best prospect, the quality of the tools matter as well. I would rather have a guy with 80 power, 20 speed, and 40 everything else (to use the 20-80 scouting scale for a second) than someone with 50s across the board, for example. Having a well-rounded game is good! It's not everything though.
Drew asks: Is Mark Montgomery really having that bad of a season? Yes the walks have been an issue but overall it looks like his numbers have been pretty good. I don't think he is a realistic option for the pen in September but more like the middle of next year after starting the year in AAA. Yes we thought it was going to happen this year but, hey things happen.
It's about more than just the numbers, remember. Here's what Brian Cashman told Nick Peruffo just the other day:
He used to have much bigger velocity, and now its settling at a lower level. He still has the performance behind it, its just not the power stuff it was before. He's still someone that's on our radar.
Montgomery has a 2.30 ERA (3.98 FIP) in 47 innings with a 24.1% strikeout rate and a 12.8% walk rate between Double-A and Triple-A this year. During this sicko 2012 season at High-A and Double-A, he had a 1.54 ERA (1.62 FIP) with a 39.4% strikeout rate and an 8.8% walk rate in 64.1 innings. Montgomery's stuff hasn't been the same since he hurt his shoulder last year and it shows in the numbers. He's still a good relief prospect, just not the potential shutdown late-inning force we all thought he would be two years ago.