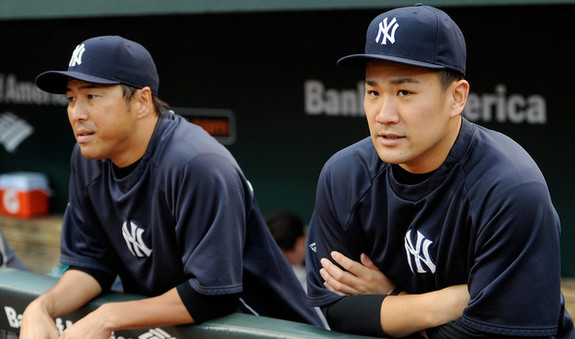 The Yankees and Orioles were rained out last night and think everyone needed that. The team hasn't had a day off in a while and it can be exhausting watching them struggle to score runs night after night. That goes for both the fans watching at home and the players watching in the dugout. Here are some scattered thoughts following the impromptu off-day.
1. I was talking about this with a friend the other day: If another team claimed Brian McCann off trade waivers this month, say the Dodgers, should the Yankees just let him go like they did Matt Thornton? That would enable them to get out from under the 4+ years and $72M or so left on his contract, but they'd also be letting him go for nothing. McCann hasn't hit a lick this season and he's been a huge disappointment, and it's fair to wonder if this is just a one-year blip or a sign of things to come. He is a 30-year-old catcher with approximately 10,000 big league innings on his legs, remember. Those guys can fall off a cliff in a hurry and without warning. If this is who McCann is going forward, the Yankees would be foolish not to jump at the chance to unload his contract. Obviously this is all hypothetical since no one is claiming him. I was all for signing McCann in the offseason, he fit the team's needs perfectly, but it hasn't worked out at all. Figuring out why he stopped hitting — teams have been shifting against him for five years, stop blaming that — and getting back to where he needs to be has to be priority number one this offseason.
2. Speaking of Thornton, I wish the Yankees would stop putzing around with Rich Hill — retired three of nine MLB batters faced this year! — and call up either Tyler Webb or Jacob Lindgren. I understand why they let Thornton go and I'm not going to argue against dumping a soon-to-be 39-year-old lefty specialist with another ~$4.5M coming to him, but I feel like they only took a half-measure by calling up Hill instead of one of the kids. They took advantage of the situation and got an aging, relatively expensive player off the roster, paving the way for a youngster, but they called up a retread instead. Bah. I feel like Hill is such a waste of time. Both Webb and Lindgren have pitched very well in the minors this year and the team talked glowingly about them after the Thornton move. So what's the point in waiting? We're not talking about an everyday position player or a starting pitcher who has to learn to turn a lineup over multiple times, they're one-inning (or even less than that) relievers who have to come in an air it out for a few batters. I don't see the sense in waiting until rosters expand on September 1st to call one of those two guys up.
3. The 2015 third base situation fascinates me. Are the Yankees really going to run Alex Rodriguez out there everyday at age 39 with a bad hip after he played only 44 games from 2012-13? Would they re-sign Chase Headley and make A-Rod the full-time DH or even release him? Is the plan to have Martin Prado split time with Alex at third base? Something else entirely? I would love to see the Yankees bring Headley back on an Adrian Beltre-esque one-yearpillow contract, but I get the feeling he's going to go for the biggest payday possible. I know I would. If that means he leaves the team, then I guess A-Rod with Prado as a caddy is the most likely scenario. The Yankees are going to need three infielders this offseason, though you could argue the best possible solutions at third base (A-Rod, Headley, Prado) and second base (Prado, Rob Refsnyder) are already on the team. There won't be much out there in free agency, as usual.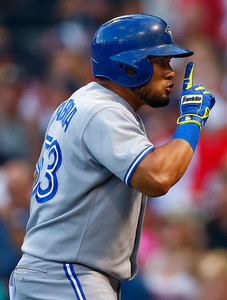 4. Speaking of free agency, here is the 2014-15 crop of free agents. It's a thin class and I wonder if the Yankees would have interest in bringing Melky Cabrera back to play right field. Other than him, the only other free agents who even closely resemble impact hitters are Hanley Ramirez and Pablo Sandoval. Hanley is hurt all the time and will probably require a nine-figure deal. Sandoval could end up with Beltre money (five years, $80M) and I worry he might eat himself out of baseball once he gets a huge contract. His conditioning issues are long-running and well-documented. Melky might come with the fewest questions among the big free agents, which is really saying something given his performance-enhancing drug suspension a few years ago. Cabrera just turned 30 on Monday, he's hit very well this season (135 wRC+ heading into last night's game), and he's a switch-hitter with some power and a ton of contact ability. His defense kinda stinks but he does have a strong arm, which makes him a good candidate for right field in Yankee Stadium. The Yankees know Melky and he knows them, though that doesn't necessarily mean it will be easier to work out a deal. It could mean in the opposite, in fact. With the caveat that I am terrible at estimating free agent contracts, my guess is he gets something like four years and $56M to $60M, or Nick Swisher and Curtis Granderson money.
5. Looking over that list of free agents makes me think the Yankees really need to re-sign Brandon McCarthy. Not at any cost, obviously. He is coming off a two-year deal worth $18M, though he is both two years older and not as good as he was when he signed that contract. His price should come a bit, in theory. Given the dearth of quality pitching and general market inflation, I'm guessing that won't be the case though. Maybe two years and $20M gets it done this time. McCarthy does have a very scary history of shoulder injuries — he hit the DL at least once with a shoulder issue (including multiple stress fractures) every year from 2007-13 — so there would be a lot of risk involved. He's pitched very well in pinstripes though, showing he can deal with pitching in the tougher league and in a small ballpark in his limited time. The Yankees will need rotation help next year and if they can get McCarthy to come back at a reasonable price, they should be all over it. Lock him up during the exclusive negotiating period, before he even gets to free agency.