First base is a weird position. Teams expect huge offensive production from first base and it's at the bottom of the defensive spectrum despite being involved in more total plays than any position other than pitcher and catcher. You can't just stick anyone there either. We've seen enough of that firsthand this year. You need offense from first but defense isn't a huge deal, except for all those times the first baseman handles the ball.
You also rarely hear people talk about a team's "first baseman of the future" too. There's plenty of "this guy will be our shortstop for the next ten years," but first base? Nope. The history of first base prospects is pretty awful as well. Baseball America ranked 37 full-time first baseman among their top 100 prospects from 1995-2005 and only five became bonafide stars: Prince Fielder, Ryan Howard, Todd Helton, Paul Konerko, and David Ortiz, who made his name at DH.
More recent elite first base prospects like Eric Hosmer and Justin Smoak have been disappointments. Freddie Freeman and Anthony Rizzo are the best of the top first base prospect crop since Fielder while others like Joey Votto and Paul Goldschmidt were never top prospects. It has historically been a tough position to project and I think that's because it's so offense-focused. Hitting is generally considered to be tougher to scout and evaluate than pitching because there is no "textbook" swing. A fastball is a fastball and a slider is a slider. But a swing? Good luck cracking that code.
Anyway, the Yankees are at a point now where the future of first base in the Bronx is up in the air. Mark Teixeira is under contract for another two seasons but he is becoming more and more injury prone with each passing year. His playing time at first base will only go down through injuries and time spent at DH in an effort to keep him healthy. The Yankees have gotten by (barely) with fill-in first basemen during Teixeira's injuries this season, though I hope that isn't the plan going forward. To just wing it whenever Teixeira gets hurt.
The Yankees currently have two first base prospect at Double-A Trenton … well, one first base and one kinda sorta first base prospect. The true first base prospect is Greg Bird, who was just promoted and has gone 9-for-30 (.300) with three doubles and three homers during his first week with the Thunder. He had a monster 2013 season (170 wRC+) with Low-A Charleston and offers the kind of left-handed power and patience the Yankees crave. Bird is a recently converted catcher though, so his defense at first can be generously described as a work in progress.
The kinda sorta first base prospect is Tyler Austin, another ex-catcher who has bounced from third to first to right field over the years. He's spent most of this year playing right in deference to Peter O'Brien and now to Bird. Austin had an outstanding 2012 campaign (~160 wRC+) before a wrist injury marred his 2013 season (103 wRC+). The wrist problem lingered into this season and caused him to miss the start of the year, and after a few slow weeks, he's hit .319/.362/.518 with six homers since July 1st. It appears 2012 Austin is starting to return as he gets further away from the wrist injury.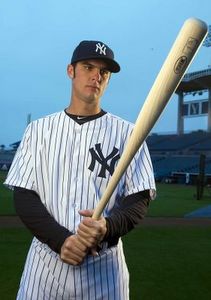 Neither Bird nor Austin is a top first base prospect like Hosmer or Fielder — Austin did rank 77th on Baseball America's top 100 in 2013 — though they are solid prospects expected to be average or better contributors at the MLB level, assuming things work out. League average is valuable, especially when the players are making close to the league minimum in their pre-arbitration years. Austin in particular fits the roster very well as a right-handed hitter with some power who can play both right and first. Bird, as a pure first baseman, is a less perfect fit.
It's clear at this point the Yankees will need some kind of viable backup for Teixeira going forward just because he gets hurt all the time. It's not necessarily the 15-day DL stuff either. He's shown a knack for those 6-7 day injuries, the ones that are short enough to avoid the DL but long enough to force the team to play a man short. The problem is that "backup first baseman" really isn't a position anymore. No team carries a player specifically for that. They tend to carry, well, someone like Austin, who can play first in addition to the corner outfield, third base, or even catch. Think Mike Carp or Steve Pearce or Scott Van Slyke.
The assumption has been that Brian McCann will eventually have to move to first base, though continues to rate very well defensively in terms of pitching framing, throwing out runners, and blocking balls in the dirt. His bat has been a huge disappointment this season but there is no reason to move him out from behind the plate yet. Since Austin is further along in his development thank Bird and figures to start next season at Triple-A Scranton, he'll be in position to help the Yankees as soon as next season, perhaps getting his opportunity when Teixeira gets hurt. Bird is still a year or two away and his lack of flexibility hurts his chances. If Austin hits, the Yankees will have some different ways to get him into the lineup. They can't really do that with Bird.
Until his contract is off the books, Teixeira will be New York's primary first baseman and that's just the way it's going to be. There is no reason to think they'll bench him or relegate him to DH duty on a regular basis. It would be a drastic change from the way they've done business for the last, I dunno, 15-20 years. Teixeira's injuries will give Austin and later Bird a chance to get into the big league lineup — assuming they're worth calling up, of course — though staying there is the hard part. The Yankees have had four primary first baseman over the last 30 years and they usually go for stars at the position. The opportunity will come for both Austin and Bird in the next two years, but being a good but not great prospect with the Yankees is a not ideal. They may only be stopgaps until the next big name comes along.