Believe it or not, this is the last series the Yankees will play against a non-AL East team this season. Well, at least until they make that huge September push to win the division and face the Angels in the ALDS. Anyway, the Royals are in town for a three-game set starting tonight. The two teams have split their first four games of the season, three back in June and one last week in the makeup game of a rainout.
What Have They Done Lately?
Prior to yesterday's off-day, the Royals swept a three-game series from the lowly Rangers. They dropped five of seven before that. Kansas City sits atop the AL Central at 77-61 with a +27 run differential, though their one-game lead over the Tigers is hardly commanding even this late in the season.
Offense
Manager Ned Yost's team averages 4.07 runs per game with a team 93 wRC+, so the Royals are a bit below-average offensively. It's worth noting they have the lowest strikeout rate in baseball at 15.7%, nearly two full percentage points lower than any other team. They just don't strike out. Their only injured position player is IF Christian Colon, who just broke a finger and is done for the season.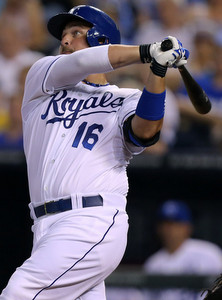 Kansas City's lineup revolves around OF Alex Gordon (129 wRC+), who is getting a bunch of MVP love thanks to some recent clutch homers and his UZR-inflated 6.2 WAR. Both 1B Eric Hosmer (90 wRC+) and DH Billy Butler (97 wRC+) are having down years, but both C Salvador Perez (101 wRC+) and OF Lorenzo Cain (106 wRC+) have been strong supporting players for Gordon. OF Josh Willingham (117 wRC+) plays based on matchups.
The rest of Yost's regular lineup includes OF Norichika Aoki (90 wRC+), 2B Omar Infante (79 wRC+), SS Alcides Escobar (89 wRC+), and 3B Mike Moustakas (78 wRC+). Ex-Yankees OF Raul Ibanez (60 wRC+) and IF Jayson Nix (-1 wRC+ in limited) are on the bench alongside backup C Erik Kratz (78 wRC+) and the speedy OF Jarrod Dyson (96 wRC+). C Francisco Pena, IF Johnny Giavotella, OF Lane Adams, OF Terrance Gore, and OF Carlos Peguero are the September call-ups on the roster. Francisco is Yankees bench coach Tony Pena's son.
Pitching Matchups
Friday: RHP Michael Pineda (vs. KC) vs. RHP James Shields (vs. NYY)
The Yankees and Royals will technically play only two series this season, but New York is going to wind up facing Shields three times because of that stupid rainout. Just their luck, huh? Shields, 32, has a 3.38 ERA (3.77 FIP) in 29 starts and 192 innings this season, though his strikeout rate (7.03 K/9 and 18.7 K%) is the lowest it's been in five years. His walk (1.88 BB/9 and 5.0 BB%), homer (0.98 HR/9 and 10.3 HR/FB%), and ground ball (45.3%) rates are right where they usually are. Both his home/road and platoon splits are small. A mid-80s changeup remains Shields' go-to pitch, though he has scaled back on it a bit this year and is throwing more low-90s four-seamers and mid-80s cutters instead. He also throws an upper-70s curveball on occasion. The Yankees have faced ex-Rays righty twice this year, first scoring one unearned run in six innings, then scoring six runs in 6.2 innings.
Saturday: RHP Brandon McCarthy (vs. KC) vs. LHP Danny Duffy (vs. NYY)
Duffy, 25, has a 2.42 ERA (3.69 FIP) in 141.1 innings across 22 starts and six relief appearances in his first full season following Tommy John surgery. His peripherals aren't all that impressive outside of his homer rate (0.64 HR/9 and 5.4 HR/FB%) though: 6.88 K/9 (19.0 K%), 3.18 BB/9 (8.8 BB%), and 35.6% grounders. Duffy doesn't have a home/road split but he is far better against lefties (.170 wOBA) than righties (.292 wOBA). He throws his mid-90s fastball more than two-thirds of the time, even as a starter, and he backs it up with an upper-70s curveball and a handful of mid-80 changeups per start. Duffy allowed three runs to the Yankees in 5.2 innings back in June.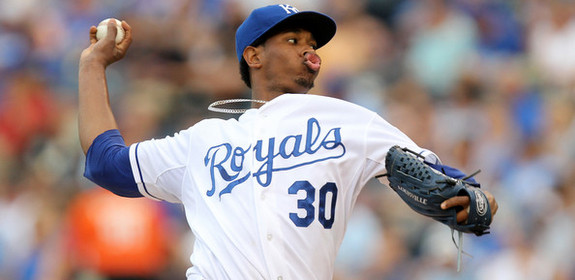 Sunday: RHP Shane Greene (No vs. KC) vs. RHP Yordano Ventura (vs. NYY)
The Yankees did not see the 23-year-old Ventura when these two clubs met in June because he was nursing an elbow injury. The hard-throwing rookie has a 3.38 ERA (3.67 FIP) in 25 starts (and one relief appearance) and 152 innings in 2014 with very good homerun (0.77 HR/9 and 9.4 HR/FB%) and ground ball (48.0%) rates. His strikeout (7.82 K/9 and 20.3 K%) and walk (3.38 BB/9 and 8.8 BB%) numbers aren't as strong, plus he has uncannily similar home/road (.295/.314 wOBA) and left/right (.295/.316 wOBA) splits. Freaky. Ventura is one of the hardest throwers in baseball, sitting in the upper-90s with both his two and four-seamer — his average four-seam fastball velocity (96.1 mph) is the second highest among qualified starters, behind only the injured Garrett Richards (96.4) — while also offering mid-80s changeups and low-80s curveballs. Like I said, the Yankees did not see Ventura the last time(s) these clubs met.
Bullpen Status
Yost has the best seventh/eighth/ninth inning trio in baseball in his bullpen. RHP Kelvin Herrera (2.69 FIP) is the seventh inning guy, RHP Wade Davis (1.38 FIP) is the eighth inning guy, and RHP Greg Holland (1.94 FIP) is the ninth inning guy. They're all dominant and effectively make it a six-inning game. It is worth noting Holland has shown some signs of fatigue recently and been less effective the last week or so.
Elsewhere in the bullpen, Yost has LHP Scott Downs (4.16 FIP), RHP Aaron Crow (5.36 FIP), RHP Jason Frasor (3.47 FIP), and LHP Francisley Bueno (3.85 FIP). The crop of September call-ups includes RHP Casey Coleman, RHP Louis Coleman, RHP Liam Hendriks, and LHP Brandon Finnegan. Finnegan was the 17th overall pick in June's draft. He's the first 2014 draftee to reach MLB. Check out our Bullpen Workload page for the status of Joe Girardi's bullpen, then check out Royals Review and Royals Authority for the latest and greatest on the Royals.