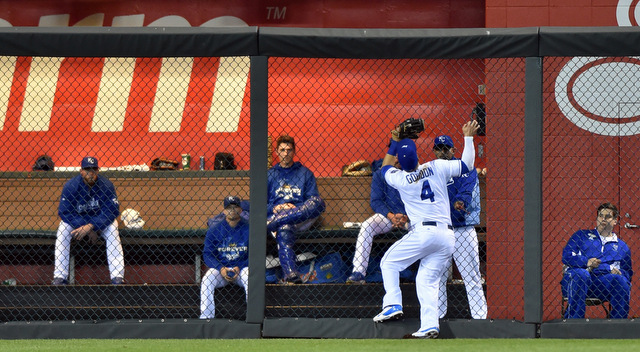 For the second time in less than two weeks, the Yankees and Royals are hooking up for a three-game series, starting with a Memorial Day matinee. This time the scene shifts to Yankee Stadium. The Royals took two of three when these two clubs met in Kansas City last weekend. The Yankees are trying to snap a six-game losing streak.
What Have The Royals Done Lately?
Remember when Chase Headley hit that three-run home run to give the Yankees the lead against the Royals nine days ago, a game the Yankees eventually won? The Royals had not lost since that game until the Cardinals took them down yesterday. They've won five of six since the Headley homer game and currently have baseball's best record (28-15) and run differential (+65).
Offense & Defense
Manager Ned Yost's club is averaging 4.91 runs per game with a team 113 wRC+, making them one of the best offenses in the game. They never strike out — they have baseball's lowest strikeout rate at 14.4% (Red Sox are next lowest at 17.0%) after having the lowest strikeout rate last year (16.3%), the second lowest the year before that (17.2%), and the lowest the year before that (16.8%). That's their thing. The put the ball in play and run like hell.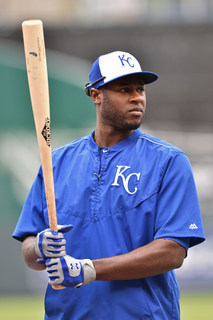 The Royals are currently without OF Alex Rios (broken hand) and backup C Erik Kratz (foot inflammation), neither of whom is expected to return this week. The offense is led by former high draft picks 1B Eric Hosmer (156 wRC+) and 3B Mike Moustakas (149 wRC+), who are getting plenty of help from DH Kendrys Morales (137 wRC+) and OF Alex Gordon (134 wRC+). OF Lorenzo Cain (118 wRC+) and C Salvador Perez (114 wRC+) are also having fine years.
SS Alcides Escobar (93 wRC+) has been good for a shortstop, though 2B Omar Infante (69 wRC+) is not having a good year at all. OF Paulo Orlando (92 wRC+) has gotten most of the playing time with Rios out. OF Jarrod Dyson (30 wRC+) is mostly a pinch-runner/defensive specialist right now. IF Christian Colon (91 wRC+) and backup C Drew Butera (95 wRC+ in very limited playing time) are the remaining extras on the three-man bench.
The Yankees just played the Royals a week and a half ago, and since Kansas City's roster hasn't changed at all since then, I'm just going to quote myself for the defense:
Defensively, the Royals are second to none. Hands down the best defensive team in MLB. Gordon, Cain, Dyson, and Hosmer are elite defenders; Moustakas and Escobar are somewhere between above-average and elite; Perez and Orlando are above-average. Infante is the worst defensive regular on the team and even he isn't all that bad. It gets no better than this group. Celebrate every time a ball drops in this weekend.
And there you have it.
Pitching Matchups
Monday: RHP Nathan Eovaldi (Career vs. KC) vs. RHP Jeremy Guthrie (Career vs. NYY)
The Yankees and Guthrie are certainly familiar with each other following all that time the 36-year-old spent with the Orioles. He has a 4.75 ERA (4.75 FIP!) in eight starts and 47.1 innings this season while getting no strikeouts (8.8%) and no ground outs (36.1%). Guthrie doesn't walk anyone (6.4%), keeps the ball in the park (0.95 HR/9), and gets righties (.307 wOBA) out better than lefties (.394 wOBA). At this point of his career Guthrie works mostly with low-90s four-seamers and sinkers while mixing in a few upper-80s cutters. A mid-80s changeup is his go-to offspeed pitch, though he'll also thrown a handful of mid-80s sliders and upper-70s curves per start.
Tuesday: RHP Adam Warren (Career vs. KC) vs. LHP Danny Duffy (Career vs. NYY)
A week and a half ago the Yankees roughed up the 26-year-old Duffy, scoring four runs on four hits and four walks in five innings, forcing him to throw 113 pretty high stress pitches. Duffy hasn't started since. He's been dealing with shoulder stiffness and the Royals used some off-days — they had a similar schedule as the Yankees last week, off-days on Monday and Thursday — to skip his spot. Duffy has a 5.87 ERA (4.56 FIP) in eight starts and only 38.1 innings this season (so 4.2 innings per start), with below average strikeout (16.9%), walk (10.7%), and ground ball (37.1%) rates against an average homer rate (0.95 HR/9). He throws really hard, sitting in the mid-90s and bumping the upper-90s with his four-seamer, at least when his shoulder isn't acting up. Duffy's top secondary pitch is a low-80s curveball, though he'll also throw some mid-80s changeups as well.
Late Update: Duffy was placed on the 15-day DL today because of his shoulder. Jason Vargas will be activated off the DL and start tomorrow in his place. Vargas had a 5.26 ERA (5.25 FIP) in five starts and 25.2 innings before his elbow starting barking.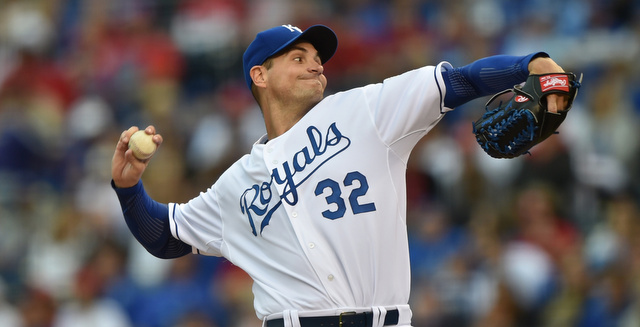 Wednesday: RHP Michael Pineda (Career vs. KC) vs. RHP Chris Young (Career vs. NYY)
Young, 35, befuddled the Yankees last week, holding them to one run in 5.1 innings. To be fair, he's been doing that to everyone this season. Young has a 0.78 ERA (2.95 FIP) in four starts and six relief appearances — he moved into the rotation a few weeks ago when Jason Vargas hit the DL with an elbow issue — despite a below-average strikeout rate (17.7%) and an utter lack of ground balls (21.1%). He doesn't walk anyone (6.9%) and does keep the ball in the park (0.26 HR/9), though that latter number is unsustainably low. No one is that good at suppressing homers. Young stands 6-foot-10 and he pitches up in the zone with a mid-80s fastball, generating a frickin' ton of pop-ups, which he's been doing it for a decade now. He'll also mix in some low-80s sliders but not many.
Bullpen Status
The Royals have, hands down, the best bullpen in baseball. Andrew Miller and Dellin Betances may be the best left-right bullpen duo, but as far as an entire bullpen top to bottom, it's Kansas City, easily. Yost's bullpen has a 1.68 ERA (3.29 FIP) overall and yesterday he only used RHP Luke Hochevar (1.33 FIP) and RHP Joe Blanton (4.73 FIP) for one inning each. That's it. Everyone else is fresh.
Starting from the ninth inning out, the Royals have RHP Greg Holland (3.73 FIP) as closer, RHP Wade Davis (1.76 FIP) in the eighth inning, RHP Kelvin Herrera (3.46 FIP) in the seventh inning, and Yost will often use RHP Ryan Madson (3.23 FIP) in the sixth inning. LHP Franklin Morales (3.36 FIP) is the only lefty but that doesn't matter. All those other guys get lefties out too. RHP Jason Frasor (4.40 FIP) rounds out the eight-man bullpen. Check out our Bullpen Workload page for the status of Joe Girardi's bullpen, then check out Royals Review for everything you need to know about the best team in baseball.