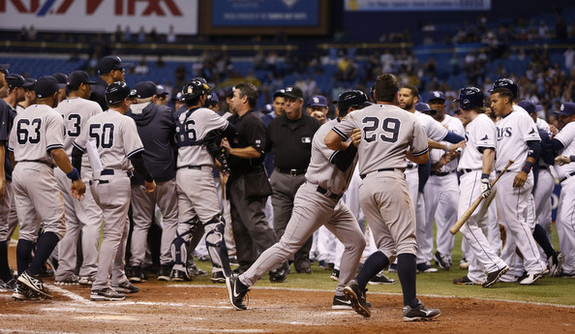 Things got a little heated between the Yankees and Rays last night after Derek Jeter was hit by a pitch up high. Tampa has plunked several Yankees hitters in their last few meetings. Following the game, Joe Girardi and some players said they weren't necessarily upset with getting hit, but where they were getting hit, specifically up high around the hands and head. If you're going to pitch inside, do it down in the zone. That was their basic message.
The Yankees are clearly upset with the Rays and frustrated by the way their season has played out in general, so if there is going to be any sort of retaliation, it'll happen tonight, in their final head-to-head game of the season. It's worth noting that Joe West, tonight's scheduled home plate umpire, was just suspended one game by MLB for an incident over the weekend, meaning there will be a replacement umpire on the staff. Hopefully nothing happens and these two teams just play baseball. Throwing at people is weak. Just beat them. Here is the Rays lineup and here is the Yankees lineup:
DH Jacoby Ellsbury
SS Derek Jeter
C Brian McCann
1B Mark Teixeira
LF Chris Young
CF Brett Gardner
3B Chase Headley
RF Ichiro Suzuki
2B Brendan Ryan
RHP Brandon McCarthy
More heat, more humidity, and more rain in the St. Petersburg area today. The Tropicana Field dome came in handy this series. Tonight's game is scheduled to begin at 7:10pm ET and you can watch on YES. Enjoy.