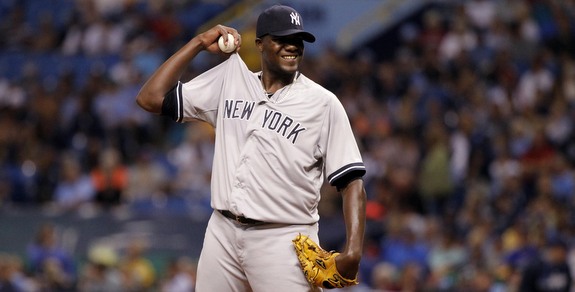 On Sunday, Masahiro Tanaka will get back on the mound and pitch in the big league game for the first time since the week before the All-Star break. It will be the biggest step in his rehab from a partially torn elbow ligament, and, really, the best case scenario is seeing that the ligament won't blow out the instant is it subjected to a game action stress level. It's either going to blow out or not blow out, but even if it doesn't, there is no guarantee it will stay intact going forward.
No matter what, Tanaka will head into next season as a big health question mark. The Yankees have to go into the offseason assuming the worst — that the elbow will give out at some point relatively soon — and act accordingly, meaning bringing in plenty of pitching depth. In fact, just about every big league caliber starter in the organization will carry uncertain health into next season if Hiroki Kuroda does not return. To wit:
CC Sabathia is coming off knee surgery after there were concerns he may need a career-threatening microfracture procedure.
Ivan Nova had Tommy John surgery on April 29th and the best case rehab scenario has him back on a big league mound in late-April 2015.
Michael Pineda is healthy right now but missed more than three months this year with a muscle problem in his back/shoulder. That's on top of the shoulder surgery that cost him 2011-12.
David Phelps just missed a month with elbow inflammation after missing more than two months with a pair of forearm strains in the second half last year. He's yet to show he can handle a full season's workload.
And then there's Tanaka's elbow on top of all of that. We already know Nova will not be ready come Opening Day and the recent rash of pitchers who have had complications coming back from Tommy John surgery — with the last 14 months Daniel Hudson, Cory Luebke, and Jonny Venters all needed a second Tommy John procedure before completing the rehab from their first surgery — is a reminder that Tommy John is not fullproof. Several doctors, most notably Dr. James Andrews, have said the 12-month rehab may be too aggressive, so the Yankees might take is slow with Nova.
No one really knows what to expect out of Sabathia going forward, so at this point the safest bets to be healthy at the start of next season are Pineda and Phelps, and that is kinda scary because neither of them is all that durable. As I've said before, I think the Yankees need to focus on adding depth and multiple pieces to strengthen the roster for top to bottom this offseason. Adding one star caliber pitcher like Max Scherzer or Jon Lester will certainly help, but in the end those guys only fill one of five rotation spots while the other four remain questionable.
Priority number one this winter will clearly be improving the offense. It has to be. The patchwork rotation has done a fine job filling in this year but many of the rotation injuries are going to carry over to next year. In a perfect world I'd like to see Pineda and Phelps penciled in as the fifth and sixth starter again, respectively, but at the moment they are the team's two healthiest starters under contract (or team control, really) for next year. Bringing in a starter to replace Kuroda this winter is the bare minimum. The Yankees have a lot of injury risks in the rotation and the offseason is the time to add some protection.