I've got six questions for you this week. Use the Submit A Tip box in the sidebar to send us any questions or comments throughout the week. Only one more mailbag before the end of the regular season, you know.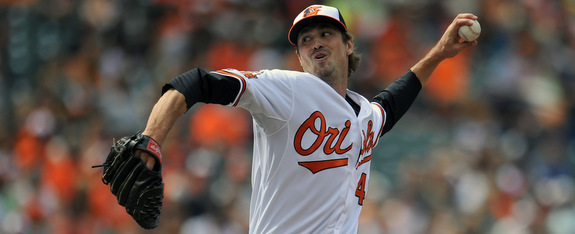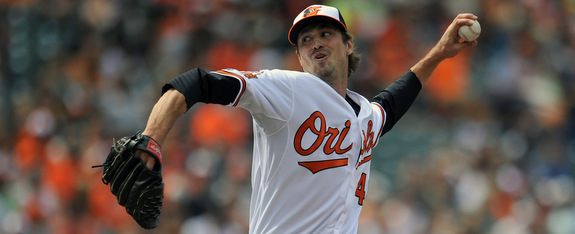 Dave asks: Shouldn't the Yanks prioritize going after Andrew Miller as a FA? Similar to getting Johnny Damon and Jacoby Ellsbury, to get stronger and make your competition weaker, he's a lock down lefty which they haven't had in forever, gets righties out too, strengthens the bullpen from the left side and weakens the O's?
I don't put too much stock in the "take him away from your competition" angle. I don't think that's a reason to go out and get a player. I see it as a nice fringe benefit, that's all. Worry about your own roster, not your opponent's, yadda yadda yadda. Did the Yankees really take Ellsbury away from the Red Sox anyway? It's not like Boston was going to re-sign him. He was gone no matter what.
Anyway, the 29-year-old Miller has been outstanding this year, pitching to a 1.96 ERA (1.30 FIP) with a 14.93 K/9 (42.9 K%) in 59.2 innings. Like Dave said, he's been dominating both lefties (.193 wOBA) and righties (.217 wOBA). Miller was very good from 2012-13, pitching to a 3.04 ERA (3.12 FIP) with 12.55 K/9 (32.6 K%), but he's taken off because he cut his walk rate from 4.69 BB/9 (12.2 BB%) the last two years to 2.41 BB/9 (6.9 BB%) this year. His homer rate (0.30 HR/9 and 5.9 HR/FB%) is flukishly low but he still kept the ball in the park from 2012-13 (0.76 HR/9 and 12.8 HR/FB%).
Miller scrapped his two-seamer this season and has stuck with his straight four-seam fastball, a pitch he can better locate. It seems like the light bulb went on — he realized he can throw his mid-90s heater right down the middle and hitters still can't hit it. I remember reading a Matt Thornton interview a few years in which he said that's when his career took off, when he figured out he throw fastballs over the plate and still be effective. Miller also has a devastating slider (that he uses a lot, more than 40% of the time), so he's a two out-pitch pitcher.
I consider Miller and David Roberson to be No. 1A and 1B among the crop of free agent relievers this coming winter. They're both elite, though Robertson cut his walk rate in half three years ago. Miller only has the one-year sample. I wouldn't focus so much on the left-handed aspect either, he can get both lefties and righties out. He's a one-inning, high-leverage reliever. Simple as that. Given the Boone Logan contract (three years, $16.5M), Miller is probably looking at three years and $8M or $9M annually. (He hasn't closed and saves do pay.) I think you give him that contract hoping you get the 2014 version but expecting the 2012-13 version. That's just me. Miller would be a fine addition to any bullpen, including New York's.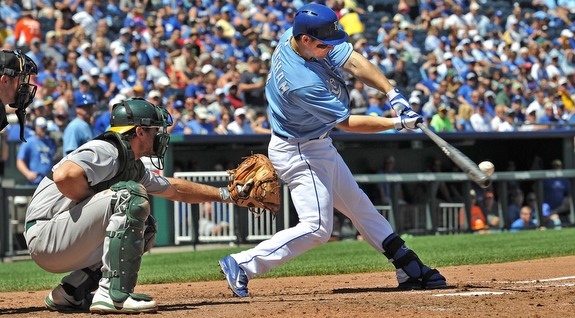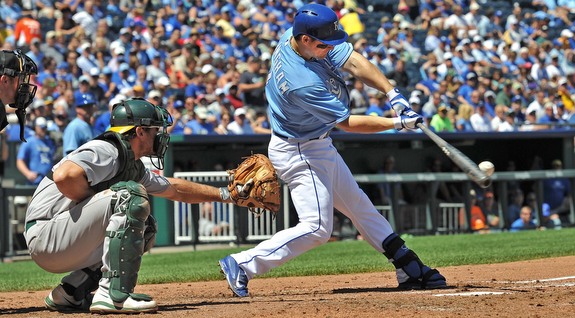 Mike asks: Should the Yankees consider Josh Willingham as a 4th OF or is he basically done?
I wouldn't say he's done, no. Willingham is 35 but he is also hitting .221/.353/.407 (117 wRC+) with 14 homers this year, including .258/.380/.461 (136 wRC+) against lefties. Looks like there is still some life in that bat. Willingham is not much of an outfielder at this point though, that's the only real problem. He's awful defensively needs regular turns at DH to remain in the lineup everyday. I have a pretty high tolerance for bad corner outfield defense but Willingham is Raul Ibanez level bad. I think he's more of a platoon DH than a fourth outfielder. I wouldn't say no to him, but he is a limited player.
Jon asks: Masahiro Tanaka pitched in an Instructional League game earlier this week. How does that league work? Who plays in it? Why don't we hear more about it?
Instructional League in Florida runs from mid-September through October — there are also instructs in the Dominican Republic, though I'm not sure when they run exactly — and it's basically a mini-camp for lower level prospects, players who are heading to the Arizona Fall League and need to stay sharp, guys who missed time to injury, etc. Top prospects at the upper levels usually don't go to instructs, so Gary Sanchez probably isn't there after squatting behind the plate all summer. This is mostly very young players still early in their development.
Instructs are almost like Spring Training. There are drills so players can work on specific skills and they also play intra-squad games every day. They're very informal. Players can bat out of order to get more plate appearances, innings will simply end if a pitcher is throwing too many pitches, stuff like that. Some teams will release their Instructional League roster each fall but the Yankees don't. They're secretive about everything. A mini-camp is the best way to describe it. No one keeps stats or anything (maybe the team does internally, who knows), they're just working on the basics. It's exactly what it sounds like, a league for instruction.
Griffin asks: Do you think Elvis Andrus is a realistic trade target for the Yankees?
Realistic in the sense that the Rangers would move him? Absolutely. Realistic in the sense that he would be a good pickup? I don't think so. Not without Texas eating a big chunk of his contract. Andrus is hitting a weak .264/.317/.334 (79 wRC+) this year after hitting an equally weak .271/.328/.331 (78 wRC+) last year. That's a 78 wRC+ in his last 1,344 plate appearances at age 24-25 (he just turned 26). He had an 87 wRC+ from 2009-12 and a 95 wRC+ from 2011-12. He's gone backwards at an age when he should be taking big steps forward.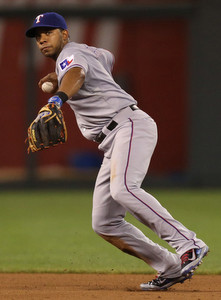 The Rangers gave Andrus an eight-year contract worth $118M last April and it doesn't kick in until next season. They're going to be paying this guy roughly $15M a year every year from 2015-22. He has a 78 wRC+ in his last 1,344 plate appearances. Did I mention that? Yes, Andrus is good with the glove, but his defensive stats have been trending in the wrong direction for several years now. In fact, he's at -4.3 UZR and -15 DRS this season. So he can't hit, his defense isn't as good as it once was, and he's owed $15M a year for the better part of the next decade. I wanted Andrus as Derek Jeter's replacement a few years ago, before his bat went backwards. The blush is off this rose. I'm sure Texas would love to get out from under that contract at this point, but there will be too many good free agent shortstops on the market this winter for the Yankees to stoop this low.
(Aside: I am totally sick of defense first players. Give me hitters all day, everyday.)
Justin asks: If the Yankees could snap their fingers and rid themselves of one of these contracts, which would be the best one to unload, factoring in both $$$ freed up and ease of replacing said player: CC Sabathia, Mark Teixeira, Jacoby Ellsbury, Carlos Beltran, or Brian McCann?
Out of those five guys, I would say Sabathia because there's a good chance he will give the Yankees absolutely nothing for the remainder of his contract ($48M from 2015-16 plus a $25M vesting option for 2017 that depends on the health of his shoulder). Teixeira and Beltran will be gone in two years and Ellsbury's still a good player. He's the lesser of five evils here. McCann has been terrible this year but at least he still plays good defense at a premium position and mashes taters. I love Sabathia. He's been a great Yankee. But his body has started to break down and that's not a process you can reverse.
Mike asks: You always hear about NFL contracts being renegotiated for salary cap purposes but never in MLB. Is there a prohibition against this? Why couldn't the Yankees offer to change the remainder of Tex's contract to lower the yearly value of the remaining two years but adding an option year for 2017 which would pay the difference from the two remaining years plus a $1 million dollar premium? If the team declined the 2017 option, he would still get full value of contract, plus the premium and then have the option for a FA contract elsewhere. This would give the team some cap flexibility while still honoring the contract.
Sure, this happens in MLB, just not as often because there is no salary cap. Scott Rolen restructured his contract a few years ago to give the Reds more financial wiggle room, for example. (I only remember that because I wrote the MLBTR post.) I suppose the Yankees could restructure Teixeira's contract but they would have to give him an extra year or two to make it happen. He's not (and shouldn't) going to do it out of the kindness of his heart. Also, I think MLB would step in if it was blatant luxury tax circumvention. The Yankees have money though. They can afford to pay Teixeira his big salary these next two years. I don't think it's worth keeping him around another year or two beyond that just to save a few million in 2015 and 2016, which might be non-contention years even if they use the savings to add help elsewhere.