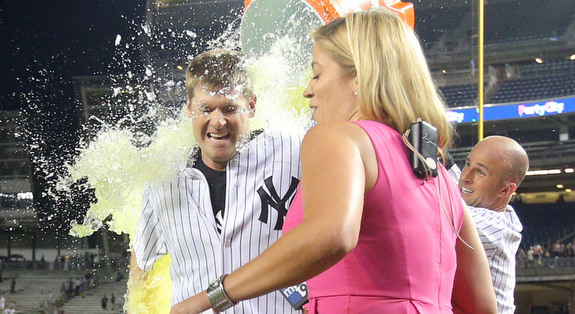 For the second straight season, the Yankees did not have Alex Rodriguez at third base on Opening Day. He missed most of last year following hip surgery and all of this year due to his 162-game Biogenesis suspension. The Yankees tried to replace A-Rod with Kevin Youkilis (remember that?) last year but that failed when he predictably went down with a back injury. This year they took a more subtle approach to replacing Alex by signing Kelly Johnson.
But, as they tend to do, things did not go according to plan. Yangervis Solarte hit his way into regular third base duty while Johnson spent much of his time filling in for the injured Mark Teixeira at first base. Solarte mashed for a few weeks, so the hot corner wasn't an issue. He stopped hitting after a while and Johnson never really got going, so by early-June, third base was a problem. Solarte, Johnson, and a smorgasbord of others (Zelous Wheeler, Scott Sizemore, etc.) combined to hit .261/.331/.395 through the team's first 98 games and were trending downward.
Then, prior to Game 99, the Yankees added a permanent solution by (finally) acquiring Chase Headley from the Padres in exchange for Solarte and Single-A righty Rafael DePaula. New York and several other teams had been pursuing the switch-hitter for years — there's no doubt San Diego missed the opportunity to trade him for maximum value two years ago — and in fact a number of clubs were hot after him at the trade deadline. The Yankees were able to get the deal done and he was in the lineup that night.
Headley's impact was immediate. He arrived at Yankee Stadium in the middle innings of that night's game against the Rangers, pinch-hit for Wheeler in the eighth inning, and still managed to get four at-bats when the game went into extra innings. Headley started that day in Chicago with the Padres. Here's how he ended it with the Yankees in New York:
A walk-off hit in your first game with a new team with one helluva way to make a first impression. That was a pretty wild day for the Yankees and their fans. I can't imagine what it was like for Headley.
Headley took over as the regular third baseman — he also filled in at first base on occasion — and showed right away that he was a top notch gloveman. The Yankees hadn't had an above-average defensive third baseman since A-Rod was in his prime before Headley arrived, and he made every routine play and more than a few spectacular ones as well. After playing so many guys out of position at the hot corner — Youkilis was a natural first baseman, Solarte and Johnson are second basemen by trade — it was nice to see someone play third competently.
Of course, there were questions about how much Headley would be able to contribute offensively. He had a monster year with the Padres in 2012, hitting .286/.376/.498 (145 wRC+) with 31 homers, but he dropped down to a .250/.347/.400 (114 wRC+) batting line with 13 homers in 2013, production that was on par with his 2008-11 output. Before the trade, Headley hit .229/.296/.355 (90 wRC+) with seven homeruns in 77 games for San Diego while battling a back issue that required an epidural. History suggested there was more there offensively and the back injury suggested that maybe there wasn't.
The Yankees rolled the dice and while talking to reporters following the trade, Brian Cashman cited Headley's improved "hit velo" as a reason for making the deal. The team's internal metrics showed Headley was hitting the ball harder as he got further away from the back injury that seemed to continue after the trade. Following the walk-off hit in his first game with the Yankees, he went 9-for-26 (.346) with two doubles and a homer in the next seven games before putting up a .233/.343/.344 (97 wRC+) line with four doubles, two homers, and 14 walks in 27 August games. Headley hit this walk-off homer in early-September:
About a week later, Headley took a 96 mph Jake McGee fastball to the chin and was on the ground for several minutes. He had to be helped off the field — the plunking led to the game-winning rally, as Chris Young swatted a walk-off three-run homer a few batters later — and it looked very bad, but tests showed no fracture and eventually a concussion was ruled out as well. Headley needed two stitches and there was some nice bruising around his chin and neck, but he escaped with relatively little damage.
After returning to the lineup four days later, Headley went 12-for-41 (.293) with two doubles, two homers, and eight walks in his final 13 games of the season. He hit .279/.410/.441 (147 wRC+) in September overall and finished the season with a .262/.371/.409 (113 wRC+) batting line in 58 games with the Yankees. Headley had eight doubles, six homers, a 12.9% walk rate, and more standout defensive plays than I care to count during his time in pinstripes. WAR isn't perfect, yadda yadda yadda, but he finished with 2.1 bWAR and 2.8 fWAR with the Yankees and I can totally buy him adding 2-3 wins to the team in those 58 games between his bat and glove.
Those 2-3 wins didn't get the Yankees into the postseason but it helped keep them relevant a little longer than they should have been. Solarte hit .267/.336/.355 (101 wRC+) for San Diego and DePaula had a 6.54 ERA (5.36 FIP) in eight High Class-A starts after the trade. I'm guessing both teams are pretty happy with the deal. The Yankees got an actual third baseman who improved their chances of contention in 2014 while the Padres received a cheap, versatile bench-ish player and a lottery ticket pitching prospect. Headley didn't get the Yankees into October and the Padres didn't get as much for him as they could have a year or two ago. That's baseball.
Headley was a pure rental who will become a free agent in a little more than two weeks now. He has said he is open to returning to the Yankees but he doesn't want to be a part-time player, and A-Rod complicates that. The Yankees have said they view Alex as a DH but that doesn't really mean anything to Headley. Other teams will pursue him for their third base opening with no strings attached, and the lingering uncertainty of A-Rod could lead to Headley signing elsewhere this winter. If he does, so be it. That's life. There is definitely a place for him on the team going forward though (at the right price, like always) and based on what I saw down the stretch, I'd welcome him back with open arms.